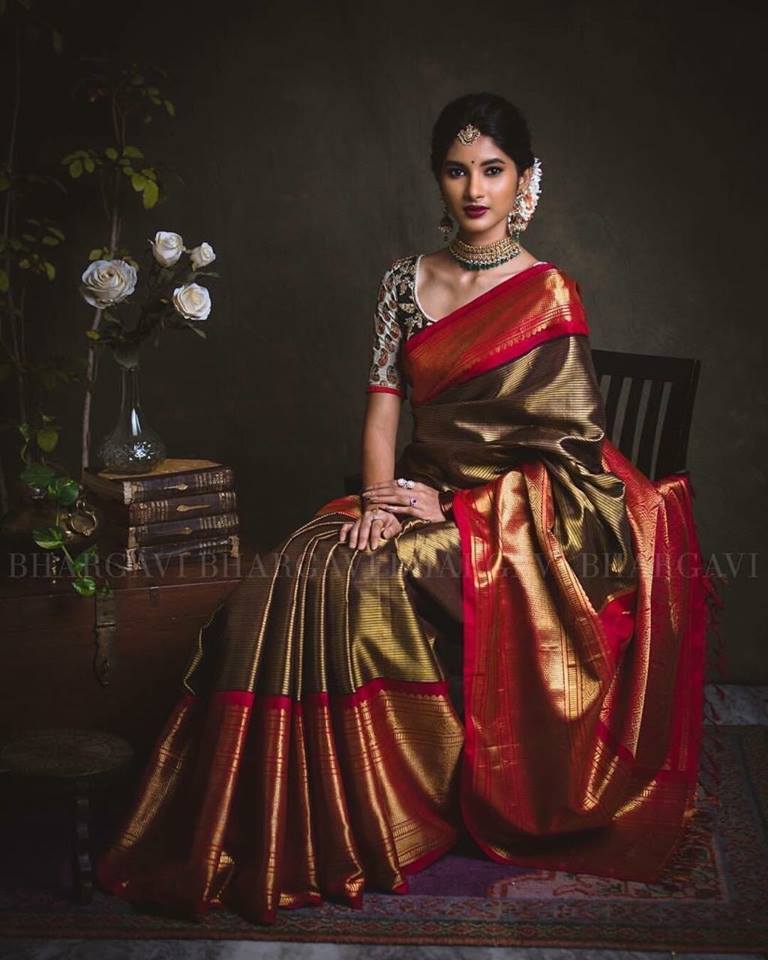 Latest and trendy golden stripes designs Kanchipuram silk sarees launched online and store at Kanjivaram Silks
The golden zari stripes design kanchipuram silk sarees are the exclusive ones launched at kanjivaram silks. Weddings demand you to dress up in the best possible way. The Indian brides have the most stunning possible looks along with amazing dresses, impressing everyone with the best collection. Weddings in India are not only about celebrations but are also about the rich and exquisite collection of wedding silk sarees that will make you garner compliments from people and your relatives.
In India, weddings are fixed according to the rituals and are stitched with the most traditional clothing, saree. If you have ever grazed your grandmother's close you would have walked through some treasured silk sarees. In a culture-loving country like India, every state has its specialty of silk sarees. With a charming wedding silk saree, you can never go wrong with any occasion, be it a wedding, a casual function or a grand party.
Different varieties of silk sarees available at kanjivaram silks
Kanchipuram silk saree: Known to be the king of silk sarees, Kanchipuram sarees or Kanjivaram sarees are the pride of Tamil Nadu and the best silk sarees in the country. The silk sarees are distinctly beautiful and are known for vivid nature and their vibrant colors. You can grace a Kanjivaram saree with contrasting borders and create an impression of yourself in the event. If you want to go a little trendy with the silk saree then go for checks, floral designs, temple patterns over the border of the Kanjivaram saree. You can also go for painting designs of Ramayana and Mahabharata on the kanchipuram saree as well. You can never go wrong with a Kanchipuram silk saree.
Banarasi silk saree: Banarasi sarees are designed and structured from the holy ranges of the Varanasi are one of the finest silk sarees in India. The silk saree comes with the intricate designs and Mughal motifs that will never fail to impress you and leave a mark as well. You can go for gold and silver brocade and embellish your surroundings with your Banarasi silk saree.
Raw silk saree: Made from the natural form of silk, raw silk saree comes in the plain background with a contrasting border. Raw silk sarees are somewhat stiff and less shiny as compared to the other silk sarees and it is easy to wear and carry and handle. The saree is very comfortable in nature and all you have to do is pick your favorite shade of raw silk saree and glam up your style quotient with makeup and perfect heels.
Patola Silk Saree: Coming directly from Gujarat, the Patola silk saree is one of the most expensive silk sarees. The saree is made from makers of Patan in Gujarat. These sarees come in various combinations and consist of various geometrical shapes and amazing designs and intricate details. These sarees do not have a reverse end and all you need is a proper drape and glamorous heels to go and shine at the event.
Mysore Silk Saree: Coming from the purest forms of silk, the Mysore silk saree represents the true nature and charm of the silk sarees. This, in turn, improves the long lasting nature and the durability of the silk saree. These sarees can also be dyed with natural pigments and are not easily crushed or tampered. The designing patterns on these sarees come with beautiful motifs of birds and fruits embellishing your look and making you look amazing in your attire. This elegant and simple saree is definitely what you need to make an entry in your wardrobe.
Tussar Silk saree: These sarees are produced in large quantities in Indian and are majorly manufactured from West Bengal. These sarees are very soft in nature and are considered to be charming and auspicious. Their soft texture and designing with the natural motifs and designs are the most favored details by all the designers. Tussar silk sarees are available in a vivid range of colors and designs and a must to have things in your wardrobe. These sarees are perfect for any occasion and can be easily carried throughout the day.
Chanderi Silk Saree: These beautiful and gorgeous sarees come from the heart of India, Madhya Pradesh. These sarees are extremely lightweight in nature and are easy to wear. They are generally woven with beautiful designs like Chanderi Temples, peacocks, traditional coins, floral and geometric designs. This amazing Chanderi silk saree can be easily packed with the jewelry looks and extremely gorgeous, satisfying your style statement.
Dharmavaram silk saree: These traditional sarees are packed from the state of Andhra Pradesh and are said to be essential for the brides and has to b worn by them. It has an amazing and colorful border that comes with a shaded pallu and designed motifs that enhance the gold weave nature of the saree. This silk saree depicts the religious culture and the traditions that are followed in the state including elephants, peacocks and temple designs.
Konrad Silk Saree: These sarees are the specialty of Tamil Nadu and were initially made to be worn by the deities of the temples. These were also known as the temple sarees. They come with wide borders and have designs related to weddings, peacock, and elephants. These most common colors of these sarees are brown, grey and off-white.
Muga Silk Saree: Muga silk is one of the most expensive forms of silk and comes from Assam. These type of silk sarees are mostly golden in nature and are as expensive as gold. The wedding is a perfect occasion to adorn the saree and keep this expensive piece in your wardrobe.
Paithani Silk Saree: This silk saree speaks volumes about the richness of Maharashtra. They come in various bright shades of magenta, dark green, purple, peacock blue and have golden borders adorned with designs of animals, birds, and inscriptions and drawing from Ajanta and Ellora caves.
The amazing list of wedding silk sarees will totally make you feel the need to go shopping today at kanjivaram silks.
Media Contact
Company Name: Kanchipuram Silk Sarees Store
Contact Person: Vamsee
Email: Send Email
Phone: 9677063537
Address:251-9 Gandhi Road, (next to petrol bunk)
City: Kanchipuram
State: Tamil Nadu
Country: India
Website: https://kanjivaramsilks.com