International Fitness Kickboxing Franchise, CKO Kickboxing, will be hosting free outdoor classes across from the legendary "Rocky Steps" in Philadelphia, Pennsylvania. The iconic steps were made famous for being featured in the sports drama movie, "Rocky" starring Sylvester Stallone.
CKO Kickboxing will be hosting the classes every Wednesday night from July 24th through August 14th at 5 pm and 7 pm. Classes are one hour long and will feature CKO Instructors and yet another well-known symbol of fitness, the CKO Kickboxing Bags. All fitness levels are welcome to attend the classes. Gloves will be available for use to anyone who attends and a group orientation will be provided as well. Those who would like to take the class should arrive at about 15 to 20 minutes prior to start time for proper sign-up and fitting.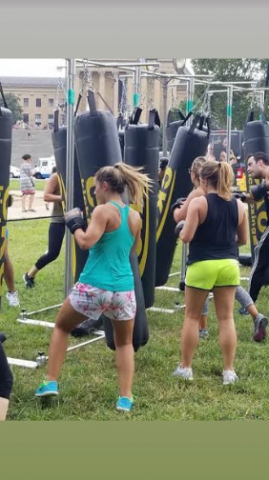 "This is an exciting event in a place that inspires positive support and the belief that together, any goal is achievable. CKO Kickboxing is based on that way of thinking," explains Joseph Andreula, founder, and CEO of CKO Kickboxing. "It's an honor to be there helping to inspire so many during these four weeks."
CKO Kickboxing was featured at the Rocky Steps for the last five years. Locals have come to anticipate the energetically engaging classes with trainers from the local CKO Kickboxing in Center City, Philadelphia, Pennsylvania. The head-instructor and co-owner of CKO Center City, Gabe Perez, will personally run some of the featured outdoor classes with his other trainers. CKO Center City has become the go-to gym for locals in the area for approximately four years with countless calories burned and programs to help members with their nutrition needs as well as their fitness goals.

Video Link: http://player.vimeo.com/video/230686835
CKO Kickboxing gyms, across the United States and Canada, include one-hour classes anyone can take that incorporate a real heavy bag, real kickboxing moves, and the addition of body-weight sets to get your heart rate up and body fat down. The music is always pumping and the trainers are always calling out new moves during the class to keep you active and engaged. Any age, any size, and any person can go at their own pace to lose weight, build muscle, reduce stress and have a fun workout that takes them to the next level of fitness.
For more information on CKO Center City, please visit: CKOCENTERCITY.com
For more information on CKO Kickboxing, please visit: CKOKICKBOXING.com
For more information on franchising, please visit: CKOFRANCHISING.com
Media Contact
Company Name: CKO Kickboxing
Contact Person: Joseph Andreula
Email: Send Email
Country: United States
Website: www.ckokickboxing.com