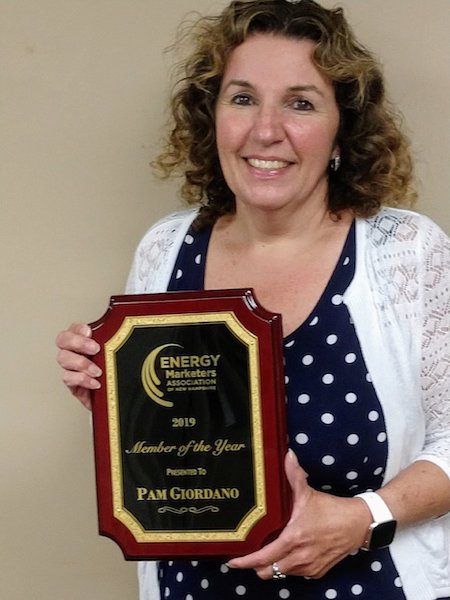 Pam Giordano was honored at June's Northern New England Energy Conference in Cape Neddick, Maine as the Energy Marketers Association of New Hampshire (EMANH) member of the year.
A distinguished Townsend Energy employee, Pam Giordano, was honored at the Northern New England Energy Conference event held at the Cliff House in Cape Neddick, Maine on June 24, 2019, as the Energy Marketers Association of New Hampshire (EMANH) member of the year. Each year the EMANH awards one member as the "Energy Marketer of the Year."
This honor was bestowed on Ms. Giordano due to her lifelong commitment to the retail oil market industry in New Hampshire, and very specifically to her involvement with her multiple roles with EMANH and the Oil Heat Council of New Hampshire (OHCNH). Pam worked as the Director of Operations for M.L. Halle in Manchester, New Hampshire for over thirteen years and now holds the same position with Townsend Energy which purchased M.L. Halle earlier this year.
Ms. Giordano said, "I am honored to have been selected as the 2019 Member of the Year. I have strived in making a difference in the heating fuel industry over the past 14 years and am looking forward to continuing bringing more changes in the future. While many of the people around me have been in their family business since infancy, I am truly grateful to the members of the Energy Marketers of NH who have not only accepted me as a peer but have become friends as well as mentors."
"As a new member of the Townsend Energy Team, I am excited to bring new services to the Halle Oil customers from a family-owned business that has been known for their integrity as well as putting the needs of their customer first. Thank you again for the acknowledgment of my dedication to the future of these family businesses."
Ms. Giordano served on the Board of Directors of both EMANH and OHCNH, served as the Chairwoman of EMANH as well as the Chairwoman of the Events Committee. She was instrumental in initiating and developing a Woman in Energy program at EMANH. Her passion for our industry in the state of New Hampshire is second to none.
James Townsend said, "This is a well deserved honor for Pam. She has been a dedicated and effective leader for many years, and has made significant contributions to the oil heat industry in New Hampshire."
About Townsend Energy:
Townsend Energy is a family-run energy firm servicing Northeastern Massachusetts as well as Southern New Hampshire & Maine. Townsend Energy provides propane delivery, heating oil delivery, HVAC service and installation, and backup generator installation services. Townsend Energy is committed to treating employees and customers well and delivering valuable home comfort services to New England businesses and residents.
For more information, visit: https://www.TownsendTotalEnergy.com
Media Contact
Company Name: Townsend Energy
Contact Person: Don Chagnon
Email: Send Email
Phone: (603) 627-7869
Address:195 Lincoln St
City: Manchester
State: NH
Country: United States
Website: https://www.townsendtotalenergy.com