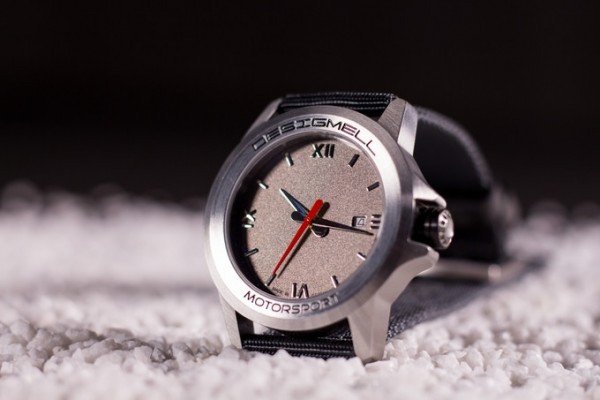 A watch is a quintessential accessory for men and while there are many brands that offer stylish watches, this new brand has taken up their love for watches to the next level. Desigmell is a newly launched watch company that has designed watches made with car components. They are providing a way for men to combine their love for both watches and cars in one. Designmell Motorsport is the first of its kind watch made with car components that is launched on Kickstarter. The straps of this watch are manufactured from the seatbelt and the company offers different vehicle paintwork for the dials to match the user's car.
Below are the specifications of the Desigmell Motorsport watch:
Movement: Swiss Movement Ronda (Quartz)
Case: 317 Stainless Steel
Case Finish: brushed Body
Lens: hardened mineral glass, antireflective coat
Water Resistance: 100 Meter, 328 ft, 10 ATM
Straps: manufactured from Seatbelts
Dial: vehicle paintwork all in Metallic for the special Look in the Sun

Dimension:
Case diameter: 41mm
case depth: 12mm
Lug width: 22mm

Desigmell Motorsport watch is available in different styles such as the Mountain Gray Metallic, that features AMG paintwork. This watch has a stylish and timeless appeal. The crown of the watch is inspired by Aero-Rims used in racing for less vehicle drag. The Desigmell logo is engraved on the body of the watch and the belt of the watch is manufactured from the seatbelt and recolored to match the unique design.
The hand of the watch is inspired by Speedometer-Pointer. The San Marino Blue (BMW) paintwork on one of the Designmell watches look absolutely stunning. The other version of the watch features British Racing Green (BMW, MINI) paintwork which looks equally beautiful. For those who like to stick to the timeless styles can check out the Sapphire Black Metallic (BMW) paintwork on the dial that features the deepest black dial possible.
Designmell Motorsport is not just a watch. It's a way of self-expression of the love for a classic accessory and cars. The watches are certified made in Germany, using the best quality construction process, and carefully designing and creating every component of the watch from scratch. The watch is launched on Kickstarter after a year of brainstorming, designing, developing prototypes, and finalizing a design that speaks of understated luxury. Furthermore, every Designmell watch comes with a 2 years warranty.
Designmell watch can be ordered at a special price via supporting its Kickstarter campaign.
Media Contact
Company Name: Desigmell
Contact Person: Melwin Noffke
Email: Send Email
Country: Germany
Website: www.instagram.com/desigmell/