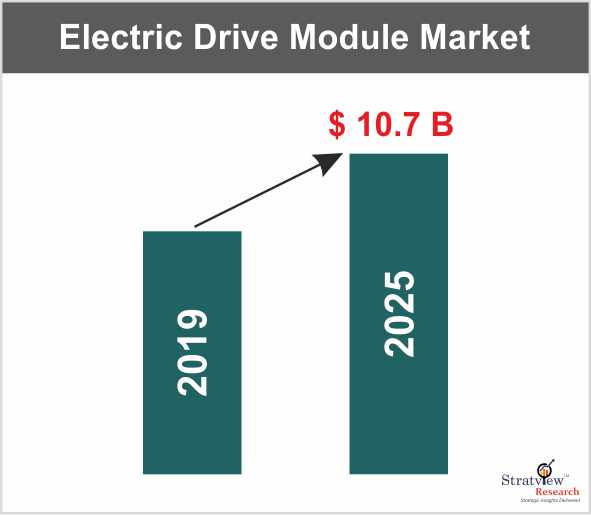 "Stratview Research assumes the Global Electric Drive Module Market to grow and reach US$ 10.7 Billion by the year 2025."
Stratview Research report throws light on the introduction of the electric vehicles and also its rising demand and popularity over the years. The report offers an analysis of the current market trends and also assumes about the future of the Global Electric Drive Module Market.
The increasing rate of global warming has led to the introduction of different stringent regulations by different governments across the globe. Different innovations also have been taking place in this line such as the use of electric vehicles.
Electric vehicles are not new to the society as they were introduced as early as in 1830. Soon, their share is expected to grow from about 4% to about 30% by the year 2030.
Apart from the environmental concerns, there are also other benefits of the electric vehicles that Stratview report talks about such as easy maintenance, efficient, and fewer gears. Such benefits are motivating many of the OEMs of the world today to work on electric cars.
Go through the Table of Contents:
https://www.stratviewresearch.com/toc/477/electric-drive-module-market.html
An electric vehicle comprises the electric motor, power electronics, and gearbox as the key components. These components can be used separately or also in a combination that offers benefits such as a reduction in weight, size, and cost.
Stratview Research reports that the global electric drive module market should rise up to about USD 10 billion by the year 2025. Region-wise, America is the leader followed by EMEA and the Asia Pacific.
The key players in the global EDM market are BorgWarner Inc., Magma International Inc., Bosch Gmbh., GKN Driveline, Nidec Motor Corporation, Continental Corporation, and Dana incorporated. On the other hand, only a few of the OEMs are involved as of now such as Tesla Inc., and Nissan Motor. But other OEMs are also slowly expanding and hopefully, some more names should come up by the year 2020.
Read complete report description:
https://www.stratviewresearch.com/477/electric-drive-module-market.html#tab_default_1
In order to deal with the climatic change, Governments of many countries are taking some major steps such as Paris, Madrid, Athens, Mexico City, and Norway have plans to phase out diesel vehicles by 2025.
Stratview Research report is based on such analysis and states that global electric vehicle production market, both battery electric vehicles as well as plugin hybrid electric vehicles, should reach over 13 million units by 2025.
Request a free sample:
https://www.stratviewresearch.com/Request-Sample/477/electric-drive-module-market.html
Stratview Research report will also talk about different innovations and merger activities such as BorgWarner's iDM, Magna's three-motor electric drive system, the joint venture Shanghai GKN HUAYU Driveline systems in 2018, the joint venture of Magna with Huayu Automotive Systems Co., Ltd in 2017, and many others.
The report speaks about the growth of the global EDM market with a developing market in countries such as Japan, China, Europe, United States, and many others.
Wish to know more about the electric drive module market and the development of electric vehicles? Subscribe to Stratview report to get more details.
Salient Features of the Report
The Stratview Report will offer a researched and analyzed insight into the global electric drive module market. Here are the key features of the report:
Strategic Segmentation
Competitive Analysis
Strategic Growth Opportunities
Swot Analysis
Key Players
Forecast Analysis & Future Growth
Custom Research:
Stratview Research is well-known to offer custom research in order to help interested firms make decisions. Have a requirement in market research, target screening, or others? Get in touch at sales@stratviewresearch.com to get an answer.
About Stratview Research:
Stratview Research by now is a known global market research company and offers its expertise in market research reports, custom research and others to varied sectors such as Advanced Materials, Aerospace & Defense, Automotive & Mass Transportation, Consumer Goods, Construction & Equipment, Electronics and Semiconductors, Energy & Utility, Healthcare & Life Sciences, and Oil & Gas. Our team consists of well-experienced analysts and other experts who are known to offer the best assessments and screenings to the interested companies.
Media Contact
Company Name: Stratview Research
Contact Person: Ritesh Gandecha
Email: Send Email
Phone: +1-313-307-4176
Address:400 Renaissance Center, Suite 2600
City: Detroit
State: Michigan
Country: United States
Website: www.stratviewresearch.com