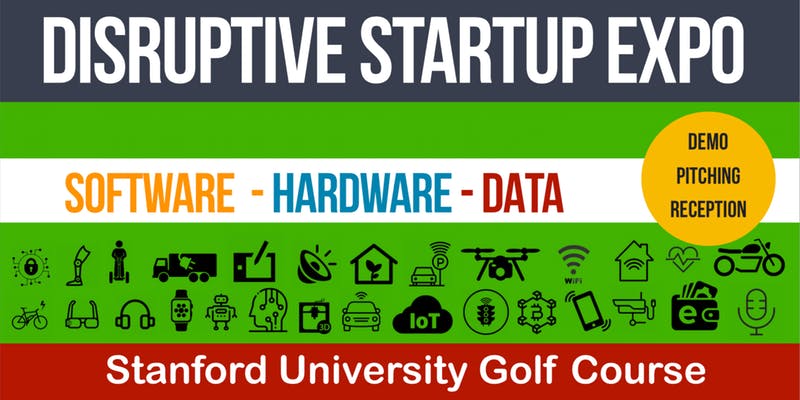 Innovation for Enterprise, Consumer, Media, Health, Energy and Robotics.
OneTraction, a Silicon Valley-based On-Demand Innovation Venture Capital and G2M Global Ecosystem continues to disrupt the Venture Capital and the Corporate Innovation experience with its annual Disruptive Startup Award hosted at Stanford University on August 1st which was larger than TechCrunch summer event held the previous week in San Francisco.
Events Page: Click here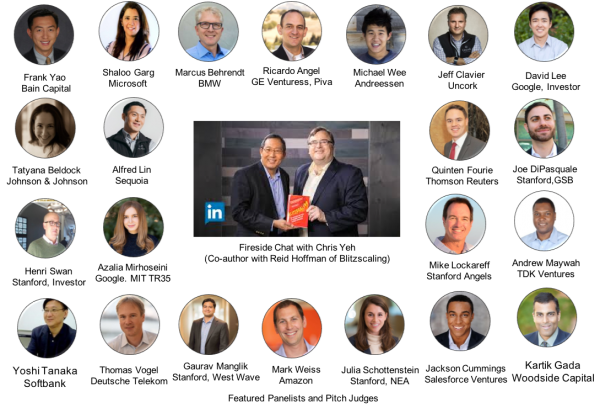 The event was the largest summer expo at Stanford, where 100+ Startups with $200m+ funding, 100+ Corporate and 100+ Investors, mingled and explored potential investments, Go-to-market or even acquisition. The agenda was structured in three tracks, thought leadership fireside chat with Chris Yeh (Co-author with Reid Hoffman of Blitzscaling), followed by startup pitch to a panel of VC and Corporate Ventures with a combined funds of over $200 Billions USD and included Google, SoftBank, Bain Capital, Thomson Reuters, Stanford Angels, BMW, Andreessen, NEA and other top VC Funds, followed by demo reception attended by Fortune 500 Executives, Investors and founders from top universities and across the glove including, Asia, MEA and Europe.
The Following Three Startup are the award winners:
Jointer.io (First Prize): is disrupting the FinTech (Commercial Real Estate syndication and investment) with its tokens (SAFE notes) pegged to the Dow Jones Global Select REIT Index with 2X leverage, providing investors diversification and liquidity while allowing sponsors to receive faster funding from one source. Jointer already received a prestigious award prize of $1 million during the worldwide EDGE 196 competition between 4,000 startups from 196 countries. The team are based in SF Bay Area and led by Jude Regev who is a serial entrepreneur, Stanford affiliate and supported by an A team with several influencers in his Board of Advisors, including Dee Hock former VISA CEO, David Wield NASADQ Chairman, and two Nobel Prize winners and Harvard Professors (Mr. Eric Maskin and Mr. Alvin Roth).
Xapix.io (Second Prize): is disrupting the mobility space with its API and data orchestration platform built for the specifics of the automotive sector. Whether it's vehicle OEMs, component manufacturers, fleet providers or the auto insurance space, they have a solution to jumpstart data orchestration efforts across the automotive industry. Among their customers and partners are SAP, BMW, PwC, and Deutsche Bahn.The team are based in SF Bay Area and led by Christian Umbach an MIT Graduate who comes from Uber and supported by an A team with deep industry knowledge.
ThroughPut.ai (Third Prize): is disrupting the Smart Manufacturing and Supply Chain Space with Its Artificial Intelligence (AI) platform that enables companies to detect, prioritize and alleviate dynamic operational bottlenecks in real-time. ThroughPut's Bottleneck Management Systems (BMS) leverages existing enterprise data that enables Fortune 500 companies and global enterprises to realize millions of dollars of savings up to 600x faster than Continuous Improvement Process Experts. Team are based in SF Bay Area and led by Ali Raza who comes from the University of Pennsylvania and supported by an A team with a deep industry knowledge.
The Following are Featured Startups from Pitch, Demo and Reception sessions:
Bitmov.io: Video streaming gamification transforming content monetization in Media Space.
Bluefield.co: is disrupting the Energy Space by providing leaks monitoring via microsatellites.
Biotricity.com: is disrupting the Preventive Cares by enabling real-time remote cardiac monitoring.
Endiatx.com: is disrupting Healthcare through its Robot diagnostic capsule for sedation-free endoscopy

Fetchyfox.com: enables On Demand Delivery of any good or services from the Airports Marketplace.
Hayden.ai: is an AI powered Smart City platform enabling safe city monitoring for autonomous vehicles.
Kiana.io: is disrupting the Security Space, through its augmented monitoring technology for smart cities.
Knightscope.com: is a Robotics unicorn in progress, making America safer through its security robots.

Looxidlabs.com: uses Virtual Reality to capture emotion & Neuro disorder, a CES & TechCrunch winner.
Smiota.com: is disrupting Last Mile Deliveries, through its smart lockers for on premise package storage.
Speaktoiot.com: enables Secure Connection of Smart IoT Devicesto Intelligent Voice Assistants.
Territool.com: is a Mobility route optimization allowing outside sales to convert business in less time.
Join our global community of Founders, Investors and Corporate leaders and members only events here: www.onetraction.vc or explore detailed profiles of promising startups from across the globe, stages and industries here: https://launchpad.technology
Media Contact
Company Name: OneTraction Innovation Accelerator
Contact Person: Media Relations
Email: Send Email
Phone: 8777690568
City: San Francisco
State: CA
Country: United States
Website: http://onetraction.vc