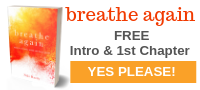 "To download the first chapter for free, please visit:
https://nikihardy.lpages.co/breathe-again-first-chapter-download-stand-alone/"
'BREATHE AGAIN' IS A ROADMAP FOR DISCOVERING LIFE DOESN'T HAVE TO BE
PAIN-FREE TO BE FULL, THEN LIVING IT.
Charlotte, NC, USA – August 21, 2019 – Inspiring author, cancer survivor, pastor's wife and public speaker, Niki Hardy announced the launch of her inspiring and practical new book Breathe Again: How to Live Well When Life Falls Apart (Revell in August 2019). Revell is a division of Baker Publishing Group, which offers practical books that bring the Christian faith to everyday life.
"In this new book, I unpack seven practices to thrive, not just survive, no matter what life throws at us," said Niki Hardy, while introducing Breathe Again. "It's full of grit, humor and unvarnished stories from my own grief and cancer journey, along with the stories of others dealing with difficult and painful circumstances." Niki Hardy is a Brit in the USA, mother of three, pastor's wife and rectal cancer survivor who lost both her mother and sister to cancer before being diagnosed herself. She'd also says she's a tea drinker and teller of bad jokes! Her book has already gained praise from prominent authors and media personalities such as Sheila Walsh; "This book offers real help and tangible hope" and JD Chandler; "Niki eloquently unfolds her powerful story with raw, vulnerable honesty that cuts to the heart of the human condition" but she is most excited by the way it's already helped people who are barely surviving a life they never planned or imagined to find life in the midst of it all.
Breathe Again admits that life is not fair and no one gets to skip the tough stuff, but it embraces the reality that with God, life doesn't have to be pain-free to be full. Along the way Niki offers plenty of her English humor and loads of practical advice for the readers and ultimately equips them with a Thriver's Manifesto to make their own. According to the author, Breathe Again is part BFF, part spiritual cheerleader/coach, and 100% down-to-earth and is for anyone suffocating in a life they never planned or imagined. Niki blends biblical truths with personal stories, practical tools, and honest humor to equip audiences to live their lives to the fullest.
Before moving to the United States with her husband, Niki trained as a teacher at Kings College, London, before studying theology at Wycliffe, Oxford. The couple now resides in Charlotte, North Carolina with their three kids and pastor CityChurch Charlotte. Niki believes that by sharing her own journey through pain and surviving cancer, as well as the stories of others living through loss, amputation, chronic pain, eating disorders, rape, and epilepsy, along with often forgotten women of the bible she can help encourage and empower others to grab hold of all God has for them, no matter what.
Niki speaks at conferences, retreats, women's events, social and seasonal gatherings, and is available on Skype or Google Hangout for interactive sessions.
To order this book today, please visit the book website at: www.thebreatheagainbook.com
To download the first chapter for free, please visit: https://nikihardy.lpages.co/breathe-again-first-chapter-download-stand-alone/
To watch a video by Niki, please visit: https://vimeo.com/349475450
To find out more about the author, please visit her official website at: www.nikihardy.com
Media Contact
Company Name: Fullondigital.com – PressReleaseshop.com
Contact Person: Admin
Email: Send Email
Phone: 7044786020
Address:400 West Peachtree Street NW Suite #4-788
City: Atlanta
State: Georgia
Country: United States
Website: pressreleaseshop.com