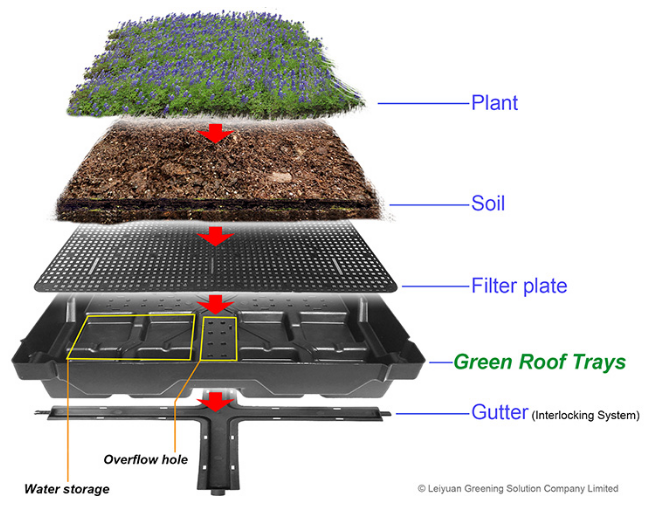 What is the Green Roof Trays System, why are they very important, who should install them and where are they installed. What is the working principle behind these Green Roof trays?
Features:
Made from imported raw materials of polypropylene Copolymer thus ensuring they have a very high temperature, acid, and alkali-resisting properties thus very durable.
Easy to assemble and disassemble since the structural and modularization designs are created to suit different models.
The planter is able to aerate, water storage functions and drainage thus making the very best use of any water drop.
High-quality materials from recycled PP raw materials.
Readily available due to high production capacity.
Made from cotton fiber, plastic planter, and the grid panel
Has a wide range of uses such as at the rooftop, parking side or gardens.
Green Roof Trays are usually designed in such a way that they are easy to install, repair and maintain. Each Green Roof Tray system is designed in a hierarchical way such that each has rainwater retention capacity, drainage, growth medium, filtration, and the plants.
It is recommended to mount all your modules directly on waterproofing roof system thus providing maximum protection of your plants against day and night thermal fluctuating and direct UV. It also causes degradation of water repellent thus increasing its useful service life significantly. It also reduces the cooling and heating costs, mitigating on rainwater damages, noise reduction on a rainy day on top of creating an environmentally friendly habitat.
Green Roof Trays structure Innovative design.
The modern design has ensured a combination of cost-effective installation and flexible designs which can be customized upon the customer request.
Strong drainage with a rapid water storage function that ensures better utilization of rainwater even during the dry seasons
Full water storage system. The system can hold water up to 1800ml thus making your irrigation cycle complete annually.
Better housing function. The overhead layer designs ensure that your rooftops are dry for some times.
Effective insulation function. The multi-layer cold and heat insulation ensures that your building is at the right temperatures throughout.
Ways to build your Green Roofs:
• Vegetation. It involves planting some vegetation on your Green Roof trays and installing them on your house rooftops
• Drainage for better aeration,
• Root Barrier. The vegetation roots act as rainwater barrier
• Roofing Membrane
• Water Storage and Insulation
• Growing Medium
• Membrane Protection
• Structural Support
Benefits of Green Roof Tray Systems
Easy and fast to assemble. You can plant your seedling to any size you want since these trays can seamlessly piece together to the extent you want.
Convenience and easy for daily maintenance
Long-lasting service since the making material is very durable with protected UV polythene materials. No water leaking risks since they do not get cracks or peeling off. You can, therefore, put them on rooftops or at the balcony.
DIY Garden. Since they are raised garden beds you can easily use them as your own green roofs for living roof or at the balcony extension.

Conclusion
Whichever the purpose of your Green Roof Trays installations such as garden rehabilitation, vegetable beds, urban oasis, these Green Roof trays are very flexible and can support a wide variety of crops such as mixed planting among another intensive planting to achieve the beauty you need in your compound.
Media Contact
Company Name: Leiyuan Greening Solution Co., Ltd.
Contact Person: Media Relations
Email: Send Email
Phone: +86 18960336257
City: Quanzhou
State: Fujian
Country: China
Website: https://www.greening-solution.com