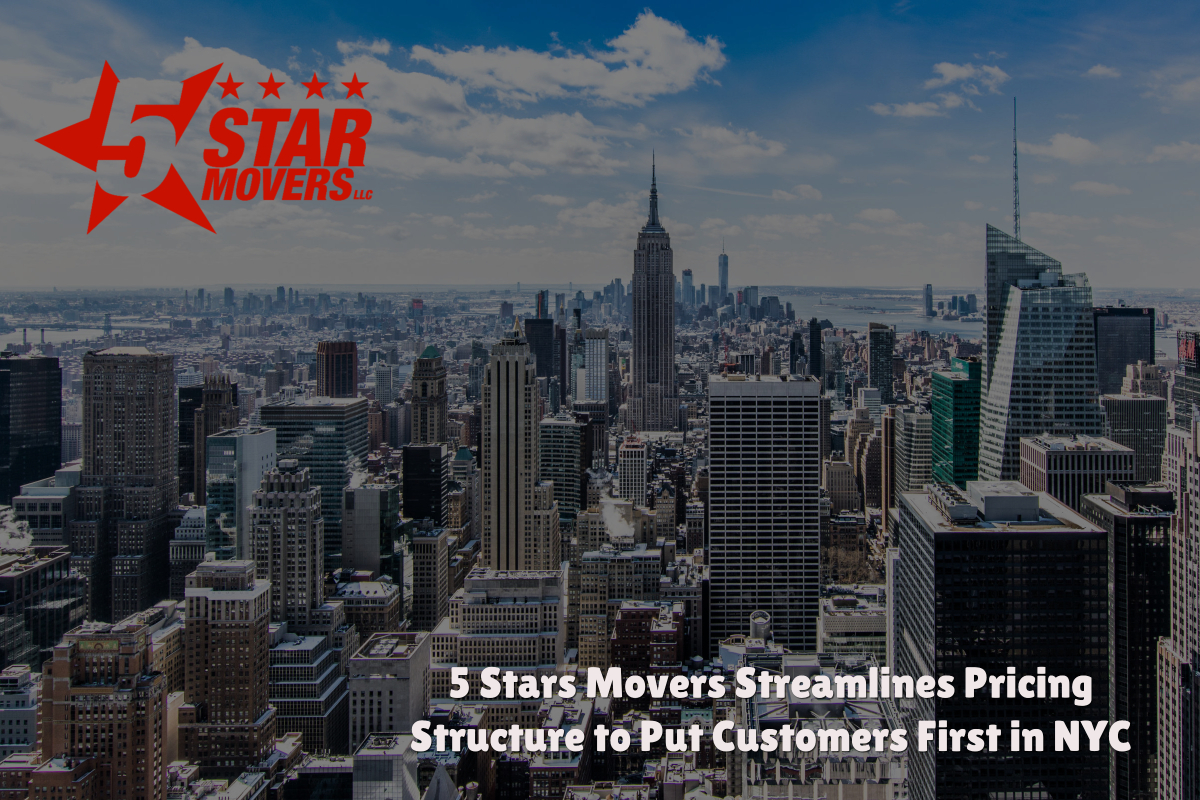 New York City, NY – 5 Stars Movers has streamlined its pricing structure to better demonstrate a commitment to putting customers first. They aim to be as transparent as possible with the new pricing structure so that unexpected costs do not blindside customers. The company understands that treating their customers right is what has distinguished them as leading movers in NYC.
5 Stars Movers operates in many of the city's most popular neighbourhoods. They operate in areas such as Alphabet City, East Village, and Tribeca. They offer a wide range of services, whether it's helping clients move a few boxes down the street or transporting a piano to the other side of town. They can even assist with an international move. A complete description of each service offered can be found on the company's website at https://5starmovers.net/.
The company has learned a thing or two in their ten years of operation in the Big Apple. Recognizing that moving in such a condensed city can be difficult, 5 Stars Movers strives to streamline the process for their clients. They feel that this practice helps them to build the best rapport with their clients. They hope that their experience and dedication will make them the most prominent movers in NYC.
The company offers flat rate moves so that clients always know exactly how much a move is going to cost. In a city with traffic congestion and multi-level buildings that make transporting items difficult for clients to take on themselves, the flat fee ensures that unforeseen circumstances do not add to the total cost.
5 Stars Movers has made a promise to eliminate unforeseen charges because they understand how frustrating such practices can be for the consumer. They will work with clients to determine which services are necessary and will not overcharge for issues that crop up outside the terms of the contract. They hope that working in this manner will cement their company as a leading mover in NYC.
Another way that 5 Stars Movers strives to be upfront with their customers is that they provide a free quote to each potential client. Interested parties can either email or call the company to find exactly how much their move will cost. They offer this quote with no obligation. The free quote allows potential customers to shop around and make sure they are getting the best deal possible.
To provide even more resources for their customers, 5 Stars Movers includes moving tips and blog that can be accessed for free on their website. They want everyone to have an enjoyable moving experience, even if readers don't choose to use their services. They hope that this gesture of generosity will show clients that compassionate and caring movers in NYC do exist.
5 Stars Movers strives for complete transparency in all that they do, but especially in their pricing. Throughout their experience, they have found that one of the things consumers find most irritating is not being charged properly. 5 Stars Movers believes that everyone should be charged responsibly. Their dedication to transparent pricing sets them apart from the competition.
Link: https://www.google.com/maps?cid=10604420496139602823
Media Contact
Company Name: 5 Stars Movers
Contact Person: Media Relations
Email: Send Email
Phone: 347-758-6794
Address:347 E 104th St.
City: New York
State: NY
Country: United States
Website: 5starmovers.net