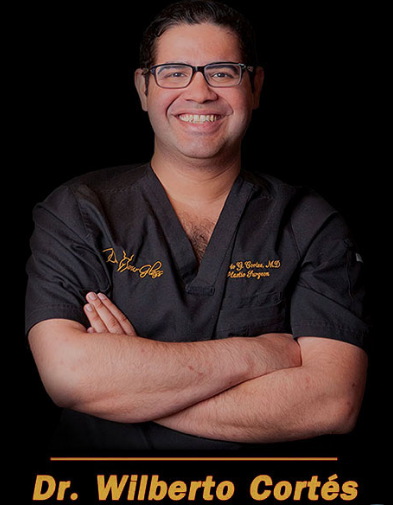 Dr. Wilberto Cortes, MD, a board-certified plastic surgeon and founder of Rejuvenus Aesthetics in Houston, Texas, offers the best breast augmentation/reconstruction, liposculpture, and buttock shaping with fat grafting service in Houston, Texas. Dr. Wilberto Cortes graduated with Magna Cum Laude Latin Honors from the Ponce School of Medicine, a US accredited medical school in Ponce, Puerto Rico in Doctor in Medicine (B.S). He further pursued his passion for plastic surgery at the Medical College of Wisconsin in Milwaukee and graduated with honors. He received multiple awards and distinctions during college. He focuses his practice at Rejuvenus Aesthetics on breast augmentation, breast reconstruction, liposculpture, and buttock shaping with fat grafting. Dr. Wilberto is a prestigious member of the Montgomery County Medical Association, Texas Medical Association, and the American Medical Association.

Dr. Wilberto is an established authority in the Houston medical sphere. He is the developer of the Wonder Breast Lift, Wonder Breast Reduction, Hourglass Butt Augmentation, Hourglass Hips, Hourglass Butt Implant, Hourglass Tummy Tuck procedures. All the listed procedures are constantly refined and advanced to remain innovative. They have helped his patients meet their body goalsat a 100%success rate. Over the course of his medical career, he has turned hundreds of horror stories into successes. These accomplishments have earned him the following awards; America's Top Surgeon 2013-2017, Top Plastic Surgeon Reviews 2018, Patient's Choice, AIPS 10 Best Plastic Surgeons and Houston's Top Doctors 2013-2017.
Diane, a satisfied patient, stated- "Dr. Cortes was honest with me unlike other surgeons that I saw before. Dr. Cortes was honest with me. He didn't try to make things look better or worse, he just assessed the facts and gave me his medical opinion without trying to influence my decision. I decided to get the hourglass butt augmentation and also more lipo on the thighs. It was the right decision for me and my body looks now as it should, as I wanted it."
In 2005 as a medical trainee, he conducted clinical and scientific research in aging. Within a year of research, he found the retaining ligaments of the neck. These structures are believed to be one of the many factors involved in the aging process. This discovery led him to develop a protocol for facial anatomic dissections to determine and analyze the anatomical basis of a youthful face and neck. This landmark study was presented in the most prestigious plastic surgery meetings nationwide and has been quoted in one of the most recent books of neck lifting techniques.
Dr. Wilberto Cortes is a highly trained specialist in plastic surgery. His quality of work is superb, and he believes in a team approach to successfully address his patients' goals. Dr. Wilberto Cortes provides customized, patient-centered care and excels at applying his highly specialized esthetic surgical knowledge to solving his patients' complex physique challenges. He is genuinely committed to ensuring that all his patients receive personalized, attentive care to help achieve their individual body goals.
About Dr. Hour Glass
Dr. Wilberto G. Cortés is the founder of Rejuvenus in Houston, Texas. He was born in Puerto Rico, the beautiful island of Enchantment in the best curves Caribbean. Early in his academic years at the Pontifical Catholic University of Puerto Rico, he graduated with the highest academic distinction of his class and was accepted in an integrated plastic surgery program at the Medical College of Wisconsin in Milwaukee.
Dr. Cortés is very critical about his work and results. He has developed many procedures that provide patients with excellent results. The wonder breast lift is a procedure that guarantees a perky breast with long-lasting results and an implant-like look without one. The wonder breast reduction gives patients a smaller breast with limited scars, an implant-like look, and beautiful fullness. The famous hourglass tummy tuck, a technique trademarked by Dr. Cortés, is the only technique that enhances a patient's belly while giving them a very attractive curvy figure. And last but not least, the "baby got butt" procedure is highly demanded by patients. This technique is a high volume fat transfer procedure that not only enhances a patient's behind but also gives them a well proportionate body.
For more information, please visit https://rejuvenusaesthetics.com/
Media Contact
Company Name: WILBERTO CORTES M.D
Contact Person: Dr. Wilbert Cortes
Email: Send Email
Phone: 713-234-6244
Address:50 Briar Hollow ln (West Building)
City: Houston
State: Texas 77027
Country: United States
Website: https://rejuvenusaesthetics.com/