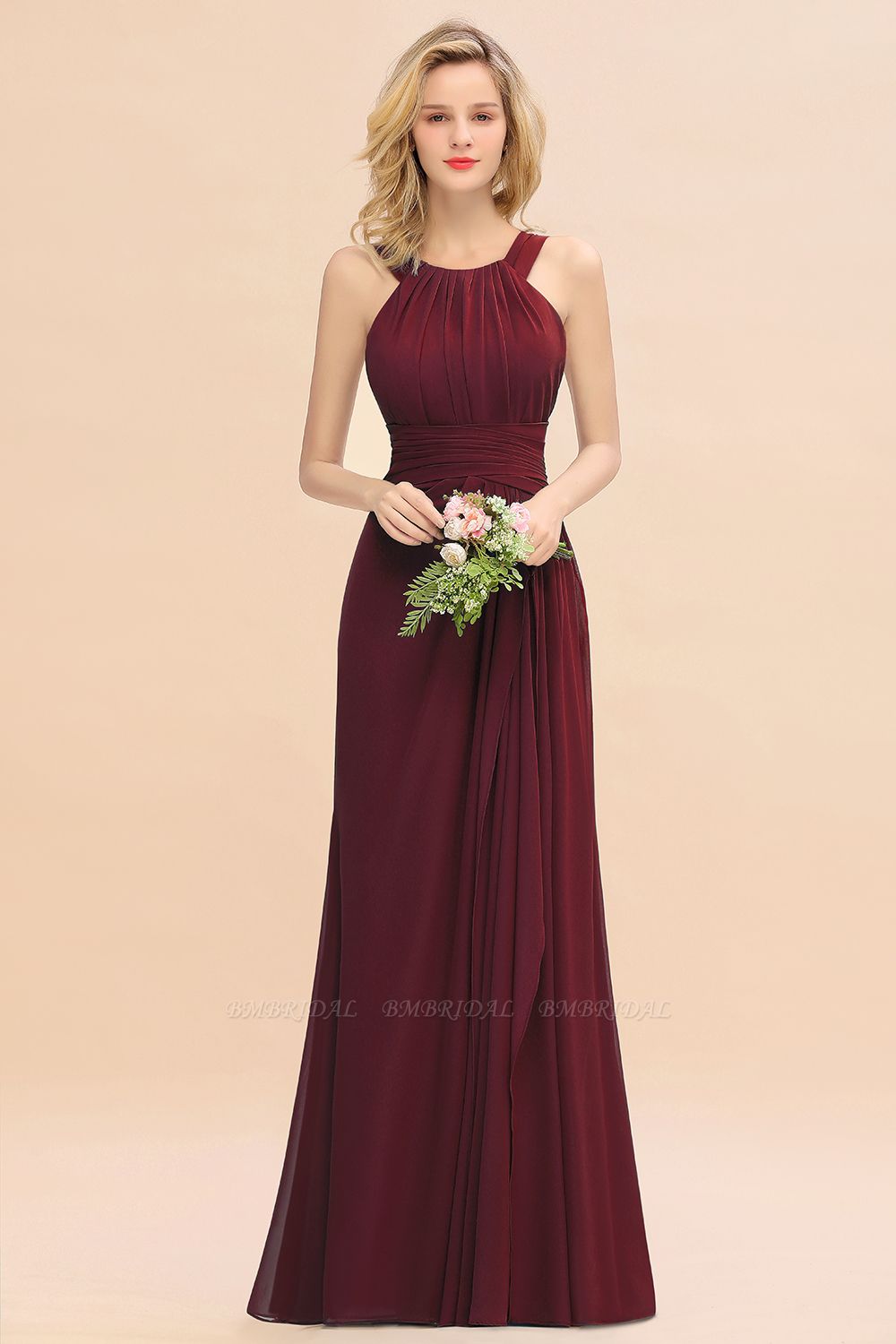 According to the research, burgundy color is the biggest trend of bridesmaid dresses in 2019. So the dresses in burgundy will be the best ones for a coming fall wedding this year.
As all known, Merlot, Port and Pinot Noir are the wine offerings to consider for your cocktail party. But now, it has been changed as they are also the beautiful shades of burgundy for the bridesmaid dresses. This deep color choice is the same as red wine will match the wedding dress on the big day.
Burgundy is a kind of special and amazing shade for a fall or winter wedding, which will complement a jewel tone palette a lot. This vivid color will make a stunning statement of the start of the wedding when the bridesmaids walk down the aisle. It will also accentuate the backdrop of the wedding photos.
Burgundy is also a good choice for summer weddings too. In the proper fabric and style, the burgundy bridesmaid dresses will easily push the girls to standout position amid a sea of pinks and pastels, which could be seen during the summer season in tradition. The burgundy is a kind of incorporate color, which could match many other colors. If a bride want a mismatched bridesmaids look, she can mix in softer colors, like dusty pink, to bring a lighter feel to the burgundy dresses.
Burgundy could flatter most of skin tones even if it is a bold hue. This rich color could go with different venues in fall. It can work for a vineyard wedding as well as an elegant formal event. No matter what the wedding theme is, there will be a burgundy bridesmaid dress that will complement the wedding dress and will look great on the bridesmaids.
Nowadays, it is very easy to find a bridesmaid dress on Internet as there are so many bridal online shop there. BMbridal is such an online shop, specializing in making the bridesmaid dresses. In the shop, the bridesmaids will find more than 50 popular colors, of course, burgundy color is included. According to the feedback, they find the burgundy color bridesmaid dresses are the most favorite ones for the coming fall weddings.
They have hundreds of different styles of the bridesmaid dresses in burgundy color for choice. Besides, the price of the dresses are really affordable and the dresses are made of high quality. The girls will not get any disappointment if they go with the dresses from BMbridal.
Media Contact
Company Name: BM Bridal Co., Ltd.
Contact Person: Drue Fitzgerald
Email: Send Email
Phone: 1-510-598-5158
Address:4982 Bayview Dr
City: Stockton
State: CA
Country: United States
Website: https://www.bmbridal.com