Hialeah, Florida – Sep 23, 2019 – Albert Corey is pleased to announce the launch of his new book The Art of Perception. This book tells how small business can increase their revenues with just simple changes. The Art of Perception thoroughly identifies how Corey established a company from 50 clients in 1985 to over 75k served in over 3 decades of services. Small business owners have to start to think and act as if they are the CEO of Fortune 500 companies. Now, one could make the decisions that will take them to the next level and beyond.
The Art of Perception is Albert Corey's story on how he went from 50 returns in 1985 to over 75k clients served in over 3 decades. When he started his business in 1985, there was no internet or cell phone. He had to start with just flyers made at Office Depot. The best part was he would print them but he doesn't have any money to cut them. He cut them by himself. He always looked jagged but still went out on Sundays and passed them out.
Throughout his journey, Corey is always seeking for new ways to get his name in the world. As time passed by, he learned how to move forward. He has seen how technology changed. It's amazing how he distributed thousands of flyers in 1985 and how he can easily use Facebook for his marketing efforts today. He was able to look for the best means to go forward. He only spends less money on his marketing. Corey no doubt belongs to one of the most competitive industries. Yet he understood that they are always growing with number of clients served.
The book will show readers how business owners and sales professionals could get more qualified leads without spending an arm and leg. The book will provide simple changes to boost their revenue. The Art of Perception system is considered timeless. With one simple tip, one could potentially increase their income.
"I highly recommend Alberts' book THE ART OF PERCEPTION it's a WINSOME read, and I wish I had it 3 decades ago…grab 3 copies, 1 for yourself and 2 for the ones you love most! They will thank you!" says Dan Snell, a winsomeologist at The Winsome Way.
The Art of Perception is ideal for startups, entrepreneurs, business owners, and people who crave for more. The book is currently available on Amazon. The Kindle format is available for only $2.99, the Hardcover and the Paperback format is available for $15.00 only. One can buy it at www.amazon.com/dp/B07TL759SZ
Interested individuals who wish to get the first chapter of Albert Corey's book can easily text TAXMAN to 26786.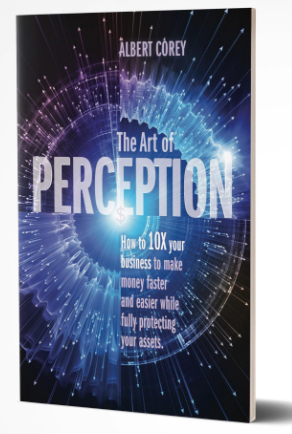 About Albert Corey
Albert Corey is an author, speaker, and tax strategist for over 30 years. He has been supporting business owners, individuals and entrepreneurs all over the world to become the best at their success. He obtains an unconventional accounting practice in South Florida.
To learn more about Albert Corey and his services, call him at 8884104020 or send him an email at info@albertcorey.com. Visit his official website at www.theperceptionsystem.com.
Media Contact
Company Name: The Perception System
Contact Person: Albert Corey
Email: Send Email
Phone: (888) 410-4020
Address:1800 W 68 St Suite 118
City: Hialeah
State: Florida 33014
Country: United States
Website: http://www.theperceptionsystem.com/