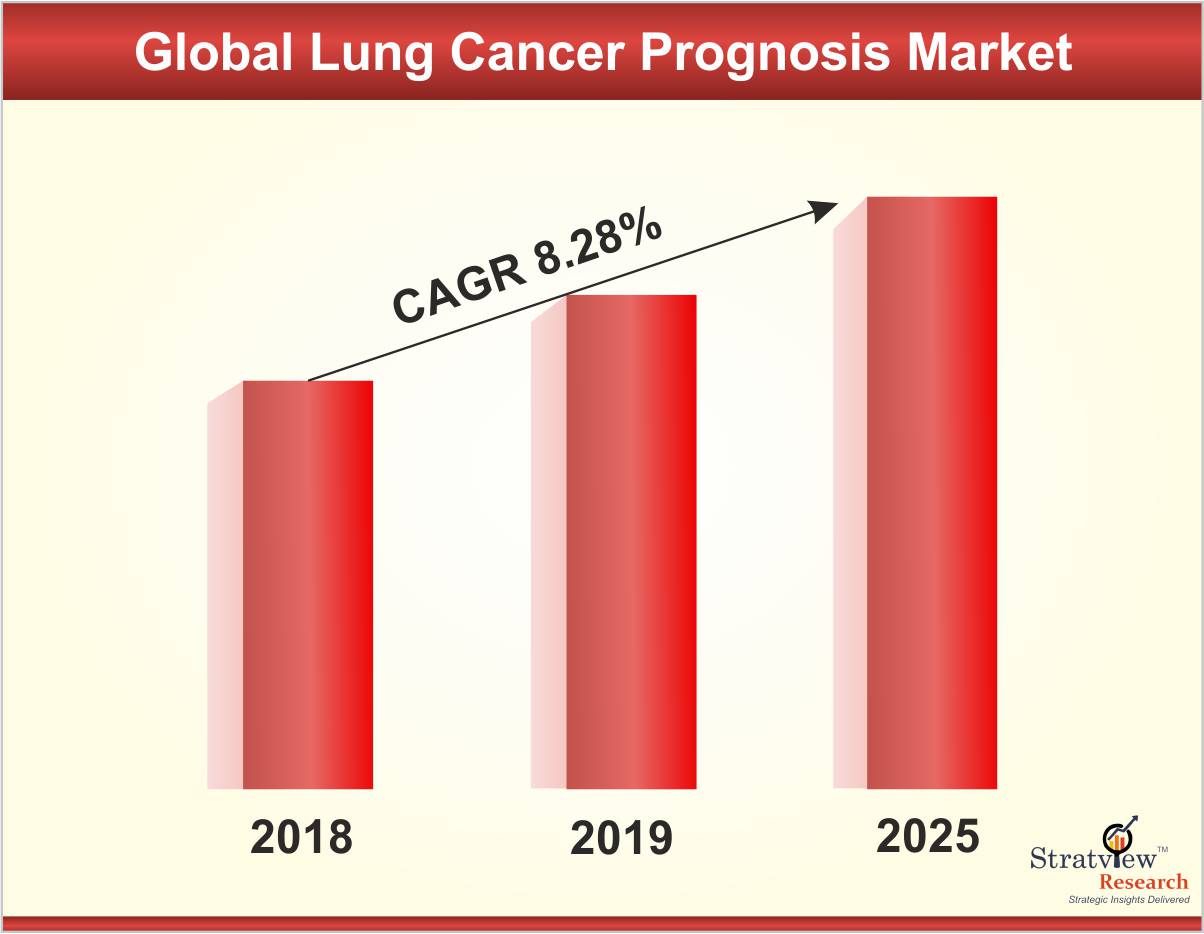 "Stratview Research estimates that the new joiners will have great opportunities as the Lung Cancer Prognosis Market size is estimated to grow at a CAGR of 8.28% globally by 2025."
Stratview Research has published a report on Lung Cancer Prognosis that talks about the increasing situation of Lung cancer prognosis and the treatment methods in the coming years.
Stratview Research has published a report on Lung Cancer Prognosis that is one of its kind in the market to touch upon the demands, gaps, and opportunities of the global lung cancer market while covering Lung Cancer Diagnostics, Lung Cancer Therapeutics, Lung Cancer Nutritional supplement, Lung Cancer Surgery, and Lung Cancer Connected Health Market.
Request a sample of the report at https://www.stratviewresearch.com/Request-Sample/425/lung-cancer-prognosis-market.html
Not every patient who has lung cancer is eligible for surgery. But still, Stratview Research states that the segment of lung cancer surgery is expected to grow steadily during the forecast period of 2019 – 2025. Also, as per the study conducted by Stratview Research, Lobectomy is the surgery type that results in the lowest recurrence rate and higher survival rate in comparison to others.
Currently, applications for Lung Cancer maintenance or management also seem to be promising alongside the surgery as researchers believe that app-based software can help in treatment adherence, keeping track of medical records (insurance companies, medical centers).
The Table of Content for the report can be requested at https://www.stratviewresearch.com/toc/425/lung-cancer-prognosis-market.html
Stratview Research makes an estimation in its report on Lung Cancer Prognosis that during the forecast period 2019 – 2025, countries such as the USA, UK, Germany, France, Japan, China, and Australia will develop and will come up with flourishing opportunities.
The report by Stratview Research also looks at the aspects of sales and marketing, buying patterns of end-users which can help companies such as Abbott, Danone, Nestle, B Braun, and more gauge the market and look at the changing preferences of the market in regions such as Asia Pacific, Europe, and North America.
The report mentioned Thermofischer, Roche, and Biomerieux to be among the key players in the market while the newbies such as Astraeus Technologies, Zebra Medical, Deton, Oncocyte are also offering a tough competition now.
Have a look at the Report Description here https://www.stratviewresearch.com/425/lung-cancer-prognosis-market.html
Salient Features of the Report
The Stratview Research team has analyzed data from different reliable sources to create a report on Lung Cancer Prognosis. Some of the features of the report are:
Strategic Segmentation
Competitive Analysis
Strategic Growth Opportunities
Swot Analysis
Key Players
Forecast Analysis & Future Growth
About Stratview Research:
Stratview Research is known for creating custom reports and also other market research reports for interested companies dealing in sectors such as Advanced Materials, Aerospace & Defense, Automotive & Mass Transportation, Consumer Goods, Construction & Equipment, Electronics and Semiconductors, Energy & Utility, Healthcare & Life Sciences, and Oil & Gas. The team makes sure to analyze the collected data well and then come up with a proper report that can be of proper help to the interested clients and companies.
Media Contact
Company Name: Stratview Research
Contact Person: Ritesh Gandecha
Email: Send Email
Phone: +1-313-307-4176
Address:400 Renaissance Center, Suite 2600
City: Detroit
State: Michigan
Country: United States
Website: www.stratviewresearch.com