Workaholics are typically seen in a negative way as they are often portrayed as people who are so driven that they ignore everything but their work. They neglect loved ones, their own health, and any other possible passions they might once have had. But the contradictory thing is that our society and even companies have been normalizing it as well, and in the worst cases, expect workaholism from their employees.
Author Kat Nieh is here to change that perspective. One of the things that you need to know about her is that she is a proud workaholic as it has led her to many achievements in her life. Kat knows that she poses a very useful power, but like any power, it can be used for both good and bad.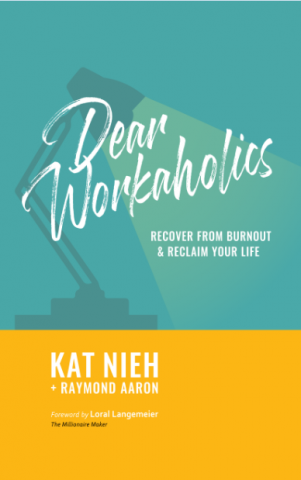 So, which kind of workaholic are you? Does every other aspect of your life suffer in order for you to achieve success in a job that isn't as fulfilling as it once was? Or do you use your passion and drive to continuously create a life that gets you excited every single day? Kat Nieh believes that all workaholics can take pride in your work ethic and use it to do so much more than slave away for something or someone else.
For several years Kat was a burnt-out workaholic, before finally deciding that enough was enough. Both her emotional and physical well-being were crying out for something more nourishing and more impactful. She knew she needed to change and she knew it needed to be big.
Author Kat Nieh shares the lessons she learned as she transitioned from being in extreme burnout to gaining the freedom to live a life she loves. She shares the importance of leading your life with your outrageous desires to be infused happiness and fulfillment, your intentions to focus your decisions, and your values to create the structure and guidelines in your life. She has distilled a lot of her own personal growth, courses and books she's consumed, and advice from working with multiple coaches and mentors into this book. As she channeled her workaholism into herself, Kat Nieh developed a system to inspire and support other workaholics to do the same.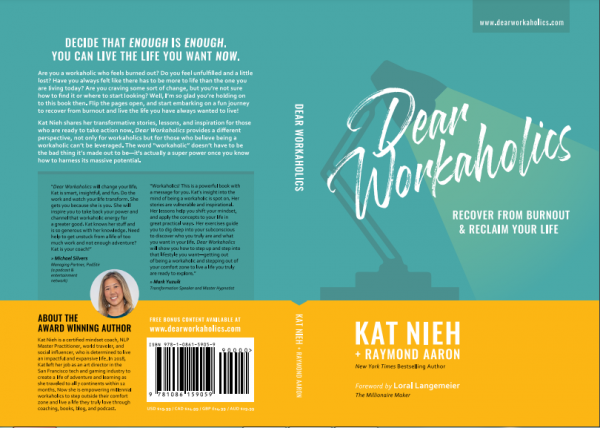 Let Kat's incredible journey inspire you to stop holding yourself back. Now is the time to start feeling alive again. Now is the time to stop being constricted by societal obligations. Now is the time to face your fears and fill the empty spaces in your life with fulfillment. Sometimes all you really need is some support from someone who knows you and gets what you're going through. In additional to easily-actionable productivity tips, Dear Workaholics will also provide you the tools to address the root cause of your workaholism — your mindset — and help channeling your work ethic into your passion.
Are you ready to step into a leadership role in your own life? Are you ready to stop hiding behind your work? Are you ready to gain clarity on the beliefs that are holding you back? Are you ready to use your powers to create the outrageous life you've always dreamed of? Are you ready to be even more awesome?
If you answered yes to all of the above, Dear Workaholics is exactly the book you need to get started. Kat's personable writing style flows effortlessly from storytelling to lesson sharing to practical application, and is organized with the workaholic in mind. The chapters are short and meant to taken in one at a time with the thought-provoking exercises to complete as you read.
Make the decision that you can change your life right now. Start building your outrageous desires list today! Start using that unstoppable drive to work hard for yourself. It is time to live a life that lights you with excitement.
Find out more: www.dearworkaholics.com. Your copy of Dear Workaholics can also be purchased on Amazon.
Media Contact
Contact Person: Kat Nieh
Email: Send Email
Country: United States
Website: www.DearWorkaholics.com