A direct-pump and time-saving system, affordable, leak-proof, resistant and easy-to-use breast milk bags designed to avoid contamination with bacteria in the air offer a safe and clean solution for milk storage, compatible with most breast pump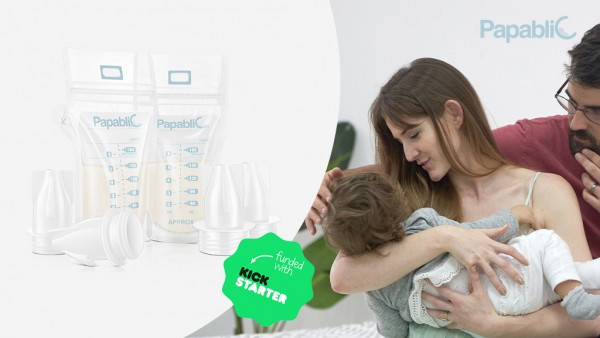 Mothers and parents in general are being offered a new breast milk storage product launched today on Kickstarter, at https://bit.ly/2pt6oWM, that promises to solve many concerns of busy parents who want the best breast milk feeding experience for their babies. Papablic Breast Milk & Storage System feature a number of characteristics that address several known shortcomings of breast milk bag competitors on the market.
"Our bags are ergonomic and easy-to-use, easy to close and leak-proof but they are also easy to open, they come with adapters for all the main brands and designs of direct-pumps available on the market, they are designed to avoid needless milk transfers, spilling and contamination and they are also extremely affordable," stated Song, Product Manager at Papablic.
The crowdfunder was referring to the fact that, with these bags, a mother can pump milk directly into the breast milk bags and store them in the freezer so that they can be used whenever they are needed. Papablic Bags prevent the usual nuisance and hazards of pumping milk into bottles, then transferring milk from bottles to bags, and then aga in from bags to bottles — which reportedly makes the process complex, time -consuming, prone to spilling and milk losses, and exposed to bacteria in the air and on the many surfaces that the milk comes in contact with.
"While being used, any mother will find that Papablic Bags will allow her to seamlessly change bags as each bag becomes filled, and their unique spout design makes transferring milk really a fast and seamless task, as it should be," Mr. Song mentioned, alluding to the efficiency needs of busy mothers who always struggle with the natural time constraints that being a mother brings, namely for women who are also active professionals.
The bags are also designed to be freezer-friendly, with a double seal that prevents leaks when stored, they can stand steady or lay flat, and they allow parents to write on the bags any information that makes storage more efficient. The campaign is also highlighting that the bags are odorless, which means that the stored breast milk does not acquire the usual smell of plastic and that they are made with FDA-approved materials.
Each Papablic Breast Milk & Storage System package comes with two standard-neck breast shield adapters for direct-pumps with this design, such as those from brands such as Medela and Ameda, with two wide -neck breast shield adapters for direct-pumps from brands such as Spectra and Avent. Each package contains 100 bags, and a special price is being offered to early crowdfunding backers in exchange for their support.
The campaign is seeking to raise $5,000 in a 30-day Kickstarter initiative at: https://bit.ly/2pt6oWM
Headquartered in China and with offices in the US, Papablic is a company that already has a history of creating successful products for baby care. The company's main product, the Papablic Bottle Sterilizer, is the best-selling baby bottle electric steam sterilizer and dryer on Amazon, showcasing over 200 very positive reviews from satisfied customers.
Media Contact
Company Name: Papablic Inc
Contact Person: Person Song
Email: Send Email
Phone: 607-301-3827
Country: United States
Website: www.papablic.com