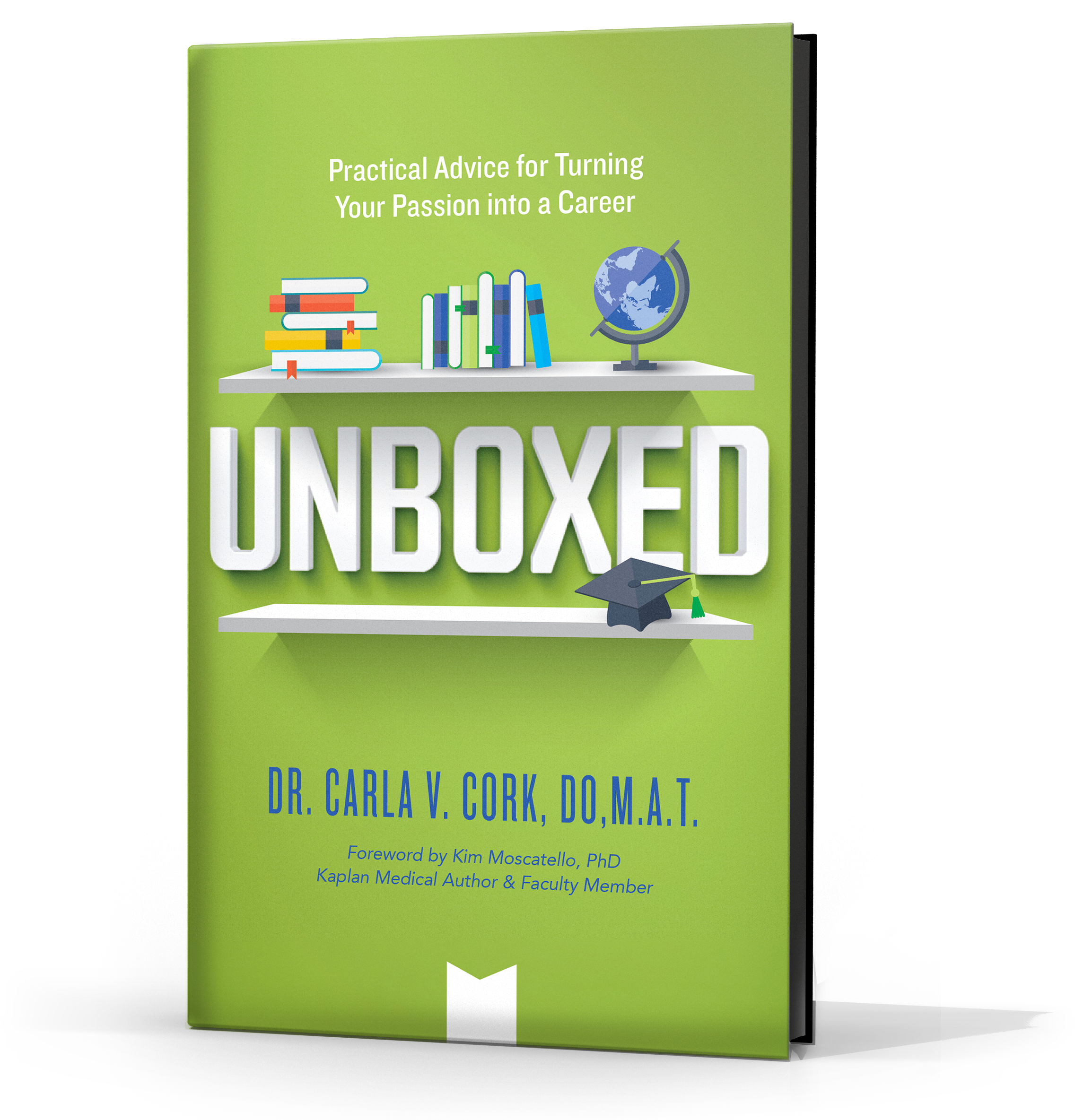 Half of today's workforce is unhappy in their current job. Often that dissatisfaction occurs because job seekers embark upon career paths for the wrong reasons. To provide high school students with the tools necessary to dream, plan, and execute their pathway to a successful profession, Dr. Carla V. Cork, DO, MAT has released Unboxed: Practical Advice for Turning Your Passion into a Career.
FISHERS, IN – October 16, 2019 – In Unboxed, bestselling author and board-certified physician, Dr. Carla Cork, delivers a step-by-step roadmap to help high school students make their goals and dreams a reality. Through this informative guidebook, teens will learn how to navigate the college selection and application process, discover the factors they should consider when choosing a college, and unpack how to choose a field of study and potential career path.
"Many people begin their journey towards a new career and never take the time to find out if it really fits in with their personality or their life goals. The reason you enter a career or field of interest to begin work should have a purpose," says Dr. Carla.
Unboxed allows students to realize that their aspirations are not out of reach. Packed with exercises in reflection and accountability, along with a streamlined approach to goal setting and achievement, Dr. Carla equips teens with the vital information needed to obtain the career of their choice. Through the insider knowledge shared via personal accounts of her own journey to success, students will emulate Dr. Carla's perseverance and develop their grit to remain highly driven while planning for their future.
The tools and tips disclosed in Unboxed are effective yet practical methods that will encourage high school students to stay motivated, remain focused, and map out a clear plan to their chosen profession. "It is never too early or too late to start preparing for the future and creating the life you want for yourself."
Dr. Carla V. Cork, DO, MAT is a board-certified family medicine physician. She has a Bachelor of Science in Biological Sciences from Alcorn State University, where she graduated magna cum laude; her Master of Arts in Teaching from Belhaven University, where she graduated with honors; and her Doctorate of Osteopathic Medicine from Lake Erie College of Osteopathic Medicine.
Published by Purposely Created Publishing, Unboxed: Practical Advice for Turning Your Passion into a Career is now available for purchase at www.DrCarlaCork.com.
Media Contact
Company Name: Purposely Created Publishing Group
Contact Person: Shani McIlwain
Email: Send Email
Phone: (888) 949-6228
Country: United States
Website: www.publishyourgift.com