The feed phosphates market is estimated to be valued at USD 2.25 billion in 2018 and is projected to reach USD 2.80 billion by 2024, at a CAGR of 3.7% during the forecast period.
The report "Feed Phosphates Market by Type (Dicalcium, Monocalcium, Mono-dicalcium, Defluorinated, and Tricalcium), Livestock (Ruminants, Swine, Poultry, and Aquaculture), Form (Powder and Granule), and Region – Global Forecast to 2024″, with the increasing inclination toward protein-rich diets, consumers prefer spending on meat and poultry products. However, growing concerns of consumers about food safety discourage their purchase decisions. Increasing concerns about food safety have encouraged rearers to utilize feed phosphate as it improves the health of livestock and meat quality. The use of feed phosphate also enhances bone development, fertility, and gut functionality of animals. According to MarketsandMarkets, the global feed phosphates market is projected to be worth USD 2.80 billion by 2024, recording a CAGR of 3.7%.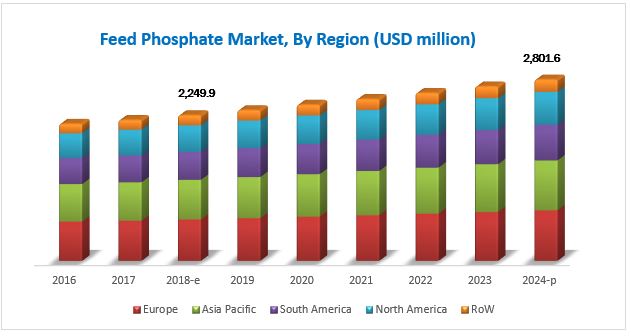 Download PDF Brochure: https://www.marketsandmarkets.com/pdfdownloadNew.asp?id=2507098
High threat of diseases in livestock
The outbreak of diseases such as avian flu, BSE (bovine spongiform encephalopathy), and SARS (severe acute respiratory syndrome) not only affect livestock breeding and the economy, but also pose a serious threat to human health. The emergence of swine diarrhea in the US caused significant losses to swine farmers. Moreover, countries such as China, India, and Indonesia are constantly facing outbreaks of avian flu and swine flu, due to the hot and humid climatic conditions. Meat vendors, meat processors, wholesalers, retailers, and ultimately livestock growers suffer financial losses, due to the culling of disease-affected animals, which further lead to a drop in animal productivity. The foot and mouth disease (FMD) outbreak in the UK in 2007 led to losses of USD 3.7 billion to the livestock sector. The avian flu outbreak of 2013 resulted in economic losses worth USD 6.1 billion in China. Nearly, 130 people were infected in mainland China during this outbreak, according to the UN.
The usage of feed phosphates in such cases proved to be an effective medium to reduce such outbreaks by improving animal health with the provision of necessary nutrients. Calcium and phosphorus are two important macro-minerals required for the proper performance, growth, health, and production of livestock. Most feed ingredients from plant sources are inadequate in meeting such requirements, and hence, the inclusion of feed phosphates are important for the maintenance of animal health in such cases. This is one of the main factors that drive the demand for feed phosphates in the market.
Increase in usage of substitutes such as phytase
The high cost of phosphate salts, such as monocalcium and dicalcium phosphates, has led to the increase in usage of substitutes such as phytase, which is lower in cost, and can be used as a means of controlling the overall feed cost. According to Danisco Animal Nutrition (UK), the feed division of E. I. du Pont de Nemours and Company (US), phytase is included in more than 90% of poultry diets and around 70% of swine diets. According to the same source, phytase has helped the feed industry to reduce feed input and nutritional costs by USD 2 billion per annum.
Apart from being comparatively cost-effective, the usage of phytase in feed has many advantages and fulfils various functionalities of feed phosphates, such as enhancing digestive processes, improving bone health, accentuating body weight, and breaking down indigestible phytic acid (found in grains and oilseeds), thus aiding the release of digestible phosphorus, calcium, and other nutrients that help the growth of animals. Further, phytase also promotes higher feed intake when compared to feed phosphates, which help the physical development of animals, leading to a better performance.
Make an Inquiry: https://www.marketsandmarkets.com/Enquiry_Before_BuyingNew.asp?id=2507098
The Feed Phosphates Market Projected To Record the Fastest Growth in South America Through 2024
With the increasing inclination toward protein-rich diets and a surge in demand for meat products, the demand for feed phosphates is projected to remain high in South America. In addition, the development of the animal husbandry sector in South American countries, particularly in Argentina and Brazil, is gaining pace, which is projected to reflect positively on the growth of the market in this region.
Leading players operating in the feed phosphates market are investing in strategies such as expansions, mergers & acquisitions, and joint ventures & agreements. Key players present in this market include The Mosaic Company (US), OCP Group (Morocco), Phosphea (France), Yara International ASA (Norway), and Nutrien Ltd. (Canada).
Media Contact
Company Name: MarketsandMarkets
Contact Person: Mr. Shelly Singh
Email: Send Email
Phone: 1-888-600-6441
Address:630 Dundee Road Suite 430
City: Northbrook
State: IL
Country: United States
Website: https://www.marketsandmarkets.com/Market-Reports/feed-phosphate-market-2507098.html