The agricultural surfactants market was valued at 1.37 Billion in 2017 and is projected to reach USD 1.88 Billion by 2022, growing at a CAGR of 6.46%.
The report "Agricultural Surfactants Market by Type (Non-ionic, Anionic, Cationic, Amphoteric), Application (Herbicides, Fungicides), Substrate Type (Synthetic, Bio-based), Crop Type (Cereals & Grains, Fruits & Vegetables), and Region – Global Forecast to 2022″, The agricultural surfactants market was valued at 1.37 Billion in 2017 and is projected to reach USD 1.88 Billion by 2022, growing at a CAGR of 6.46%. Agricultural surfactants reduce the surface tension and allow the spray solution droplets to spread on the surface of the leaf. They are added to pesticides to increase their efficiency, provide greater coverage of the spray solution, and improve the retention & penetration of pesticides. One of the major factors driving the growth of the agricultural surfactants market is the modern agricultural practices and technologies that involve the use of surfactants.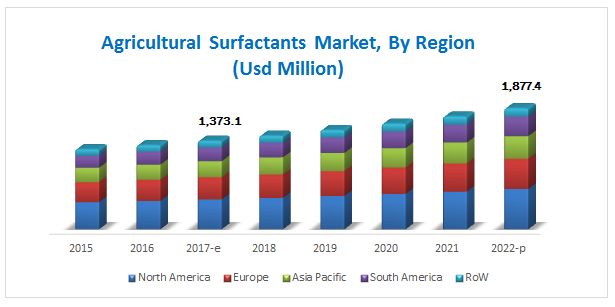 Download PDF Brochure: https://www.marketsandmarkets.com/pdfdownloadNew.asp?id=52947416
Increase in demand for green solutions
The global surfactants market is primarily dominated by chemical surfactants derived from oleochemical or petrochemical sources. However, due to the rising concerns for the safety of the environment as well as human health, the governments and surfactant manufacturers are majorly focusing on shifting to renewable and sustainable products in almost every application. This has led to high demand for biologically derived products that pose a negligible threat to the environment as compared to the conventional petroleum-derived products that are toxic in nature and bio-accumulate in the marine environment. Biosurfactants are microbial surfactants having superior functionality when compared to chemically synthesized agents. These types of surfactants are considered eco-friendly raw materials due to their high level of safety and biodegradability. The rising awareness among consumers for the use of renewable and natural ingredients in their day-to-day products is boosting the demand for biosurfactants and the development of greener solutions for various applications such as cosmetics, pharmaceuticals, industrial cleaning, and biochemicals. The manufacturers are, therefore, keen to adapt to this changing trend of utilizing green solutions in their products.
Use of genetically modified seeds
Bacillus thuringiensis (Bt) is a bacterium that contains an endotoxic insecticidal gene, which is induced by genetic engineering in crops such as corn, tomatoes, rapeseeds, rice, and soybean. These genetically modified crops have the ability to develop their own Bt toxins that act as pesticides. Genetically modified crops have reduced the dependency of farmers on the usage of pesticides for pest management.
According to a research paper published in Agricultural & Applied Economics Association and Western Agricultural Economics Association, 8 million farmers cultivated more than 181 million hectares of GM crops across 28 countries in 2016. The leading developing countries engaged in GM crop production are India, China, Brazil, Argentina, and South Africa. These examples of biotechnological revolution severely affect the global crop protection chemicals market, which in turn will affect the agricultural surfactants market. According to International Service for Acquisition of Agri-biotech Applications (ISAAA), in 2013, GM crops were cultivated in 175.2 million hectares across the world.
The increasing use of GM seeds and crops is directly curbing the use of pesticides as GM seeds and crops have helped farmers to avoid monetary costs, spraying time loss, exposure to harmful chemicals, weeding, and potential health risks, owing to the use and handling of pesticides. In some regions, particularly in North and South America, the increasing use of GM crops might mean the limited use of insecticides, but increased use of herbicides.
Speak to Analyst: https://www.marketsandmarkets.com/speaktoanalystNew.asp?id=52947416
Development of cost-effective production techniques
The production of bio-based surfactants on a commercial scale is not yet viable due to many barriers related to costs, productivity, and yield. The increased downstream cost, high foam formation during production, and low productivity have resulted in many R&D activities. Many new developments have been the area of focus for researchers; these include reducing the raw material costs, increasing the production yield, and developing oxygenation strategies to lower the foam formation. In order to improve the bio-based surfactant productivity, several approaches have been undertaken, such as genetic modifications (amplification or gene knockout, mutation, and altered regulation), optimization of growth conditions (temperature, pH, growth medium, fermentation phases, and oxygenation), and computational modeling.
It has been observed that the production of bio-based surfactants in a bioreactor leads to intense foaming formation, during the aeration and agitation of the solution. Sometimes, the high foam formation is caused by the presence of extracellular proteins, thereby resulting in an increase in production cost. Though mechanical foam breakers and antifoam agents are used, they are not very efficient and tend to alter the quality of the product. However, many strategies are being developed to overcome this issue of foam generation.
Also, it has been studied that the use of low-cost substrates such as crude or waste materials—such as glycerin from biodiesel production waste, fatty acids from soybean oil refinery waste, and sunflower oil refinery waste—reduces the production costs of bio-based surfactants largely. The use of such waste substrates substantially reduces the overall costs, maximizes the utilization efficiency, and makes the process eco-friendlier.
Media Contact
Company Name: MarketsandMarkets
Contact Person: Mr. Shelly Singh
Email: Send Email
Phone: 1-888-600-6441
Address:630 Dundee Road Suite 430
City: Northbrook
State: IL
Country: United States
Website: https://www.marketsandmarkets.com/Market-Reports/agricultural-surfactants-market-52947416.html