In Beware the Bridges, players put their skills to the test as they attempt to break through walls, build bridges, and advance through levels in this casual mobile game. Developed for Android and iOS devices, Beware the Bridges offers players around the world hours of fun, casual entertainment.
Beware the Bridges, a casual entertainment game developed by KYGames, is now available for early access download via the Google Play Store and iOS App Store. Beware the Bridges, which has quickly gone viral, promises players hours of fun and entertainment as they organize bridges to pass obstacles in this latest hit mobile game.
In Beware the Bridges, players make their way through obstacles by organizing bridges, using touch screen functionality to place them and safely navigate obstacles to level up. To win the game, players need to be focused, precise and awake, so they can reach the highest levels of the game and achieve records on the in-game leaderboard.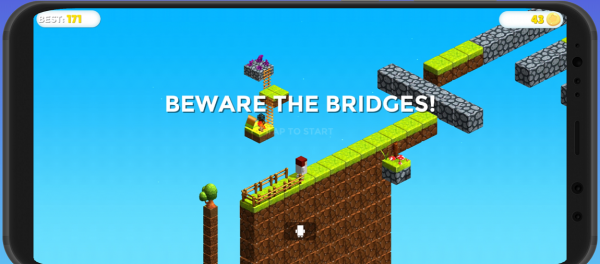 Featuring spectacular graphics and a 2D interface, Beware the Bridges makes use of touch screen functionality on Android and iOS powered devices. Construct the best bridge to surpass obstacles with ingenuity and to avoid falling into the vacuum, which forces a player to try again. With more levels and game improvements in development, Beware the Bridges promises players hours of endless fun and casual entertainment.
For more information, or to download Beware the Bridges on your Android device, please visit the Google Play Store here. Also, the game will be available on iOS next week.

About
Beware the Bridges is developed by innovative developers and creative talents at KYGames, a video game development company that has been a market leader since 2017. Committed to producing viral entertainment games, Beware the Bridges promises to be a smash hit that offers players around the world hours of fun entertainment.
Media Contact
Company Name: KYgames
Contact Person: Yangel Saiz
Email: Send Email
Country: Dominican Republic
Website: https://www.kygames.app/