The gluten-free products market is projected to reach USD 6.47 billion by 2023, at a CAGR of 7.6% during the forecast period.
The report "Gluten-free Products Market by Type (Bakery Products, Snacks & RTE Products, Pizzas & Pastas, Condiments & Dressings), Distribution Channel (Conventional Stores, Specialty Stores, Drugstores & Pharmacies), and Region – Global Forecast to 2023″ The Gluten-Free Products Market Is Projected To Account for USD 6.5 Billion By 2023 Changing lifestyles of consumers and growing awareness about the celiac disease have led to a surge in demand for FDA-certified health-enriching products. An increasing number of health conditions such as high cholesterol levels, obesity, and low energy levels have encouraged retailers to allocate products that align with the health requirements of consumers. To cater to the increasing demand for fat-free products, manufacturers focus on utilizing gluten-free ingredients in their products.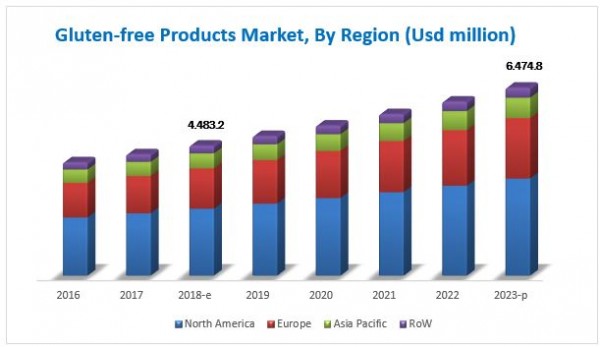 Download PDF Brochure: https://www.marketsandmarkets.com/pdfdownloadNew.asp?id=738
Increased diagnosis of celiac disease and other food allergies
Gluten intolerance or celiac disease is an autoimmune disorder, which damages the small intestine lining and prevents the absorption of nutrients from consumed food items. This damage is majorly a reaction to eating foods with gluten, a type of wheat protein which is also found in barley, rye, and oats. However, some individuals may also experience discomfort in their stomach despite not having celiac disease. Amylase-trypsin-inhibitors, or ATIs, are a group of proteins found in wheat, which could trigger an immune response, and contribute to the development of non-celiac gluten sensitivity (NCGS). Although ATIs form a very small amount of wheat proteins, at 4%, the immune response generated by them could significantly affect lymph nodes, kidneys, spleen, and the brain, causing inflammation. ATIs could also aggravate asthma, lupus, multiple sclerosis, rheumatoid arthritis, and inflammatory bowel diseases.
According to a study "Global Prevalence of Celiac Disease: Systematic Review and Meta-analysis" published in 2017, the global prevalence of celiac disease was found to be 1.4% of the global population. The effect of celiac disease is more in developing countries than in the western world. In fact, the myth that celiac disease primarily affects Europeans and Americans has been broken, since according to the same study mentioned above, the prevalence of celiac disease was observed to be the highest in Asia (1.8%) and lowest in Africa (1.1%). Before the 2000s, the presence of celiac disease in individuals remained unknown as it could have been easily misdiagnosed for other digestion-related problems. Even in developed countries, people were often undiagnosed for celiac disease. However, with the development of simple but reliable diagnostic methods, the situation has changed. This has made it possible to analyze the frequency of celiac disease in different cultures and regions, thereby giving a major boost to epidemiological research in this field. The consumption of gluten-free products and avoidance of gluten-containing products are currently the only way to treat celiac disease, thereby driving the demand for gluten-free products.
Apart from the increase in the diagnosis of celiac disease, gluten-free products are also gaining growth due to the individuals suffering from other diseases such as non-celiac gluten sensitivity, inflammatory diseases, and autoimmune disorders. Further, through government awareness campaigns and initiatives about celiac diseases and establishment of labels for gluten-free products, the need for gluten-free foods has been promoted among the public in almost all regions, including developing countries. These promotions have increased the need for diagnosis of celiac disease among consumers and increased the demand for gluten-free products.
Health benefits and adoption of special dietary lifestyles
The demand for gluten-free products has increased due to the consumers' growing awareness of the benefits of including nutritive foods in their daily diets. With the increasing awareness about the benefits of a healthy lifestyle, consumers prefer gluten-free products processed from corn, soybean, millets, and pseudocereals. Even non-gluten intolerant consumers are adopting special diets that consist of gluten-free foods. There is an increasing desire among non-celiac consumers for grains that are naturally gluten-free such as quinoa, millet, teff, and amaranth to be incorporated in their food products. Some gluten-free products such as millet- and soybean-based products are also observed as wheat alternatives and are perceived to reduce weight. This has resulted in an increased demand for gluten-free products that are perceived to provide better health benefits than conventional products.
Speak to Analyst: https://www.marketsandmarkets.com/speaktoanalystNew.asp?id=738
Relatively high cost of gluten-free products than conventional gluten-containing products
Gluten-free products are more expensive than conventional gluten-containing foods, since creating safe foods by replacing wheat with gluten-free grains can increase the production costs for manufacturers. Substitute grains to wheat are often more expensive for manufacturers. Additionally, the requirement of additional ingredients such as xanthan gum, guar gum, chicory, inulin, and oligofructose or extra preparation steps that are needed to produce an equivalent product also add to the cost of production of gluten-free products, thereby eventually resulting in the high cost of gluten-free products for consumers. The high cost of these products has been the biggest restraint for the gluten-free products market to overcome as all celiac patients or consumers suffering from gluten-intolerance cannot purchase such highly priced gluten-free items, especially in developing regions. For instance, in India, the price of gluten-free products is nearly triple than that of conventional products containing gluten.
Media Contact
Company Name: MarketsandMarkets
Contact Person: Mr. Shelly Singh
Email: Send Email
Phone: 1-888-600-6441
Address:630 Dundee Road Suite 430
City: Northbrook
State: IL
Country: United States
Website: https://www.marketsandmarkets.com/Market-Reports/gluten-free-products-market-738.html