Recording Artist Fuller French released the official music video for his latest hit single "I'll Leave a Key by the Door". Currently climbing the Mediabase A/C chart, this week the romantic and coy song has reached #38 with critics describing it as, "a charming, melodic and alluring slice of heartfelt piano-pop. It's supremely catchy and drips with melody as it skips along a bed of rich meandering keys and honeyed purring vocals above." (BarryGruff Music) This single comes off of French's newly released 2019 EP "Champagne Rendezvous."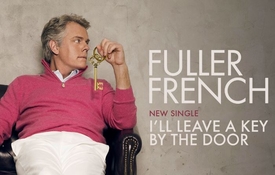 Co-written with Cassandra Denver, French's one-time neighbor, "I'll Leave a Key by the Door" alludes to rekindling a romance with an old flame.
"She came over one day and asked what I was working on. So, I took her to my home studio to play a few things. She liked all of it – I think – but when I started to play the music for 'I'll Leave a Key by the Door' she lit up and started singing, and singing in a very natural way, 'Won't you let me in, come on baby we could just be friends.' It was brilliant, and after a little vino, we laughed about the sly nature of it," said French of the creation of the song.
Recorded at Capitol Record's Studio C, the song gives off an inviting vibe that listeners thirst to experience. "It feels like Easy Like Sunday Morning, all gentle arrangements and a lead man who may well wink after every chorus", described one Spotify promoter.
The music video, with art direction provided by ISET Agency and Rachel Dares PR, was filmed in Los Angeles by director Hashim Lafond who has worked with the likes of Kevin Hart and Ariana Grande. The pristine video editing was accomplished by five-time Emmy award winner Gustavo Sampaio, also founder of the NoHo Cinefest. In the hit, French's vocals drip with the pure essence of love over a melody of charm. Available now on YouTube, "I'll Leave a Key by the Door" is the perfect tongue-in-cheek song for lovers everywhere. Check it out today!

Video Link: https://www.youtube.com/watch?v=3HYOJuaiROE&feature=youtu.be
Media Contact
Company Name: Rachel Dares PR
Contact Person: Rachel Dares
Email: Send Email
Phone: 714.718.9043
Country: United States
Website: http://www.fullerfrench.com