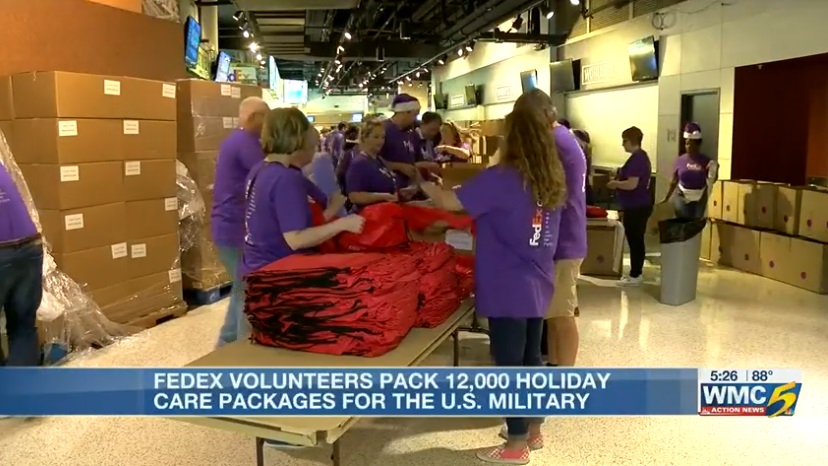 Before the holiday season approaches, the men and women serving our country overseas are being cared for.
Thursday, volunteers from The FedEx Foundation, which is FedEx's nonprofit arm, helped put together 12,000 care packages to distribute overseas.
With the help of the USO Holidays campaign, the snack packs will include some extra special gifts from The FedEx Foundation.
These packages bring joy to our service members each year.
"Some of these places our military members are, you know, are desolate. There is just not a lot there for them. It's a little gift from home. It means a lot," said Tom Murrey, US Military Veteran's Network of FedEx chairman.
The care packages will be distributed to military members deployed to Southwest Asia, the Pacific and Europe.
Marine Corps Veteran Brock Carlson knows what it means for an American serviceman or woman to receive a USO care package when they can't make it home for the holidays.
"While I was serving overseas, I received a kit from home," said Carlson, an HR advisor for FedEx Express. "Getting one meant the world to me. It was something from home, something that we couldn't get while we were over there. It made our day, it made our week, it made our month. Knowing that somebody out there cared really kept us going with our morale and our spirit."
This holiday season, over 300 FedEx team members, made up of veterans, military family members, and others looking to support U.S. troops, packed more than 14,000 "Holiday for Heroes" packages for servicemen and women deployed in Southwest Asia, the Pacific and Europe.
The FedEx's Foundation's FedEx Cares 50 by 50 is a new journey to deliver hope, change and new possibilities for 50 million people by the company's 50th anniversary in 2023. FedEx launched the new strategy after exceeding its goal to invest $200 million in 200 global communities by 2020 six months early.
"At FedEx, we believe that when we connect people and possibilities, we can change the world," said Raj Subramaniam, president and COO, FedEx Corporation. "FedEx Cares 50 by 50 will allow us to continue to work with some of the world's top nonprofits to move the needle on social challenges like sustainable transportation, road safety and youth unemployment. We will also focus on the unique needs of local communities where we live and operate by creating connections with community leaders and supporting nonprofits. In short, we are delivering hope, change and new possibilities for 50 million people."
Media Contact
Company Name: The FedEx Foundation
Contact Person: Mark Smith
Email: Send Email
Phone: 919-902-5798
Country: United States
Website: https://fedexfoundation.org