Revolutionary activewear brand ideal for combat sports competitors
October 31, 2019 – Los Angeles, CA – Combat sports and mixed martial arts competitors know just how difficult it can be to cut weight. Dropping weight can hurt a fighter's potential from the top of UFC to the smaller fight promotions in the world. Hotsuit, a premier tech activewear fashion brand, has revolutionized combat sports with its advanced fabrics allowing fighters to lose weight when training.
Hotsuit's Sauna Suit increases the wearer's sweat and perspiration during a workout. The added loss of fluids and increased core temperature enables the wearer to burn calories and ultimately drop weight. Hotsuit's revolutionary activewear features a one of a kind nano-silver fabric that reflects body heat for advanced cooling. The fabrics used by Hotsuit replace the traditionally used PVC and neoprene materials. These often-used fabrics cause odors, and bacteria can build up in the material after workouts.
The Hotsuit sweatsuits have redefined modern sport and fitness apparel. Hotsuit's activewear has become popular amongst combat sports athletes, including boxers, UFC or MMA fighters.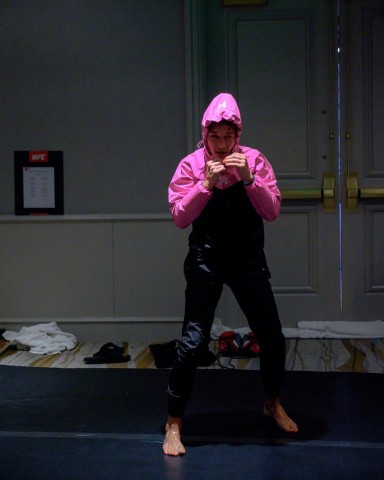 Cutting weight is a major part of modern combat sports making sweatsuits important to athletes. Many combatants of UFC and modern MMA compete in lower weight classes making it vital to dropping as many calories and pounds in a fight camp. Cutting weight by the traditional ways of constant training, hot baths, and other methods can have detrimental effects on a competitor in a match. Sweatsuits provide competitors with the chance to sweat out the pounds but not fatigue their bodies with constant training hell.
Hotsuit activewear is more than just sweatsuits as the fashion brand has developed several collections. Hotsuit's Black Label Collection, as its other fashion lines, has been designed for both men and women.
In addition to combat sports competitors wearing the brand, Hotsuit was the preferred brand by Spartan 2019 World Champion Renee Grace Pickett. The endurance athlete was known for her Sweat and Sparkle sauna suit.
"Our sweatsuits and activewear products are designed for anyone who wants to live a healthier, fitter lifestyle," Sara King, a Hotsuit spokesperson, said. "The sauna suits were originally designed for boxers, but their popularity and the results seen by wearers have made Hotsuit an in-demand brand by others in the sports and fitness world."
For more information on Hotsuit or to shop for the activewear brand's collection, please visit https://www.hotsuit.com/.
About Hotsuit
Hotsuit is a tech sports fashion brand that is revolutionizing the activewear market. Hotsuit uses newly patented tech fabrics that are non-toxic and more durable than alternative activewear brands.

Media Contact
Company Name: Ageas Inc.
Contact Person: Jo Schroeder, Founder/CEO
Email: Send Email
Country: United States
Website: https://www.hotsuit.com/