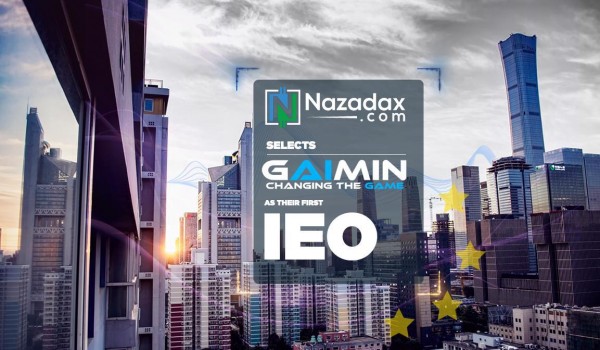 Nazadax Exchange, a Chinese based cryptocurrency trading platform, has decided to launch their IEO platform with European based gaming company, Gaimin. Following the footsteps of Binance Launchpad, Nazadax hopes to create their own unique selling points by allowing their users to have access to foreign-based projects that have good potential.
This is Gaimin's second IEO. Their first IEO was completed in South Korea during the month of September. All 2,000,000 GRMX tokens allocated were sold in 15 mins — exceeding expectations.
"I am very confident of Nazadax, we are thankful to be their first IEO project on their platform. I have tested their platform, and it is very responsive. They have a good system to begin with unlike some of the other exchanges that we have tried trading so far. It works seamlessly and really fast, and is definitely a plus point to get in new users. After reviewing the platform, another idea came about. Since we are working on using GPU power, the exchange users can be our clients too. During times when they are not trading, and their computer is not being used, Gaimin.io's platform can get them benefits from utilising the otherwise dormant GPU. This will be a win-win!" Martin Speight, CEO of Gaimin explained.
Nazadax is committed to serving a diverse customer base from across the globe by providing them with all the support they need to enter the cryptocurrency market and giving them the confidence and ability to trade currencies. Working together with Gaimin is part of the plan to extend their global footprint.
Gaimin's second IEO held on Nazadax will start on 18 November 2019 and there will be 4,000,000 GRMX tokens on sale. More information can be obtained at www.nazadax.com and www.gaimin.io
About Nazadax
Nazadax uses revolutionary blockchain technology to provide global traders with advanced financial services. Based in China, the crypto exchange has expanded its reach to multiple countries across the globe, by offering benchmark services and smooth trading experience.
About Gaimin
Gaimin's platform is also based on AI-driven software that aggregates a gamer's processing power, when not being used and, therefore, without affecting their gaming performance, to the Gaimin monetization network.
Media Contact
Company Name: Blockcast.cc
Contact Person: Jenny Zheng
Email: Send Email
Phone: +65 98832707
Country: Singapore
Website: https://www.blockcast.cc