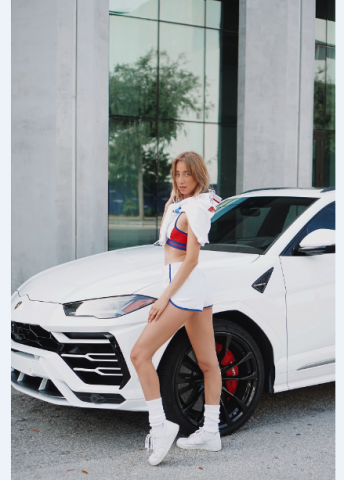 Miami based blogger and digital entrepreneur, Macy Mariano, also known as @wanderwithmacy on Instagram and other social platforms, has collaborated as an influencer for Dave Grutman's exclusive collection with Prince Sports. Dave Grutman x YACHT CLUB is a collection featuring numerous pieces such as tees, track jackets, sweats, polos, and crop sweatshirts as seen on Macy in these images. With a unique and eye-catching color combo, Prince Sports exceeds originality.
For this collection, the content creator utilized the luxurious yet sporty feel of the collection by adding one of the hottest exotic cars to hit the market by Lamborghini. The images of how the Yacht Club collection matches the Lamborghini Urus of its white exterior and red interior seem to be of complete coincidence while shooting a couple of snaps of Macy with the sports car. Lamborghini Urus was brought to Macy to test drive by Miami Luxury Cars.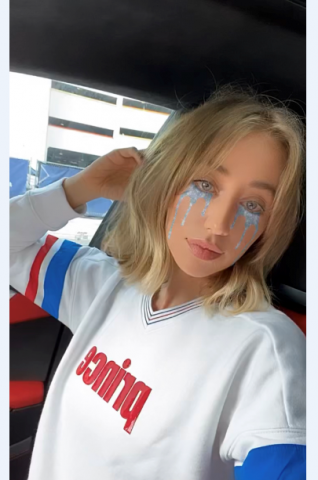 Macy paired the outfit with an original white Air Force One sneaker by Nike and chunky Wigwam socks to give the look a more 90's sporty feel. She draped the cropped sweater around her shoulders to give a preppy look, exposing the matching sports bra. Macy's complete outfit consists of the White Toned Tank, White Frame Dolphin Short, and the White Volley Cropped Sweatshirt.
The classic and clean styles of the collection are now available to purchase on the Prince Sports website. Items range from $15 – $85, depending on the piece. These collections have been gifted to and worn by known figures such as Courtney & Khloe Kardashian, Lele Pons, Hannah Stocking, Cindy Prado, Danielle Bernstein, Food God, and many more.
Contacts:
Macy Mariano
Instagram: @wanderwithmacy
Email: macy@wanderwithmacy.com
Website: www.wanderwithmacy.com
Prince Sports: http://www.princetennis.com/
Get items now!: Dave Grutman x Yacht Club https://princeoffcourt.com/collections/david-grutman-x-yacht-club
Media Contact
Company Name: Wander With Macy
Contact Person: Macy Mariano
Email: Send Email
Phone: (305) 505-2086
Country: United States
Website: http://www.wanderwithmacy.com/