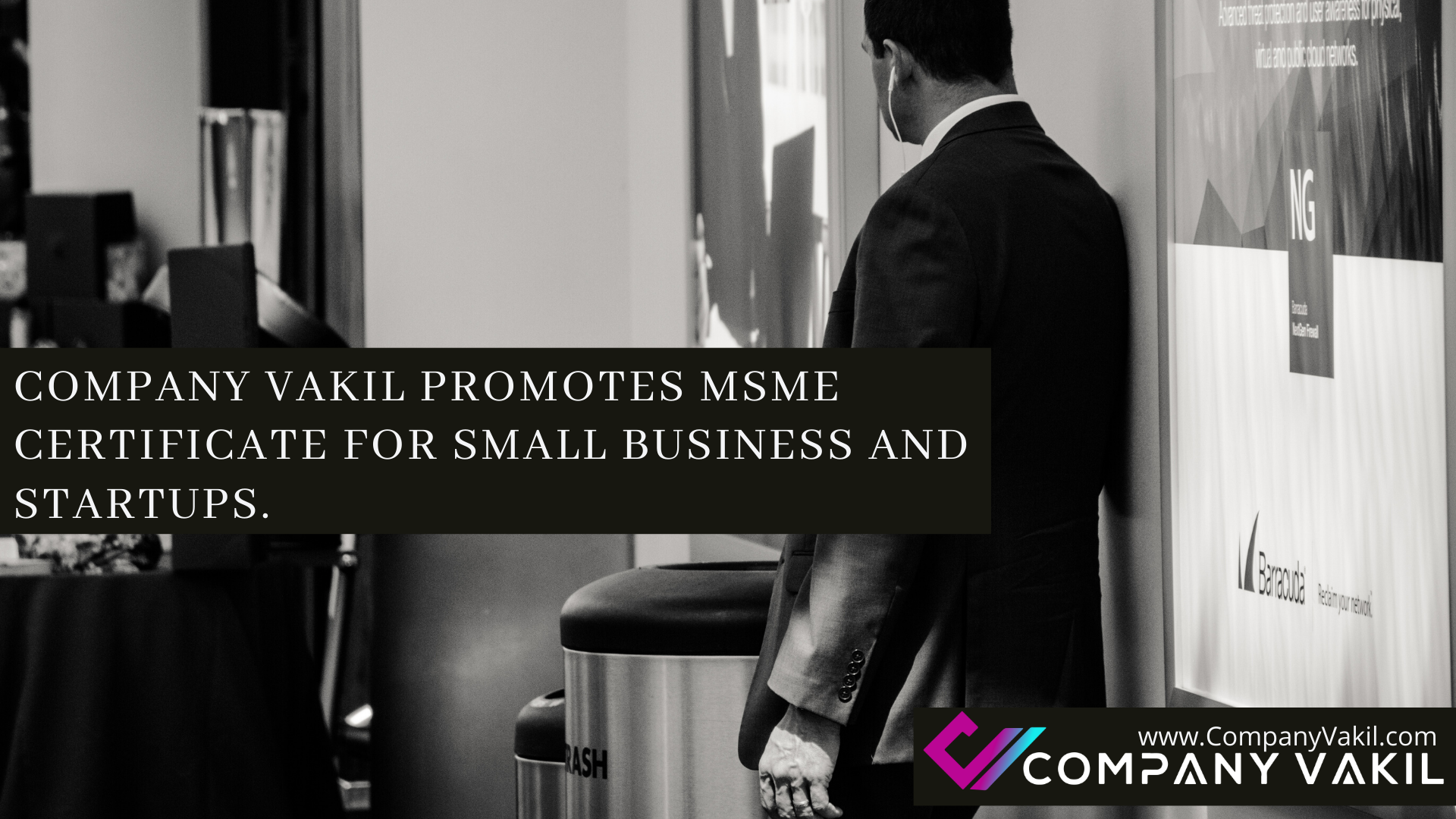 "Online MSME certification in India at your fingertips. MSME certification has never been this easy. Company Vakil is one of the largest online MSME certification portals in India. Company Vakil deals in a wide verity of mandatory compliance documents as in GST Registration, import-export code, etc. Company Vakil provides error-free online MSME Registration in India with the help of experienced legal experts."
This article deals with how you can get your online MSME Registration in India with the help of legal experts at Company Vakil. Company Vakil is one of the largest e-legal MSME Registration portal in India. Now get your MSME Certification at your finger-tips in just 1 day. Get updates regarding copyright registration in India online from intellectual property law consultants at Company Vakil. Company Vakil provides error-free documentation and a money-back guarantee.
Company Vakil offers a composite of technical and legal solutions to all registration needs pertaining to GST, companies, trademarks, copyrights, MSME Registration and patents. Launched in 2017, Company Vakil was founded to use technology to make legal processes error-free and affordable, without compromising quality. It is a 100% online setup that extends a money-back guarantee of completing its tasks in the most efficient and effective manner, leaving you satisfied.
The simple idea behind Company Vakil was that fulfilling legal obligations should be made easy for the common man. To accomplish this mission, Company Vakil provides a platform with a wide range of services from the incorporation of a firm to tax filing by that firm. By making it easier to do business, it is hoped that they contribute to fueling entrepreneurship around the country and help small businesses compete effectively.
Company Vakil is essentially an association of experts who are qualified and experienced in the fields of law, chartered accountancy and company secretary-ship, capable of giving competent and practical guidance. These experts provide tailor-made consultation sessions to suit the needs of their clients. They study each case and its peculiarities and come up with the most effective and efficient method of accomplishing the task. The registrations are handled by experts at every stage. The highest quality of financial, accounting and legal services available through the internet are put at the client's disposal to provide him with the best possible results.
Another very special services is that of MSME/ SSI registration or Udyog Aadhar Registration online. MSME or Micro, Small and Medium enterprises and SSI or Small Scale Industries make up a majority of the business sector in India. While their registration is not mandatory, nevertheless, it provides various benefits to the business in forms of government subsidies, tax exemption, low-interest rates and other reliefs from the government, etc.
The MSME/SSI registration is a 100% online process that involves four steps as mentioned below:
Provisional Online MSME Registration
Obtaining a provisional certificate when the unit is in pre-operative stage such that it helps the unit to obtain term loans and working capital. This license is given for five years.
After obtaining the provisional certificate, one can start the production and manufacturing process in order to obtain a permanent license
Requirements for Permanent Registration Certificate
For obtaining the permanent certificate, the following must be considered:
The unit should have obtained all clearances from the pollution control board, drug control board etc.

The unit should not violate any location restriction.
The original value of plant including machinery should be within prescribed limits for which you are applying.

The unit should not be a subsidiary, owned or controlled by another industrial undertaking.
Once the application is approved by the MSME Registrar, a certificate of registration shall be issued.
Click here to visit Company Vakil. They provide MSME registration in India in 1 day, the fastest service in the business. The cost of the service is fixed keeping in mind the affordability of small and medium enterprises. Company Vakil takes up clientele for MSME/SSI registrations from various cities across India including Jaipur, Mumbai, Bangalore, Gurugram, Pune, Kerala, Ahmedabad, Delhi, Indore, Kolkata, Chennai, etc. All documents that are required for the purpose can be scanned and emailed to Company Vakil.
The main focus of this start-up is on the maximization of customer satisfaction. A very active, agreeable and willing Customer Redress setup also exists that outranks all other such setups, to cater to all queries, suggestions, and complaints. No query to Company Vakil goes unsolved. They offer an online live customer support chat to its visitors on the website. All queries are instantly answered giving a very personal touch to the entire ensemble. One can easily chat with business experts, find answers to thousands of FAQs, read business articles, get statutory due date alerts, start a company or register a trademark through the Company Vakil website. Company Vakil believes in complete transparency in price, process and time consumption. Company Vakil also follows the likes of famous Just in Time process to deliver services on time without a hitch.
Company Vakil also provides a term of service agreement which is a legal document that contains certain terms and conditions which are to be followed by the user using the website. Although it is not mandatory by law, the terms of service agreement facilitate defining the privacy policy and accountability of the organization. It creates public awareness. It helps in restricting the use of information and any other sensitive data or details displayed on the website. The Terms & Conditions are displayed on the website and they can be seen easily as they are put up at a noteworthy section of the site.
All in all, Company Vakil is a one-stop legal solution to all registration and certification needs of the MSMEs and the SSIs. It provides the fastest and most affordable service. Every stage of the process is guided by their experts, thus providing an error-free and hassle-free service.
Media Contact
Company Name: COMPANY VAKIL
Contact Person: Mishthi Thukral
Email: Send Email
Phone: +91-9319459510
Address:301, Bansal Towers, Phase – 2, Ashok Vihar
City: New Delhi
State: DELHI – 110052
Country: India
Website: www.companyvakil.com