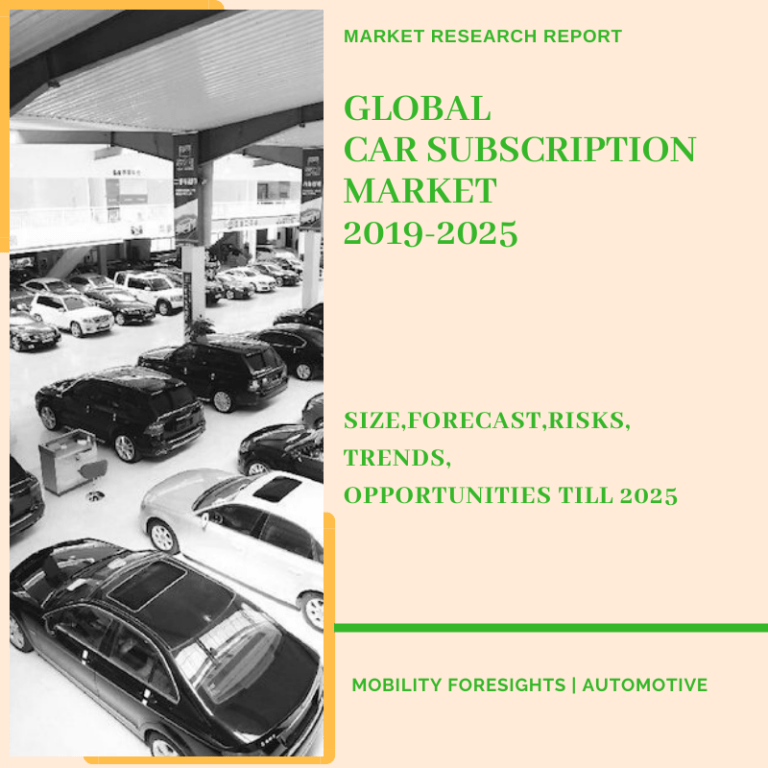 Key contents of the Car Subscription Market report include:
• Market size & Forecast segmented by region, vehicle segment and subscription period
• Consumer and technology trends, earnings analysis for OEM/dealers
• Pain points of vehicle subscribers
• Opportunity for dealerships, by region
• Competitive landscape and market share of leading vendors
KEY FINDINGS
The global car sales in Jan-Oct 2019 period is down by ~12% YOY, a decline of ~8 Million units. Although myriad reasons are responsible for this downturn but car OEMs believe a certain portion of this decline can be plugged by selling cars via subscription
The car subscription services, across the globe are aimed at 'Generation minimal commitment (25-34 yrs)' customers, who are used to paying monthly/usage based fee for their home, transportation, music, games and videos and see car/home ownership as a liability
As OEMs are looking up to dealerships to facilitate subscription services to their customers, it will allow dealerships to earn additional revenue without displacing car ownership and leasing. Therefore, the overall impact of car subscription services on auto dealerships revenue is expected to be "positive".
With the impending electric car revolution, subscription sales are expected to get bigger as consumers across the globe are increasingly wary of residual prices of BEVs (Battery electric vehicles). Also, instead of offering batteries on lease, OEMs could see more value in offering complete car as an all inclusive package
While there are definite positives to the car subscription services but most car subscription services cost substantially more than a comparable three-year lease, which limits their growth potential.
There have been multiple pushbacks in US (touted to be one of the biggest subscription markets). General Motors suspended its Book by Cadillac subscription service in December 2018 ahead of a planned revamp, Volvo Cars is battling California car dealers over its subscription program and Ford sold its subscription services in US to Fair
Download sample – http://bit.ly/vehiclesub
CAR SUBSCRIPTION MARKET TRENDS
As of Nov 2019, more than 70 car models from 20+ OEMs are available for subscription across the globe. By 2025, 30+ OEMs will offer 120+ models for car subscription services, predominantly in US and Europe
Globally, the car buying process has remained brick and mortar dealership centric, despite most of pre-buying research shifting online
In Europe, multiple OEMs including BMW, Dacia, Mini, Hyundai, Volvo, Alpine and Jaguar Land Rover are operating online sales programs or pilot schemes in select cities. UK is the hotbed of car subscription services as ~90% of new cars sold annually are bought on finance

COMPANY PROFILES
Drover Limited
Hellocars (Innovate Automotive Pty Ltd)
Wagonex Ltd
Inmotion Ventures Ltd
Hertz Corporation
Clutch Technologies LLC
Zoom Car Pvt Limited
FreshCar (Previously Carma Car)
Enterprise Rent-A-Car
LMP Subscriptions
Cluno GmbH
Flexdrive
Kinto
Fair Financial Corp
Revv (Prime mover Mobility Technologies Pvt Ltd)

THIS REPORT WILL ANSWER FOLLOWING QUESTIONS
What is the potential of car subscription services, by region, by vehicle segment?
Market size and forecast($M), 2019-2025
New development and trends in car subscription market, by region, by vehicle segment
Which subscription period is most preferred and what are the associated risks to car subscription services market?
What are the major paint points of vehicle subscribers, globally and how it can be addressed by subscription providers?
Role of tech companies in roll out of subscription model, how will the role of dealers change and are they ready to accept the change in consumer behaviour?
Media Contact
Company Name: Mobility Foresights
Contact Person: Kunal Roy
Email: Send Email
Phone: +1-315-675-4056
Address:Incubex Nestavera 204, 56/2
City: Bangalore
State: Karnataka
Country: India
Website: https://mobilityforesights.com/