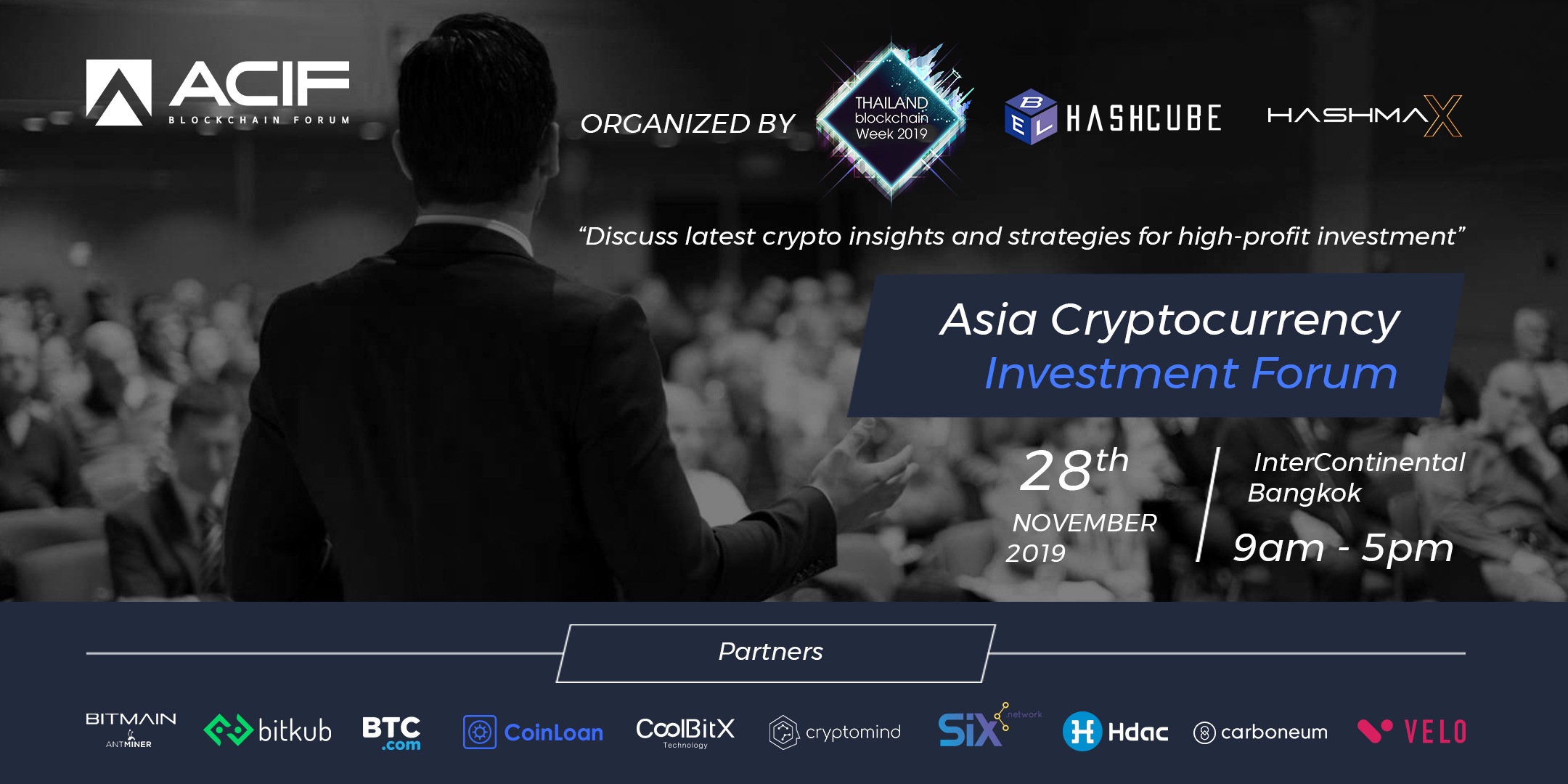 Headquartered in Korea, Hashcube Company, or "Hashcube," is drawing up Thailand's market penetration plans, after perceiving a promising bitcoin future subsequent to an announcement of China's National Development and Reform Commission (NDRC)'s intention to no longer ban bitcoin mining businesses in line with a statement of its President "Xi Jinping" that wished China to represent itself as the leader of emerging blockchain markets.
The company grabbed this opportunity to join Blockchain Thailand Week to organize a mega regional seminar in Thailand under the topic of "Asia Crypto Investment Forum" with partners Bitmain, BTC.com and Thailand's largest exchange Bitkub, with an aim to provide knowledge and render additional opportunities for those who are interested in investing in the digital asset. In this regard, the seminar will be organized on Thursday, November 28 at InterContinental Bangkok.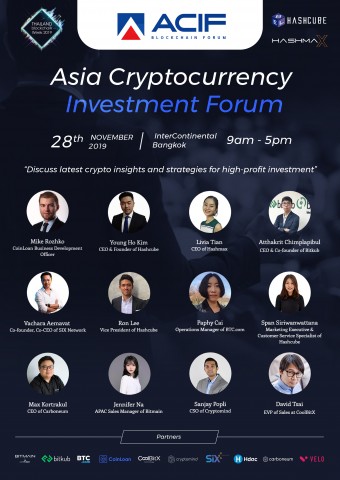 Mr. Young Ho Kim, Chief Executive Officer of Hashcube Co., Ltd., imparted that Hashcube had been well prepared to penetrate Thailand's cryptocurrency market, as it was aware of how Thai people were roused by the blockchain technology and cryptocurrency that gradually dominated their daily life, whether it be financial transactions, regulating legislation, or business operations. These factors encourage Hashcube to consider the importance of the matters and organize the "Asia Crypto Investment Forum" in Thailand in order to offer more opportunities where digital currency enthusiasts are able to obtain more detailed and more accurate information. Also, the company always believes that learners equipped with blockchain knowledge can possibly keep up with the evolving world and be best aware of current situations, as well as being able to cope with changes potentially happening in the financial sphere.
Moreover, the conditions of current cryptocurrency market are also positively corroborated with a support from "Xi Jinping," the President of China, as he stated that "China has established a strong foundation for blockchain technology development. Therefore, it is necessary to strengthen and bring China to the forefront of emerging blockchain markets." Additionally, the National Development and Reform Commission of China, which is a government agency responsible for economic policies, also promulgated a summary of guidance for industrial restructuring. The essentials of the announcement shifted from what it stated originally. That is, the bitcoin mining business is no longer included in the business categories to be eliminated.
As China offers a very low cost of electricity, this country is the best place for several major and large global bitcoin mining plants, such as Bitmain, Canaan, Ebang, as well as for the subsidiary of Hashcube itself to be located. Mr. Young Ho Kim further added that "Hashcube" was the very first company in this industry. It has been founded for more than 5 years, starting from a compact start-up company that aimed to distribute equipment and offer knowledge concerning bitcoin. At present, the company has more than two thousand customers, and has already sold thousands of digital currency miners. Furthermore, in order to facilitate and make the customer feel convenient, Hashcube established a subsidiary named Hashmax to offer extensive cares of bitcoin equipment and bitcoin cloud mining platform in China. Currently, the company has expanded to present itself in up to 5 China's administrative regions, including Hongya, Wenchuan, Yaan, Xinjang, and Leshan. In this regard, when calculating all maintenance fees and costs, using the bitcoin cloud mining platform provided by Hasmax is subject to a lower cost of mining compared to Thailand, of which the electricity fee alone already charges more than 50%.
"Hashcube is a company that initially operated its business relevant to cryptocurrency investment and bitcoin mining, by starting with a group of investors we knew and some of our shareholders. Then, we noticed that the business has grown in leaps and bounds with good services provided and many more people became interested in the digital currency mining. This was the reason why Hashmax was developed and started to deliver an all-in-one bitcoin cloud mining platform to the public. These all-inclusive services are best for amateurs who need supports or those who don't have much time to spend on their digital currency miners. Therefore, together with a site located in China, which is beneficial in terms of electricity charges, the others of our strengths also persuaded customers to use our services, which constantly bring them profit, even during the time when the market is unpromising," said Young Ho Kim.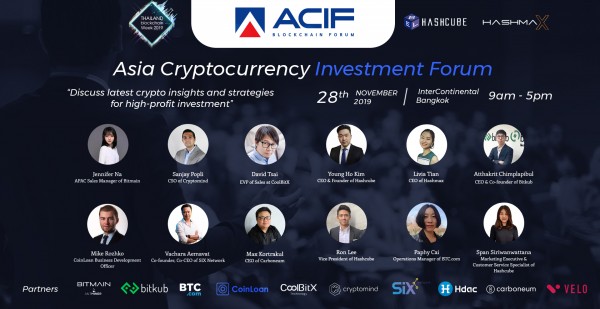 In this regard, Mr. Young Ho Kim finalized that preparation for technology that has been constantly developing, especially in the field of finance, allows you to keep up with the market, renders opportunities in investing and making profits, and helps you be ready for all possible situations. All in all, we are please to invite those of you who are interested in these topics to join our "Asia Crypto Investment Forum" which will be organized on November 28, 2019 at InterContinental Bangkok.
Please make a reservation at asiacryptoinvest.com
About Hashcube Co., Ltd.
Hashcube Co., Ltd. originated in Seoul, South Korea, in 2014. It has constantly achieved satisfying growth rates, both locally and internationally. In addition to a provider of digital currency miners and cryptocurrency, Hashmax Co., Ltd. was founded to provide an all-in-one bitcoin cloud mining platform, as well as promoting and facilitating investment transactions in the field of cryptocurrency.
Media Contact
Company Name: Beyond Solutions Co., Ltd.
Contact Person: Ms. Duangkamol Klongboonjit
Email: Send Email
Phone: +66 86405 1633
City: Bangkok
Country: Thailand
Website: https://www.asiacryptoinvest.com/