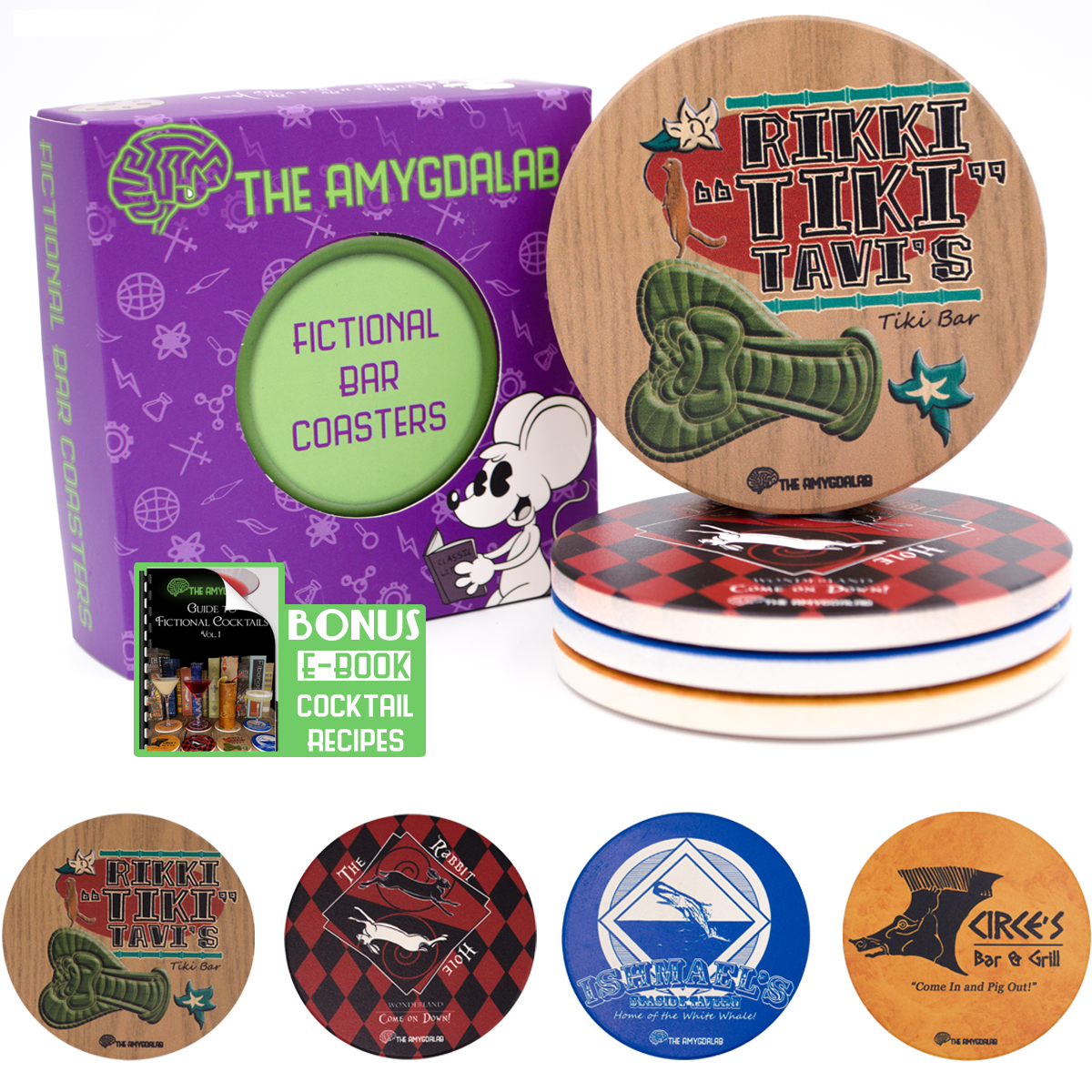 November 18, 2019 – This Holiday season, book lovers deserve more attention! How about a unique gift that is not a book, a gift for book lovers that will make their day with its design and utility? Indie brand The Amygdalab is pleased to present creatively designed literature themed coasters!
Book lovers are hard to please with gifts, and chances are they have read the book one wants to gift. Moreover, they may not like the genre chosen. A gift card or voucher may sound like an alternative, but it is too impersonal. So is there a perfect literary gift for English majors, or a gift for geeks and nerds they will truly appreciate?
"We wanted to create gifts for book lovers that aren't books, but would still count as literary gifts. The result are these brand new book coasters that are just in time for the Holiday season. Gift them away!" says Katerina of The Amygdalab.
For all those frustrated friends and family of bookworms, the new literary themed coasters set comprises four absorbent coasters measuring 3.9" in diameter. Each coaster features creative designs based on classics such as The Odyssey, The Jungle Book, Alice in Wonderland, and Moby Dick.
The drink coasters are large enough to be used as beverage coasters, cup coasters, beer mats, glass coasters, coffee table placemats or to keep wine glasses. Easy to clean with just a rinse or a detergent wash, the coaster designs are vibrant and the stone top and cork bottom lining make them ideal for all places.
As an added BONUS, this set of coasters comes with a complimentary copy of THE AMYGDALAB'S Guide to Fictional Cocktails Ebook. The Amygdalab's resident mixologist has lovingly recreated the signature cocktail from each of the fictional bars represented in this literature themed set.
The Amygdalab Fictional Bar Coasters Set makes a great and affordable stocking stuffer for the upcoming holiday season. The coasters for drinks will also be a proud possession of readers, writers, librarians, bibliophiles and everyone who has a taste for the intellectually whimsical.
The Amygdalab Fictional Bar Coasters Set is currently only available on Amazon.com. Discounts are available for a limited time along with additional bulk purchase discount.
About

The Amygdalab is an indie brand whose mission is to create unique fun intellectual products that center around Literature, Art, History, and Science. The Amygdalab is founded by two book-lovers Kat and Vali, who is an indie author, cartoonist, and the creative force behind the brand.
Media Contact
Company Name: The Amygdalab
Contact Person: Katerina
Email: Send Email
Country: United States
Website: https://amzn.to/2p1vZ9C