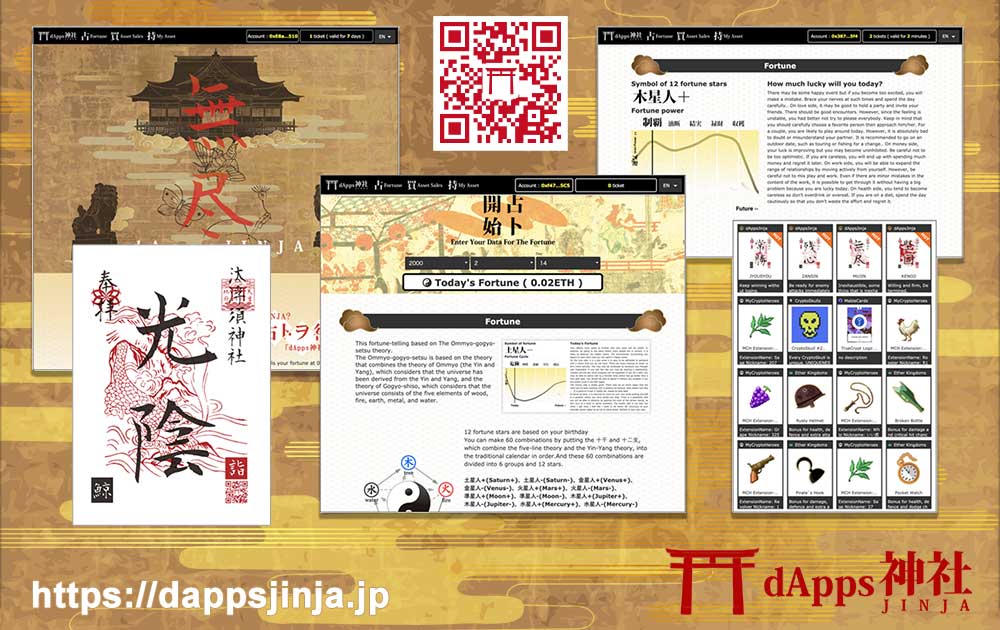 "dApps Jinja" is a dApp (decentralized-application that use blockchain technology) fortune-telling service that utilises the cryptocurrency Ethereum. When the user makes a purchase, they will be able to see a detailed description of their fortune for the next 30 days.
Additionally, the user will receive a ticket to exchange with either an asset such as a character or item which they can use with other dApps games, or an original dApps Jinja asset.
Details about the Fortune-Telling Content
The fortunes will be produced by using the user's date of birth. Through the smart contract that uses blockchain, the user will be able to see 30 days worth of fortune-telling that is based off the Inyo-gogyo theory. You will be able to see your "Fortune Power" in a graph.
This service was launched by two Japanese companies, SANKYO Co., Ltd and CryptoLab Co., Ltd, working together to make cryptocurrencies and blockchain more familiar to the public
• Target Audience
Since the virtual currency "Ethereum" is a decentralized global common currency that transcends countries and companies, this service targets all 77 million Ethereum users worldwide (as of October 2019).
• Characteristics of the Service "Japanese Culture"
This service has implemented many cultural elements of Japan, such as Kanji characters, name stamps, Sumi-e paintings, fortune telling etc. This was for the many targeted users around the world who have a love for Japan and its culture.
• The Asset (that users can receive)
The assets that can be exchanged are non-fungible Ethereum ERC721 standard tokens, and can be chosen from a wide selection of dApps Jinja original assets or characters that can be used with other dApps games.
As the asset's ownership is given with a smart contract, generally you can use them freely.
*The conditions for using assets with other dApps games may vary depending on the service. Please check the terms of services of the other services.
Planning & Development: SANKYO Co., Ltd、CryptoLab Co., Ltd
Management: CryptoLab Co., Ltd
Service Name: "dAppsJinja"
URL: https://dappsjinja.jp
Contact: dj-contact@dappsjinja.jp
For Inquiries Concerning this Matter:
*Only available to the press
CryptoLab Co., Ltd
URL: https://cryptolab.jp
Email: dj-contact@dappsjinja.jp
SANKYO Co., Ltd – Business Planning Department
URL: https://www.sankyo-fever.co.jp
Email: pr-support@sankyo-fever.co.jp
Media Contact
Company Name: SANKYO Co.,Ltd & CryptoLab Co.,Ltd
Contact Person: Cryptolab
Email: Send Email
Phone: +81-45-227-5611
Country: Japan
Website: https://dappsjinja.jp