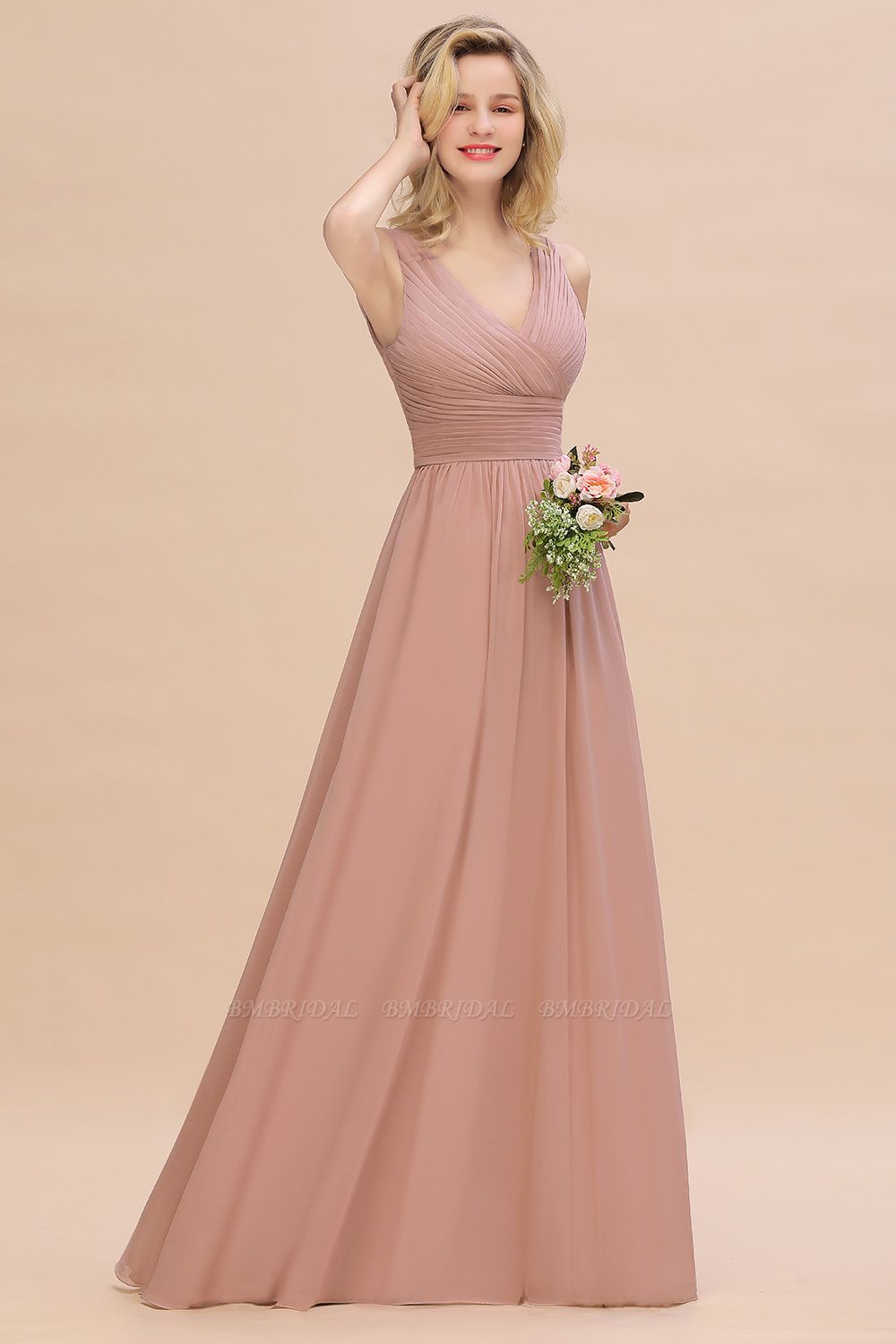 Chiffon is a kind of sheer and lightweight fabrics that is commonly used for making dresses. According to the research, chiffon bridesmaid dresses are becoming more and more popular in the wedding these years.
Chiffon bridesmaid dresses are becoming popular because of the versatility and adaptability. And also, the girls will look pretty and graceful in the chiffon bridesmaid dresses
Chiffon is very famous for its durableness and the girls are going to wear the chiffon dresses for a very long time. What's more, the chiffon dresses are quite easy to dye and they could match other different fabrics together perfect. And the most important thing is that chiffon dresses usually are much less pricey than the other fabrics so it will not cost you a great amount of money to get a dress.
There are really a great collection of chiffon bridesmaid dresses online that the bridesmaids and the bride could choose from. Bmbridal.com is a such online shop, designing and making the bridesmaid dresses and the bridal gowns. Today, three of the most popular styles of the chiffon bridesmaid dresses from BMbridal will be introduced and hope them will help the girls find the dresses they love.
The first style is a-line bridesmaid dresses. The girls will look really gorgeous in the chiffon a-line dresses regardless of what body types. Looking for an a-line bridesmaid dress is a good choice for a girl with the broad body shape as the dresses will give an impression of a smaller waistline. The bridesmaids will look more graceful and charming in the wedding if they choose the chiffon a-line dresses.
The second style is layered bridesmaid dresses. Chiffon is the best choice for a layered style of bridesmaids dresses as the chiffon is a kind of fabrics famous for its airiness, lightness and sheerness. The layered chiffon dresses will go well with short sleeves or sleeveless, which are the best choice for summer weddings.
The third style is pleated bridesmaid dresses. The delicate pleats is a lovely way to highlight the bridesmaid dresses, adding some dramatic element to the plain, boring dresses. Pleats will also add the perfect amount of volume to the dress, making it look much more bulky and beautiful.
Since the chiffon bridesmaid dresses are getting more and more popular, the 3 guides will help the girls to find the perfect styles of the chiffon bridesmaid dresses and complement the wedding dress.
Media Contact
Company Name: BM Bridal Co., Ltd.
Contact Person: Ryan
Email: Send Email
Phone: +15105985158
Address:4982 Bayview Dr
City: Stockton
State: CA
Country: United States
Website: https://www.bmbridal.com