On September 20, 2019, three students from Zhejiang Conservatory of music, Wen Yanjie, Yu Zuyi and Liu Jiatong, came to the Berklee College of Music in Boston, USA and started their journey of overseas music study. The three students studied music under the leadership of Tom Basketball, founder of vox one, and Linda Balliro, a former European classical singer.
Berklee College of Music, honored as the cradle of musical genius and the holy land of musicians all over the world was located in Boston, Massachusetts and it is the largest independent college of contemporary music in the world. Known primarily as a school for jazz and popular music, it also offers college-level courses in a wide range of contemporary and historic styles, including hip hop, reggae, salsa, rock, heavy metal, and bluegrass, in addition to its traditional jazz courses. For half a century, Berklee College of Music has been unique, leading the development of modern music and attracting music lovers from all over the world.
In January this year, the team of Zhejiang Conservatory of music composed of these students won the second season championship of KuGou Intercollegiate Music League. These young people stay up late to rehearse and often go to bed at four in the morning. The teacher also made great efforts to select music, rearrange it, record it overnight so that students can learn it as soon as possible, and teach students painstakingly and unreservedly in the guidance of singing and stage performance. After four months of fierce competition, with good stage performance, excellent original works, and professional singing skills, they stood out from more than 60000 players in 1825 colleges and universities, and finally became the champion of second season of KuGou Intercollegiate Music League. In addition, team member Wen Yanjie also won the best stage performance award. KuGou music not only provided them with rich awards such as KuGou music resource package, songs created by gold medal producers but also send them to the Berklee College of Music for further study.
In this college that countless music students yearn for, Wen Yanjie, Yu Zuyi and Liu Jiatong fully experienced the cross-geographic music culture. In the aspect of music arrangement, they understand the more international style of music arrangement, and improve their own music aesthetics and music accomplishment. In terms of vocal music, they learned the different singing methods that they had been exposed to before, and gave the first song of the exclusive song created by KuGou music for their team, which is one of the rewards for the champion team of KuGou intercollegiate music League. These experiences have broaden their horizons of these young people who love music, learned different music culture, and injected more power into their future music career.Not only that, they also got the high praise of Professors in Berklee College of Music during their study tour. The professors praised their modest and studious attitude and solid music background, and hoped that they could get advanced in Berkeley Conservatory of music.
Different countries have different music cultures and characteristics. These young people have been marveling at Berklee College of Music's openness and inclusiveness which has greatly opened their eyes. Berklee College of Music has always accepted students regardless of their ages, countries and colors. Because of this, its music teaching is also inclusive and diversified. Here, these young people have classes together with students from all over the world, deeply experiencing overseas classes and different cultures.
Besides, they are not limited to the classroom in this music study tour. Boston, a famous historical and cultural city, is also unique in charm. Both the beautiful scenery and cultural coordinates here make them indulge in pleasures without stop. They also visited famous Ivy leagues such as Harvard and MIT. They amazed the strong academic atmosphere here and were more firm in their goals.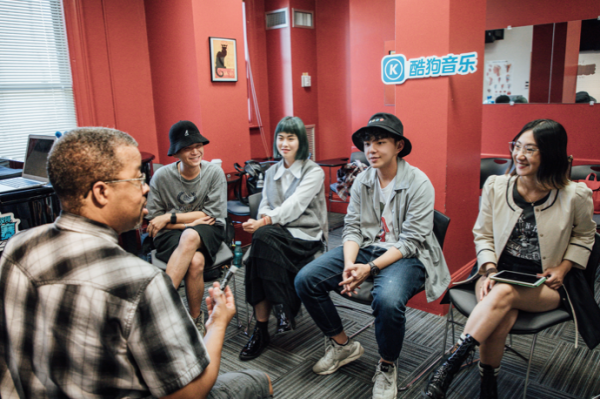 Young people are the foundation of the development of music, they are creative and innovative, dare to express, dare to innovate. On the stage of the KuGou intercollegiate music League, KuGou music provides these campus musicians with the opportunity and stage to show their style, tap the infinite potential, and continuously deliver new forces for the music. In order to make outstanding young musicians better integrate with different music cultures, KuGou music and Berklee College of Music provide them with the opportunity to study music, and let them feel the charm and diversity of music art. Not only that, KuGou music also provides the champion team with millions of KuGou resource packs, 100000 cash awards, 50000 yuan college original fund and other champion gift packs, and creates a special song for each member of the team to help them to complete their music dream. Young people are the future of Chinese music. We sincerely hope that the KuGou intercollegiate Super League can find more high-quality young musicians and give them a stage to realize their music dream.
Now, the third season of KuGou intercollegiate music League is in full swing. In the third season, more colleges and universities will expand the scale of the competition and go deeper into the campus to provide a stage for young people who love music. The winning teams that stand out in the competition will also receive the guidance of famous singers, professional teams to create hit song, professional record companies to sign contracts and rich bonuses. We are looking forward to more young people will show their strengths on this stage!
Media Contact
Company Name: SuperAce Media
Contact Person: Jie Zhao
Email: Send Email
Phone: 857-891-8333
Address:20 Pond Park Rd
City: Hingham
State: MA
Country: United States
Website: www.superacellc.com