The meat substitutes market is projected to grow from USD 4.6 billion in 2018 to USD 6.4 billion by 2023, recording a CAGR of 6.8% during the forecast period.
The report "Meat Substitutes Market by Type (Tofu & Tofu Ingredients, Tempeh, Textured Vegetable Protein (TVP), Seitan, and Quorn), Source (Soy, Wheat, and Mycoprotein), Category (Frozen, Refrigerated, and Shelf-Stable), and Region – Global Forecast to 2023″, The meat substitutes market is projected to grow from 4.6 billion in 2018 to USD 6.4 billion by 2023, recording a compound annual growth rate (CAGR) of 6.8% during the forecast period. The major factors driving the growth of the meat substitutes market include rising health concerns such as obesity and diabetes due to the consumption of meat products. In addition, benefits provided by meat substitute products, such as weight loss and general wellbeing, are projected to drive the market for these products during the forecast period.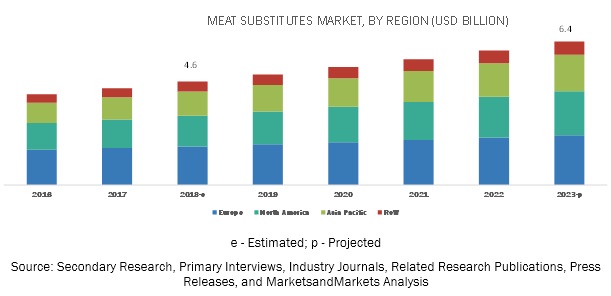 Increased preference for vegetarian and vegan foods
The demand for healthy eating has increased among consumers in recent years; this trend is prominent in regions, such as Europe and North America. Consumer preference for healthier foods in the European region has led to the demand for vegetarian and vegan foods. According to the Agriculture and Agri-Food Canada, consumer preference for vegetarian food in Germany has increased, due to ethical, environmental, and health-related concerns. This has led to considerable sales of meat substitutes in the country. Moreover, according to the European Vegetarian Union, about 10% of German consumers are vegetarian. As a result of the vegetarian and vegan food trends in Europe, retailers such as Tesco are increasing the availability of meat-free food products in the market, leading to the demand for meat substitutes in the region. The rise in demand for vegan food products has also encouraged food coloring manufacturers to offer food colors similar to meat so that meat substitute manufacturers can claim a clean-label packaging to attract the vegetarian and vegan consumers. Vegan food witnessed a significant demand between 2012 and 2016, leading to increased production of meat substitutes. Furthermore, as the adoption of meat substitutes by consumers has increased, it helps companies innovate and develop product lines for meat substitutes, which has further contributed to the growth of the meat substitute market.
Download PDF Brochure: https://www.marketsandmarkets.com/pdfdownloadNew.asp?id=979
Ill effects of consuming meat substitutes
Although meat substitutes are healthy and have the essential minerals, their consumption causes some ill effects, thus restraining the market growth. For instance, soybeans are rich in nutrient content, such as vitamins, minerals, isoflavones, and proteins; however, anti-nutritional components present in soy could cause health issues, such as soy allergy. Kunitz STI trypsin inhibitor is one of the major anti-nutritional components present in soy that could trigger allergic reactions in the body. Moreover, soy protein has large quantities of phytic acid that has the potential to block the absorption of essential minerals, such as calcium, magnesium, copper, iron, and zinc. Soy allergy could also lead to itching and a few hives in people. Other symptoms include gas, bloating, and low levels of irritation of intestinal tissue. Gluten intolerant people are prone to celiac disease caused by a reaction to gluten proteins found in wheat, barley, rye, and sometimes, oats. Celiac disease can affect genetically predisposed people of all ages; however, it often begins in the middle infancy stage. The inflammation and destruction of the inner lining of the small intestine in celiac disease is caused by an allergic reaction to gluten in the diet. Signs and symptoms of celiac disease may range in intensity—from severe to mild. According to the Celiac Sprue Association, there is no cure forceliac disease; the only effective treatment is a gluten-free diet.
Quorn is another type of meat substitute that has the potential to cause health issues for people intolerant to it. Mycoprotein, an edible fungus, is the main ingredient used to make Quorn, which may cause allergies to people intolerant to it. According to the Center for Science in the Public Interest, a US campaign group, several consumers have complained about experiencing adverse reactions, such as anaphylactic shock and vomiting after consuming Quorn products. These instances have led the Quorn manufacturer, Quorn Foods Inc. to mention "mycoprotein" in its product label to create awareness about the contents of Quorn products.
Growth potential in the Asia Pacific market
The demand for meat substitutes is high in developed markets, such as the US and Europe, due to the health benefits offered by sources of meat substitutes, such as soy and the rising health awareness among people. However, developing regions, such as Asia Pacific have presented significant potential for the meat substitute market. Wheat gluten is frequently used instead of meat in Asian cuisines and has been popular since ancient times in China, Japan, and other East and Southeast Asian nations. Other meat substitutes, such as tempeh, are amongst the well-known food dishes in countries, such as Indonesia; the availability of tempeh food products has increased in several grocery stores in the region, leading to their substantial consumption.
The domestic consumption of tempeh is high in Indonesia, and the country heavily imports soybean from the US. According to the United States of Department of Agriculture (USDA), more than 60% of soybean is imported from the US. Furthermore, the American Soybean Association-International Marketing's establishment of the Forum Tempeh Indonesia to offer financial and infrastructural support to local tempeh producers in Indonesia contributes to the potential of the tempeh market in Indonesia. According to the World Wide Fund for Nature, China is among the largest importers of soybean from countries, such as the US and Brazil. Various other applications of soybean, such as feed have led to further imports of soybeans. According to the USDA, changes in the Chinese Government's corn policy is expected to recover the domestic production of soybean in the country. Countries, such as India and China are among the largest producers of soybean in the region, which has contributed to the potential growth of the meat substitutes market.
Speak to Analyst: https://www.marketsandmarkets.com/speaktoanalystNew.asp?id=979
Genetically modified (GM) soybeans
Soybean is one of the major crops grown in various countries, such as the US, Argentina, Brazil, and China. To meet the growing demand for soy, GM soybean is an emerging threat. According to the USDA, the US and Argentina produce GM soybeans on a large scale. Moreover, large-scale GM soybean production plants are found in Paraguay, Canada, Uruguay, and South Africa. Meat substitutes, such as tofu, seitan, TVP, and tempeh are chemically manipulated and treated with pesticides. Most GM soy is industrially produced with hexane, which may lead to health hazards if consumed in large quantities. Regions, such as the Asia Pacific and Europe have made it mandatory to declare GM/non-GM status of food ingredients on the packaging of all processed foods. GM soybeans can cause allergic reactions and herbicidal dangers, owing to which their production is a challenge, in the meat substitutes market.
Media Contact
Company Name: MarketsandMarkets
Contact Person: Mr. Shelly Singh
Email: Send Email
Phone: 1-888-600-6441
Address:630 Dundee Road Suite 430
City: Northbrook
State: IL
Country: United States
Website: https://www.marketsandmarkets.com/Market-Reports/meat-substitutes-market-979.html