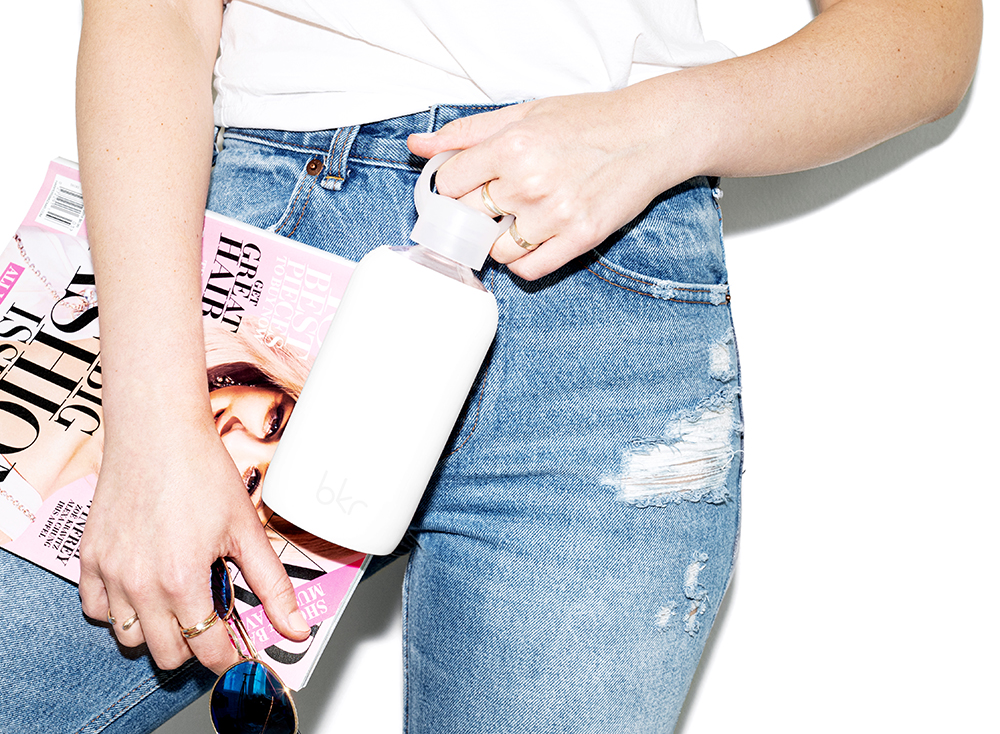 "This perfect reusable glass water bottle will begin your healthiest addiction and change the way you hydrate forever."
The bkr glass water bottle has become a true cult-favorite that's changing the way people hydrate. A beautiful and elevated alternative to disposable plastic, bkr is recognized around the world as an absolute essential to those interested in beauty, health, fashion and thoughtful design. This versatile water bottle with a sleek silicone sleeve comes in three sizes 250mL/8oz, 500mL/16oz and 1L/32oz and is perfect for the gym, home, the office, travel and everyday drinking.
In 2011, Tal and Kate, two girlfriends knew they needed to drink more water but were really tired of single-use plastic water bottles and hated all the metal and plastic reusable replacements. So, they invented the cult favorite glass + silicone bkr water bottles: small-mouth, sleek and addictive.
Once they saw their bottle actually helped people to stay hydrated and drink more water, they began dreaming about the things they wished existed that would hydrate (and delight) bkr people around the world and would make their beloved reusable bkrs more vital to them than any disposable could ever be.
So, they created the most hydrating, clean, vegan lip balm in the world and engineered a special cap to connect it to the bkrs. Magically, balm was always within reach, lips were repaired, and minds were blown.
A light bulb moment then came to then – they could use the lip balm compact empty for storage. Now they had the perfect space for all the tiniest necessaries: mints, medicines, salts, supplements, emergency candy, medicinal gummies, vitamins, and everything in between.
And just like that, the most coveted reusable bottle in the world has become more and more indispensable and unforgettable.
bkr is on a mission to become your hydration everything and the ultimate destination for people who know that healthy, wellness and beauty start inside.
Media Contact
Company Name: Bkr
Contact Person: Kate Cutler
Email: Send Email
Phone: 415-625-0761
Country: United States
Website: https://agbra.org/featured-item/the-bar-glass-water-bottle/