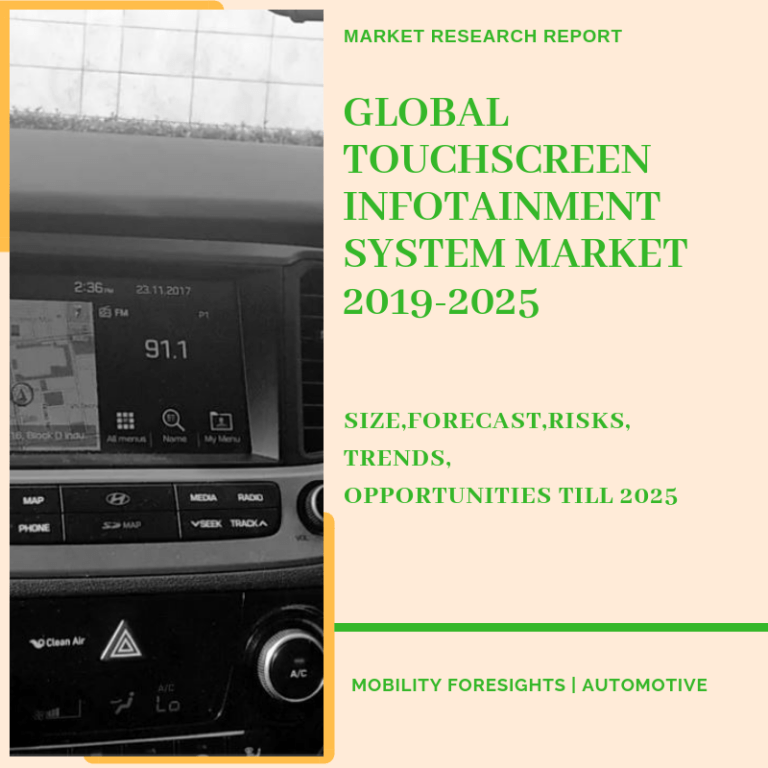 Key contents of the Global Automotive Infotainment Market report include:
• Market size & Forecast segmented by region, vehicle and infotainment type
• Technology trends in automotive infotainment system, penetration by OEM, avg B-2-B price
• Upcoming vehicles with infotainment system
• OE-supplier alignment, by region
• Competitive landscape, market share and growth strategy of leading vendors
KEY FINDINGS
The global smartphone penetration as of Nov 2019 stands at 69% and >80% for car buyers, thus car entertainment cannot be secluded from smartphone connectivity. This is also the reason Smartphone connectivity using CarPlay or Android Auto is becoming a default feature in most cars
The in-vehicle infotainment systems offered in US, Europe and China are very different. In US, where 4G LTE Wi-fi hotspot is very common on many mass segment cars, it is unavailable on many mass-segment cars in Europe and China
In China automotive infotainment market, domestic car manufacturers like Geely and Haval provide e-sim on higher trims of their best-selling vehicles but Baidu car Life and Apple car play are unavailable on many trims. 10 inch and 12.2-inch touch screens are popular on many mid-segment cars
Blackberry QNX is the more preferred operating system (~30% market share), followed by Linux and Android. But android is catching up fast and by 2025, it will emerge as a strong challenger to both Linux and QNX
In Japan, where Kei cars constitute almost 40% of passenger car sales, There are almost no connected services provided on these light vehicles and infotainment system is provided only as a paid option on most of them
Download sample- http://bit.ly/autuchscn
AUTOMOTIVE INFOTAINMENT MARKET TRENDS
Advanced cybersecurity measures will be implemented in the upcoming automotive infotainment systems. For example, Panasonic Automotive, presented its new connectivity solution, the friction free connectivity (Bluetooth pairing via Wi—fi) offers improved security with its ability to cryptographically trust both the user and the vehicle, via a smartphone app linked to Vehicle Identification number (VIN)
Car-to-home automation system is one of the unexplored avenues so far and in future we can expect more in this segment from suppliers as well as OEMs. For example, the new aftermarket Homelink mirror from VOxx Electronics is integrated with three programmable buttons which can communicate via Bluetooth with a phone app to operate many home automation devices
The voice assistants are expected to become smarter with higher AI integration and could have natural dialog capabilities
Download sample- http://bit.ly/autuchscn
COMPANY PROFILES (Complete System providers)
Continental AG
Denso Corporation
Bosch Group
Harman International Industries
Visteon Corporation
Aptiv Plc
Panasonic Corporation
MapmyIndia
COMPANY PROFILES (Technology Providers)
Microsoft Corporation
Alphabet Inc.
Baidu Inc.
Intel Corporation
Tencent Holdings
Huawei Technologies Co, Ltd
Alibaba Group
Tata Elexsi Ltd
COMPANY PROFILES (Chip/ Graphic Processor and storage Providers)
NVIDIA Corporation
Qualcomm Technologies, Inc
NXP Semiconductors N.V.
Tuxera, Inc.
SanDisk Automotive
THIS AUTOMOTIVE INFOTAINMENT MARKET REPORT WILL ANSWER FOLLOWING QUESTIONS
Automotive Infotainment Market size and Forecast (Units and $Million), by region, by vehicle type and vehicle segment
Average B-2-B price for Automotive Infotainment, by region, by vehicle type
Technology trends and related opportunity for Touchscreen Infotainment manufacturers
Automotive infotainment market share of leading vendors, by region, by product segment
OE-supplier alignment in Automotive Infotainment market, by region
To enquire about the report write to us at sales@mobilityforesights.com
We are a Market Research firm specialized in mobility domain(s). Our zone of research entails Automotive, Aerospace, marine, locomotive, logistics, and construction & agricultural equipment. We deal in syndicated research, custom research and consumer research for all the aforementioned domains.
Visit us at https://mobilityforesights.com/
Media Contact
Company Name: Mobility Foresights
Contact Person: Kunal Roy
Email: Send Email
Phone: +1-315-675-4056
Address:Incubex Nestavera 204,56/2
City: Bangalore
State: Karnataka
Country: India
Website: https://mobilityforesights.com/