Madden NFL is an American football video game series developed by EA Sports, simulating the performance of professional football players on the field and the voice commentary to give people an immersive feeling. Since its first release in 1993, it has brought huge benefits to EA, and at the same time, it is still maintaining uninterrupted updates. On August 2 this year, EA released Madden NFL 20 update for 2020.
It might become a tradition of EA that a new Madden NFL series comes out every year, and it will make some minor adjustments and changes during this period to make it perfect. In early November, EA has posted a partial update on the official website, which was set to launch on November 20, a week before Thanksgiving and Black Friday, along with the carnival of the shopping festival.
X-Factor Zone Ability
According to EA, its main purpose is to change the stability and usability of Madden NFL 20 throughout November update, mainly in the new X-Factor Zone Ability called Momentum Shift, which works like this:
After you play on Arcade or Simulation, Momentum Shift can be activated, which could improve your ranking by knocking all opposing players out of the Zone in addition to wiping out all opponents' Zone progress.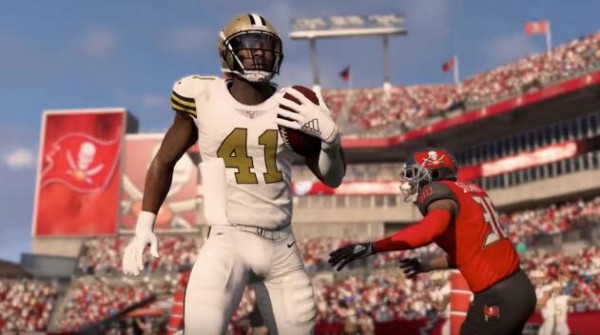 Franchise Mode
Madden NFL November update is adding a lot of new features while retaining all the capabilities of the original Title Updates, such as the use of Mossed, Lumberjack, Out My Way, Goalline Stuff, Inside Stuff, No Outsiders and Tank abilities in Franchise Mode, and EA Sports has been fully listed all characteristics in a complete patch notes.
Beyond those, it is dedicated to minor quality of life updates with the November update in order to give the players better gaming experience.
Throughout the field of Madden NFL, every movement of players may affect the final result. And around this update, many teams' formations and packages for offense and defense have changed a lot, even some teams received the playbook updates. In the future, more updates will be brought the defensive playbooks according to EA.
Previously, many players have reacted to slow attach and defense in Madden NFL, but EA wants to make more changes throughout the playbooks of November update. This is the first time that EA brought publicly proposed the strategy, but it will be more widely used in different games later.
This is indeed a pretty good performance, EA is always bringing creativity into Madden, so that it can catch up the players' requirements as soon as possible.
Following the star players, RE Aaron Donald, WR DeAndre Hopkins, Deion Sanders as well as Troy Polamalu, who doesn't like one of them? Keep abreast the further messages of Madden NFL Updates, so stay tuned for Gamems, here it could provide the latest news to the public.
Currently, Ultimate Team has become the primary focus of Madden NFL with more competition, and the players can't wait to find the most powerful team in case falling behind others. But if you don't have enough "money" in your pocket, it might become a bit more difficult.
MUT 20 Coins can be used to buy your favorite players in Ultimate Team throughout the whole season, and it is impossible to get them without any effort.
If you happen to search for a secure place to buy Madden NFL Coins, Gamems can meet all of your requirements with 10% off. It has professional security technology and staff, which can protect the consumers' transactions from being leaked, and it is one of the famous MMO service providers with good reputation, it must bring you near-perfect shopping experience.
Media Contact
Company Name: Gamems
Contact Person: Media Relations
Email: Send Email
Phone: (+1)-315-636-5275 (USA)
Country: American Samoa
Website: https://www.gamems.com/