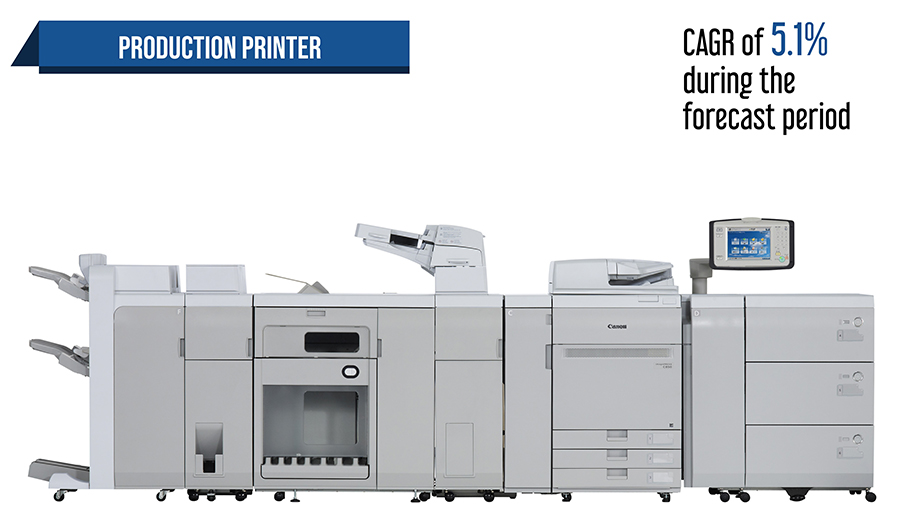 The growth in the production printer market can be attributed to surging demand for high-speed printing for several application areas such as commercial, publishing, and label & packaging.
The demand for personalized solutions is growing across the globe. With the rapidly rising disposable income, people are spending increasingly on products that complement their individual personalities. The major brands are under pressure to provide better experiences to the customers, which is why they are focusing increasingly on enhancing customer engagement, primarily through innovative packaging.
Digital printing technology is aiding these companies in offering brand protection, value-added serialization, relevant personalization, and test-market prototyping. Furthermore, by making use of digital printing on flexible substrates and plastics, the businesses are able to provide high image quality, minimal inventory, and high-impact branding to their customers.
It is due to these factors that the demand for production printers is increasing. Production printers are used for high-volume printing as they can produce about 60 pages per minute, and these printers can work efficiently for both colored and monochrome printing. According to a research conducted by P&S Intelligence, the global production printer market attained a value of $4.9 billion in 2017 and is predicted to advance at a 5.1% CAGR during the forecast period (2018–2023).
Among the two types of production printers, namely color and monochrome, the larger demand during 2013–2017 was created for color printers and the situation is going to be the same in the near future as well.
The various technologies on which production printers are based include offset, laser, gravure, inkjet, flexography, screen, and toner. Some other technologies are dye-sublimation, pad, and relief print. Out of these, the largest demand was created for the inkjet production printers during 2013–2017.
The reason for this was that these printers are able to provide high-quality and swift color printing. Apart from this, high-speed inkjet printing is rapidly becoming the preferred option for printing transactional documents, as the requirement for print on demand services is growing. Attributed to these factors, inkjet production printers are going to be the most in demand in the coming years as well.
Request Sample Copy of Research Report : https://www.psmarketresearch.com/market-analysis/production-printer-market/report-sample
A key factor positively affecting the growth of the production printer market is the expanding e-commerce market. The global retail e-commerce market is predicted to generate $4.2 trillion by 2021. This growth is attributed to the lowering prices, availability of customized products, increasing penetration of internet, and rising awareness among the people across the world.
These factors are, in turn, driving the demand for production printing. The print companies are focusing on targeting the e-commerce platforms in order to increase their consumer base.
Global Production Printer Market Segmentation
Market Segmentation by Technology
Inkjet
Offset
Flexography
Laser
Screen
Gravure
Toner
Others (Pad, Dye-sublimation, Relief print)
Market Segmentation by Type
More Others Reports From Semiconductor and Electronics Industry by P&S Intelligence
3D Printing Market
The global 3D printing market is expected to reach $31,863.7 million by 2023, registering a CAGR of 24.6% during the forecast period (2018–2023). The market is majorly driven by the rising government investments in 3D printing projects and surging demand for quick prototyping.
Commercial Printing Market
The global commercial printing market is growing, due to technological proliferation along with increasing applications of commercial printing across end users.
Media Contact
Company Name: P&S Intelligence
Contact Person: Abhishek
Email: Send Email
Phone: +1-347-960-6455
Country: United States
Website: https://www.psmarketresearch.com/market-analysis/production-printer-market/