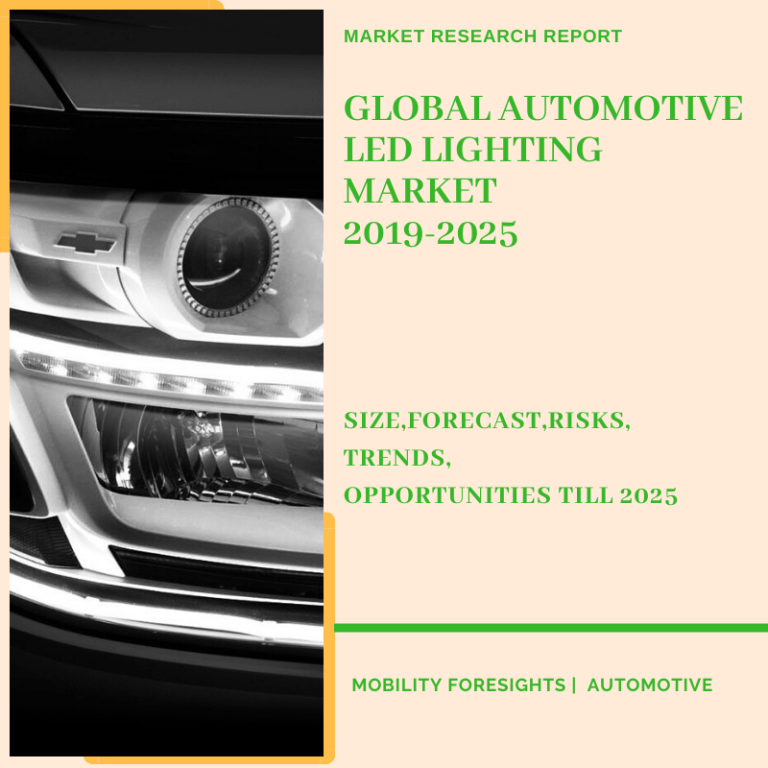 Key contents of the Global Automotive LED Lighting Market report include

• Market size & Forecast segmented by region, vehicle and lighting position
• Technology trends in automotive LED lighting, penetration by OEM, avg B-2-B price
• Upcoming vehicles with LED Lighting, by region
• OE-supplier alignment, by region
• Competitive landscape, market share and growth strategy of leading vendors
KEY FINDINGS
For most of the automotive lighting suppliers, LED lighting now accounts for ~35-48% of their overall lighting revenue. Higher LED penetration has increased their dollar content per vehicle and improved earnings margin (EBITDA- 9.5-11%)
There are more than 150 EVs in pipeline for Chinese market alone and more than 70% of those are BEVs, which have higher LED content than a comparable ICE vehicle. Globally the number of BEVs in pipeline is 100+, to be launched by 2022-2023- An important opportunity for automotive LED lighting vendors
In premium segment, almost all OEMs have adopted LEDs, HID in frontal lighting is a rare occurrence now. Despite, Chinese market slowing down by 11% in Jan-Oct 2019, the premium car sales are up by 7%. An important growth driver for LED lighting suppliers
In commercial vehicle segment, at present, almost all revenue for LED lighting market is generated from interior and rear LED lighting in buses, LED headlight penetration in CVs is minuscule. LED DRL penetration has been growing at double digits
There have been more than 15 acquisitions by automotive lighting suppliers in past 12 months globally as many regional auto lighting suppliers are now to improve their LED lighting designing capability in shorter lead times
On the back of growing LED penetration and ~2-3% auto industry growth , all lighting suppliers are expecting double digit growth till 2025
Download sample- http://bit.ly/leduato
GLOBAL AUTOMOTIVE LED LIGHTING MARKET TRENDS
LED penetration in Asian markets is growing much faster than North America and Europe. China and India will remain the fastest growing automotive LED lighting market, globally
Almost all major auto lighting suppliers are investing in in-house tooling assembly of PCBs and SMT (Surface mount technology) assembly line
In Europe, LED growth started in 2013, when mass segment automakers like Peugeot, Seat, Ford started adding LED headlamps, and premium brands like Audi started extending their use of the technology into their lower segments' vehicles
In Motorcycle/scooter segment, at present, growing LEDs usage is primarily aimed at improving aesthetics, styling and less to do with the improved luminance.
Download sample- http://bit.ly/leduato
THIS AUTOMOTIVE LED LIGHTING MARKET REPORT WILL ANSWER FOLLOWING QUESTIONS
Automotive LED lighting Market size and Forecast (Units and $Million), by region, by vehicle type and vehicle segment
Average B-2-B price for Automotive LED lighting market, by region, by vehicle type
Technology trends and related opportunity for automotive LED lighting manufacturers
Automotive LED lighting market share of leading vendors, by region, by product segment
OE-supplier alignment in Automotive LED lighting market share, by region
COMPANY PROFILES
Valeo
Magnetti Marelli S.p.A
HELLA KGaA Hueck & Co
ZKW Group
OSRAM GmbH
Koito Co, Letd
Stanley Electric Co.Ltd
Hyundai Mobis Co., Ltd
Varroc Lighting Solutions
Minda Industries Ltd
Lumax Industries
Fiem Industries
To enquire about the report write to us at sales@mobilityforesights.com
We are a Market Research firm specialized in mobility domain(s). Our zone of research entails Automotive, Aerospace, marine, locomotive, logistics, and construction & agricultural equipment. We deal in syndicated research, custom research and consumer research for all the aforementioned domains.
Visit us at https://mobilityforesights.com/
Media Contact
Company Name: Mobility Foresights
Contact Person: Kunal Roy
Email: Send Email
Phone: +1-315-675-4056
Address:Incubex Nestavera 204,56/2
City: Bangalore
State: Karnataka
Country: India
Website: https://mobilityforesights.com/