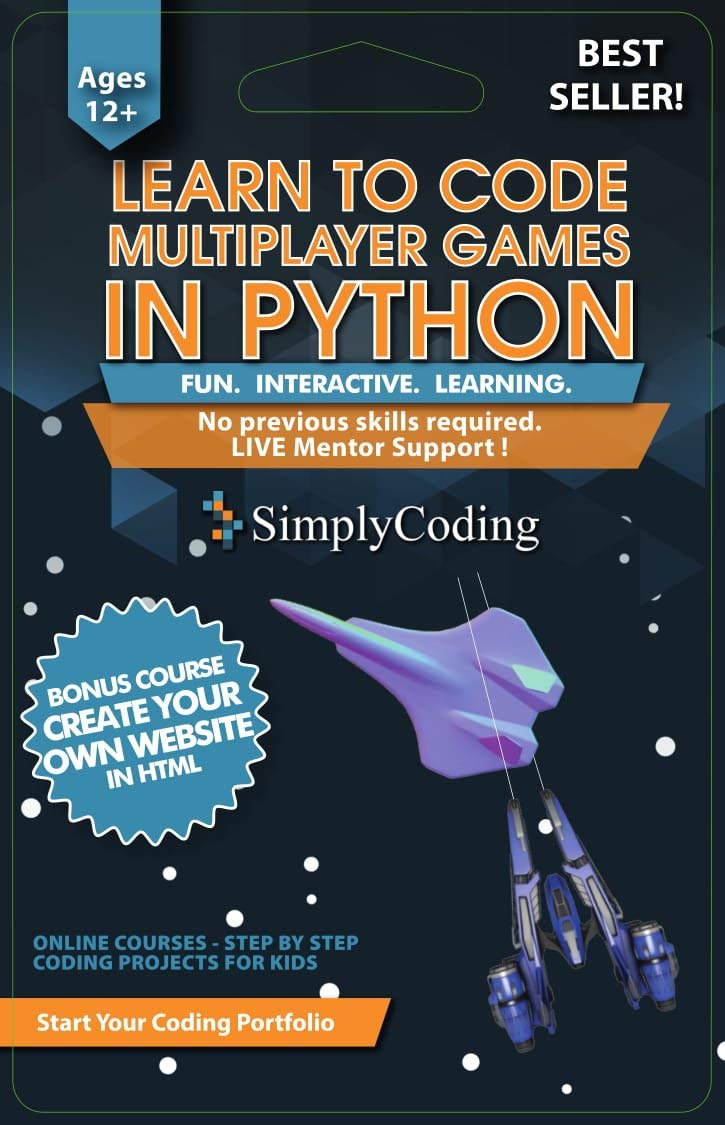 Simply Coding's popular online learning program Python-Multiplayer Training has been recommended by a parent as an excellent homeschooling resource for kids. An Amazon bestseller, this product teaches coding and computer programming, and is suitable for kids aged 12-18.
Simply Coding continues to make its presence felt amongst the shoppers in the world's largest and most trusted online marketplace. The company's bestselling online tutorial Python-Multiplayer Training Program has been purchased by numerous parents to provide early stage computer education to their children. This simple step by step tutorial teaches the basics concept of coding for kids. Recently, a highly impressed parent has recommended this online course for all homeschoolers through her Amazon review.
Simply Coding makes learning Python and code creation easier than ever with plenty of video reviews of lessons, online community support, and live Q&A sessions with experts. This animation software has been meticulously crafted by professional programmers and tested by thousands of children. The course teaches how to create a client that will connect both to a local server as well as a server hosted live on the web. The tutorial also introduces the students to a coding editor named IDLE with a link to a free download. All projects are saved directly to the students' computer to keep forever.
The computer programming for kids tutorial from Simply Coding has been approved by school boards across the United States to expand their STEM practices. In addition to thousands of homeschoolers, Simply Coding also provides this course for Charter, Private and Independent Schools all over the country.
"Learning to code is a line by line, step by step process. Each lesson will introduce a new coding concept in a fun engaging lesson. Each lesson is broken into smaller sub-lessons with interactions and video reviews. Students can learn by reading or watching the video as well as practicing writing code in our embedded editors. Each lesson ends with a step by step activity to add code to their game on their own computer," said a senior spokesperson from Simply Coding.
"Looking for a fun way for your Tween to learn coding? This program by Simply Coding is a must-try! This is a great resource for homeschooling and I like that it is school approved. My son likes that it is for 12+ and that it is simply a code that you receive and register. it is easy to set up and works on PC, MAC and Linux. The one time access code is simple! My son has pretty much outgrown Minecraft so this one is more fun for him! I like that there is online support and step-by-step instructions to build two adventure games. I also like that you do not need to have any previous skills! I highly recommend for ages 12+. There is also a quiz at the end of each lesson which makes it great for homeschooling. I like that my son won't complain about doing these lessons," an impressed user mentioned in her Amazon review.
To find out more about Simply Coding Game Python-Multiplayer Training Program for Kids, please visit http://www.amazon.com/dp/B01ETTRZ3M
About Simply Coding:
Simply Coding is an organization dedicated to creating high-quality digital learning programs for the children. A number of online courses from the company are now selling successfully on Amazon.com
Media Contact
Company Name: Simply Coding, Inc.
Contact Person: Media Relations
Email: Send Email
Phone: (801) 494-7751
Country: United States
Website: https://simplycoding.org/