New York – November 26th, 2019 – In the first quarter of 2020, America will be able to mobilize their house or business and make it all wireless. There will be no hidden fees and no more need for equipment rentals or installation appointments!
MOBILEPCS*TV™ announced their launch plans and 5G Network Smart Television-Triple-Plan, which will provide wireless mobile services so that they can offer a revolutionary service of internet content and mobile broadband television as off the first quarter of 2020 with both 5G NETWORK and 4g LTE network technology.
5G network smart TV provides access to video games and apps. Any virtual multichannel video programming distributors aggregate live and on demand linear television, but they deliver the content over the internet, gaming services, digital TV, Wi-Fi zone services, high speed internet and VoIP. MOBILEPICS*TV includes free local channels and smart television, comprised of a plurality of wireless modem modules, wherein each one is configured to receive a plurality of cellular data networks from a mobile network operator or MNO.
5G Network Smart TV provides high speed internet strength. The wireless broadband connection is between 1G out at 10 gigabits per second or at least 100 to 940 megabits per second depending on the cellular data network carrier.
MOBILEPCS*TV™ pioneered in 2011 with 4G LTE SET TOP BOX WIRELESS TRYPLE PLAN​ including free local channels and also pioneered 5G network devices. They are a company dedicated to creating innovative experiences with patented technology in its mobile smart devices and authentic mobile communication for people around the world. They offer communication plans and a mobile quadruple play service that allows customers and new clients to connect easily and economically with their communities, no matter where they are as well as mobile TV +, Mobile Internet +, Mobile Voice +, Mobile Phone all wireless. All of this with no hidden fees and no more need for equipment rentals or installation appointments!
MOBILEPCS*TV™ is a registered trademark of Applied Manolo F. Rivera CEO & Founder MOBILEPCS*TV. All product names, trademarks and registered trademarks are property of their respective owners.
SOURCE:
MOBILEPCS*TV™
https://mobilepcstv.com/
press@mobilepcstv.com
For more information you can contact Manolo Rivera. You can call 516-444-6788 or mail to manolo@mobilepcs.tv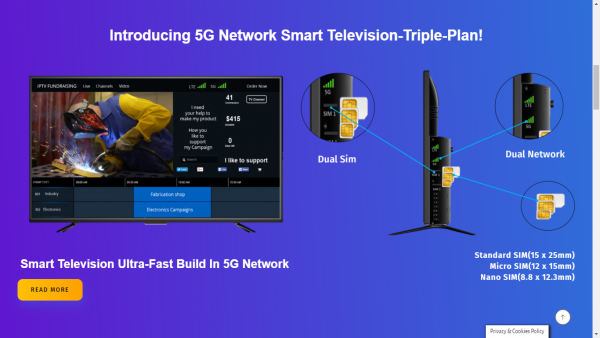 Media Contact
Company Name: Mobilepcstv
Contact Person: Manolo F. Rivera
Email: Send Email
Phone: 516-444-6788
Country: United States
Website: https://mobilepcstv.com/