Author Shenna Draper takes love and poetry to a whole new level in her latest release, MIDNIGHT LOVE: the dance between genres. The book which is a deep infusion of literary art and rhythm is due for release on November 29 and will be available for order on Amazon.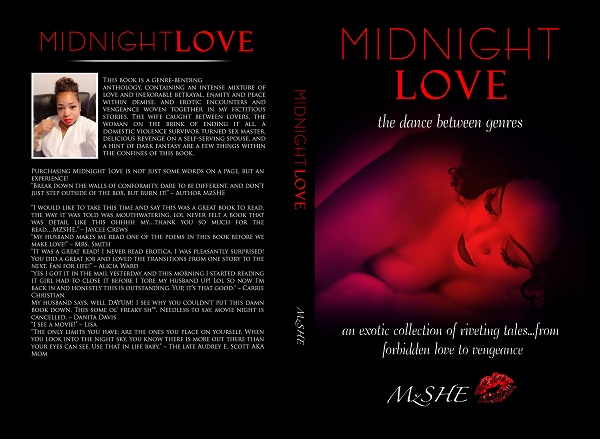 MIDNIGHT LOVE: the dance between genres is a smartly produced collection of stories containing so many pieces each of which ruminates on the different aspects of love and life. Readers will find stories such as that of a wife caught between lovers, the woman on the brink of ending it all, a domestic violence survivor turned sex master, an act of delicious revenge on a self-serving spouse by people who prove to not be so receptive to being treated as less-than, plus many more very captivating. It takes the reader through a lyrical journey of love, betrayal, vengeance and erotic encounters and there is even a hint of dark fantasy. Though fictitious, these stories mirror everyday life encounters and are sure to hold readers spellbound till the very last page.
"This will not be a good ole read, but an extraordinary experience," Shenna says. "Midnight Love is more than just words on a page. The colorful characters, themes and situations will keep you engaged and entertained."
Download on Kindle or purchase on Amazon: MIDNIGHT LOVE: the dance between genres
Shenna's book is as addictive as a binge-watch on Netflix. Through 140 pages of well-crafted words, readers will find themselves easily drawn in as they gleefully dance across the pages moving from one word to the next. They will in no time begin to live her thoughts as their own simply because the book exudes a strong power to awake all dormant senses and have them wondering if they have ever been indulged in the pleasures that life has to offer.
Most books are read and put on a shelf, never to be read again by the owner. Midnight Love isn't one of those kinds. Each story contains descriptive scenes that are designed to get the readers involved with the characters allowing them to experience every moment as it unfolds.
If you are looking for a book to inspire, comfort or even energize you through your own life's struggle, you will be delighted with the ample assortment of stories in Midnight Love. There are thought-provoking and uplifting moments, plot twists and climactic endings that will have both ends of your emotional spectrum activated simultaneously.
MIDNIGHT LOVE: the dance between genres will be available for sale on November 29. For more information or to get a copy on the release date, please visit any of Amazon.com, Trident Booksellers and Cafe and Nubian Book Store.
To contact Shenna Draper, send a mail to Officialmzshe@gmail.com
Amazon: (worldwide)
https://www.amazon.com/dp/b07zxshhfh/ref=cm_sw_r_other_apa_i_mtczdbn8dkr0f
Trident Booksellers and Cafe: (they ship)
Midnight Love – SKU# 9781734273304
Address: 338 Newbury St Boston, MA 02115
Phone number: 617-267-8688
Nubian Bookstore Address:
1540 Southlake Pkwy
Morrow, GA 30260
Phone number: 678-422-6120
Media Contact
Contact Person: Sheena Draper
Email: Send Email
Phone: 339-223-1765
Country: United States
Website: www.amazon.com/dp/B07ZXSHHFH/ref=cm_sw_r_other_apa_i_mTCZDbN8DKR0F