Dr. Dinahlilia Mansour also known as Dinah is the President of Lilia Redemption Foundation, as well as the current Vice President and Director of the Forensic Department at OEIS Investigation.
Niagara Falls, ON – November 27, 2019 – Dinah is one of the few women that can be described as "beauty with a brain". She is the current President of Lilia Redemption Foundation, Vice President of OEIS Investigation (Forensic Department), with a background field as a Resident General Surgeon, having served three years at The Military Hospital in Port Said, Egypt. She left the medical field due to an incident that left her with a partial impairment of her left eye. She proceeded to obtain a Ph.D. in Forensic Chemistry in 2010 from the University of California. Irrespective of the perspective you choose to look at it, she has success in her DNA.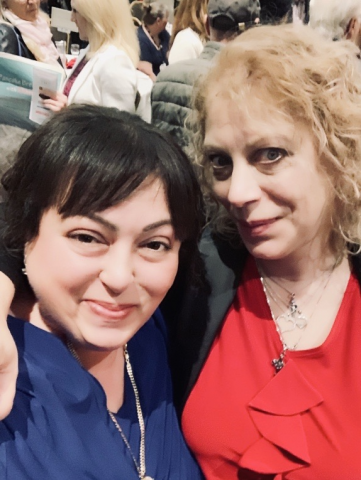 During her visit in Istanbul last summer of 2018 for business, our staff gained the honour of meeting with her, at a seminar cocktail in Izmir, Turkey after sourcing imperative information about her Royal background. From Turkish origin, she is blood-tied to the Egyptian Royal family, of the Nazli's coronation of Egypt, with Circassian, Turkish, French and Albanian descent. She is bonded relatively to Egyptian Diplomat, Adly Mansour through her husband's family tree. However, with a Royal background, she has not inherited a significant sum, and relies on her current businesses in Canada, the Middle East, and Europe to earn a living. She remains strongly attached to her homeland, and has gambled her way in to being shareholder of the largest cotton factories in Egypt. She visits Egypt as often as she could.
As the Vice President of OEIS, a reputable investigation firm with several locations across Ontario, the USA, Europe and the Middle East, Dinah has previously ran for Mayor of Niagara Falls and has captivated hearts of hardworking residents. As a leading mentor, and author of "The private Investigation Methods vis-a-vis the forensic world" and Author of "Beautify Public Relations" launched in 2016, she works with a team of leading investigators who are experts from various fields to unravel the mystery behind both criminal and civil cases.
Her foundation, the Lilia Redemption Foundation, is committed on rescuing children from human trafficking trade. After interviewing her in Turkey last summer of 2018, I asked her thoughts on politics, "I would never snatch a lollipop from a child's mouth," she said. Spending close to five hours with her, I realized she possesses an amazing aura that catches anyone off-guard. An innocence combined with sensitivity perhaps, yet infused with ferocity and an air of fearless stamina. With big brown eyes and a slightly smaller nose, hearing the stroke of sound symphony of her gold bracelets, made her adapt a proud expression. She looks like royalty, that most out there, cannot resist the urge to sit up straight in front of her and say "Yes, madam."
Dinah now resides in Niagara Falls with her family, yet often travels abroad for business and leisure.
For more information, visit www.oeis.ca
About OEIS Investigation
Leading Investigation and Security firm with several locations across Ontario, Quebec, USA, Europe and the Middle East. OEIS currently employs more than 700 people in the Niagara Region only.
Adnan is a Journalist in Turkey, Istanbul from Daily Sabah.
Media Contact
Company Name: Daily Sabah
Contact Person: Adnan Erdogan K
Email: Send Email
Phone: +90 212 354 4139
Country: Turkey
Website: www.dailysabah.com