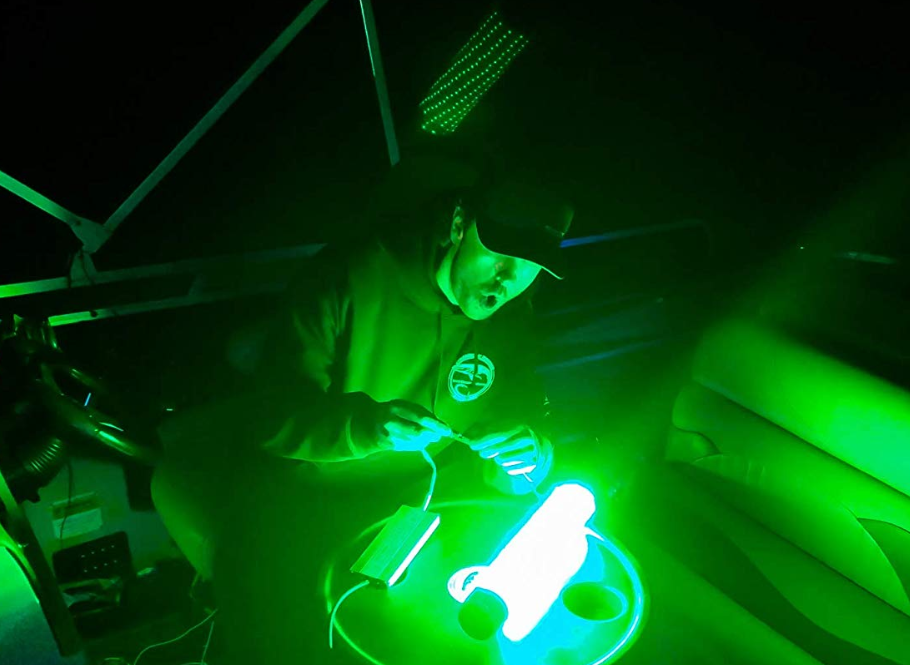 Green Blob Outdoors, a family-owned and operated business based in Rockdale, Texas, has just sold its 10,000th fishing light. The company's lights will also be used along San Antonio's Riverwalk and in the city's annual Christmas parade.
Rockdale, Texas – November 27, 2019 – Green Blob Outdoors, based in rural Rockdale, Texas, has officially sold its 10,000th fishing light. In addition, the company was chosen to supply lights for the San Antonio Riverwalk this holiday season. Green Blob Outdoors will have their lights showcased in the city's Christmas parade, and will supply lights to be used every night as lighting fixtures.
"We are so happy and grateful to the community, as we've just hand-built and sold our 10,000th Green Blob Fishing Light!" explained founder and owner Mark Collier. "We've sold Green Blobs right here in Texas to as far away as California, Florida, and even France, England, and Australia!"
The company's humble beginnings belie this achievement. Founder Mark Collier threw in the towel and sold his Radio Shack franchise in favor of doing something he had always loved. He founded Green Blob Outdoors in 2015 and began hand-crafting green underwater fishing lights.
Fast-forward nine years and the company has officially designed, manufactured, and sold 10,000 green, blue, white, and multicolored underwater fishing lights. Today, Green Blob Outdoors remains a family-owned and operated business, and is thriving. Mark has been joined by his two sons and they continue to build each "blob" light by hand with no part of the process outsourced.
The company's underwater fish lights can attract almost any species of fish, from catfish and bass to walleye, snook, crappie, and even sharks and manta rays. In addition to crafting high-quality underwater fishing lights, Green Blob Outdoors is been recognized for the company's dedication to delivering outstanding customer service, answering questions, and even giving anglers the opportunity to design their own Green Blob on their website.
To learn more about Green Blob Outdoors or the company's wide range of high-quality, hand-crafted fishing lights, visit https://www.GreenBlobOutdoors.com. You can also check out their brand new commercial by visiting https://www.youtube.com/watch?v=3m_Q5RMmXVw.
About Green Blob Outdoors, LLC:
Mark Collier founded Green Blob Outdoors in 2015 with the goal of doing something he loved while helping anglers catch more fish by hand-building green underwater fish lights. Despite the company's success, all underwater fishing lights are still made by hand in rural Rockdale, Texas.
Media Contact
Company Name: Green Blob Outdoors, LLC
Contact Person: Mark Collier
Email: Send Email
Phone: 818-424-8135
Country: United States
Website: https://www.GreenBlobOutdoors.com