November 28, 2019 – In London, the place to get authorized Ultherapy is the popular Ai Beauty Clinic, which has until now, served over 8,000 customers with an astounding satisfaction rate of 99%. It was natural that the Clinic will attract global attention. Ai Beauty Clinic is now pleased to announce its partnership with the highly reputed Merz Pharma. Together they will extend services to the rising Asian market in London.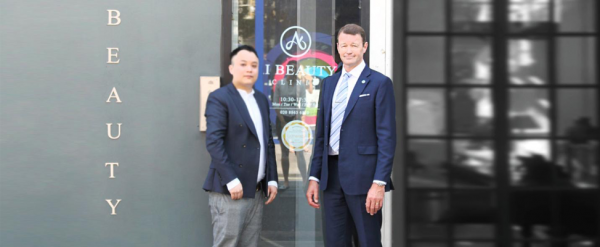 Based in Frankfurt, Germany, Merz Pharma is a globally renowned healthcare company tracing its roots back to 1908. Merz is known for OTC and prescription creams, ointments and injectables in areas such as dermatology, neurology, and metabolic disorders. It is famous for developing Memantine, the first drug for treating moderate to severe Alzheimer's disease.
"I am delighted to be a partner of the very experienced and professional Ai Beauty Clinic, who has done an amazing job in building popularity in the UK Asian market by delivering fantastic quality, expertise and great results of Ultherapy. For us, as a family-owned company with a history of 111 years, it is a pleasure to work with Ai Beauty, and I am proud to have this partnership with them," said Mr. Rose, Managing Director of Merz UK.
Cosmetic treatment is very popular around the world. According to a report just released by the International Society of Aesthetic Plastic Surgery (ISAPS), there were 23 million cosmetic surgery cases worldwide in 2016 alone. The most popular treatments are injections of hyaluronic acid, breast augmentation, and Botox treatment.
"Customer satisfaction and treatment effect are our top priorities. We always guarantee the quality of our products and services." said Mr. Qiu, Director of Ai Beauty. "More skincare and anti-aging surprises are on the way."
The Clinic's focus is on Asian female customers in the UK. Among the team is Dr. Zunaid, who carries a rich experience in aesthetic treatments for Asian faces and anti-aging topics. The team comprises four instructor-level doctors, board-certified in the UK, two training nurses specialized in Ultherapy, Teosyal, and Juvederm, three pre-sales representatives with a professional medical background, one online aftercare advisor and two offline cosmetic advisors.

About Ai Beauty
As the top Asian aesthetic clinic in London, Ai Beauty Clinic has developed its own business system in the skincare industry. Apart from business and service areas, Ai Beauty Clinic is pursuing a technological breakthrough to provide one-station customized solutions to skin problems for Asian customers.
Media Contact
Company Name: Dale Davis PR Services
Contact Person: Fidel
Email: Send Email
Country: United Kingdom
Website: daledavispr.com