Leading innovative marketing solutions provider, Brands In Motion, announces their expansion to cover Phoenix and Scottsdale Arizona.
Brands In Motion is a leading mobile billboard business that currently ranks as "America's first nationwide digital mobile billboard network." In line with their goal of helping brands across the nation leverage state-of-the-art marketing solutions, the Las Vegas-based company has announced their expansion into the Phoenix Arizona Market, including areas like Phoenix, Scottsdale, Chandler, Gilbert, Mesa, and Glendale. The expansion will bring new marketing technology to the city, making events more captivating and entertaining.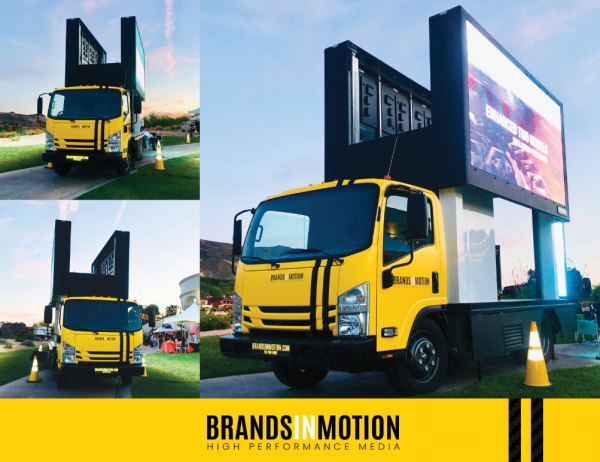 "Our PopUp Jumbotrons and Activation Stages are perfect additions to the many community events that take place year-round in the Phoenix Valley. We're able to add a new visual and interactive element to outdoor food, music, brew festivals, and tailgate and watch parties. Our Live-Streaming Photo Booth allows us to show event attendees on the Big Screens and also share their themed images via text, email, and on social media platforms," said Bret Pawlowski.
Brands In Motion is particularly unique for their mobile LED jumbotron system that elevates up to 20 feet into the air and converts to a variety of brand activation stages. The system allows for the effective capturing of live-feeds of the crowds at any event, and the subsequent display on big screens. In addition to showing real-time faces and videos on the mobile huge double-sided LED Jumbotrons, the company can also show sponsor ads, live-feeds and entertaining content to make standing in line less tiring.
Arizona is currently the 5th largest market in the USA, hosting several events every year. The company's expansion into Phoenix is, therefore, coming at the best possible time, helping to take events to the next level with high impact audio and videos. Brands In Motion's Live-Photo Booth solutions also allow event attendees to share, email, text, and post on social media pages. The company's system provides better audience engagement and the delivery of quality branded content.
Other benefits of Brands In Motion include sponsorship retention with increased impressions and engagements of sponsor commercials and the attraction of new sponsors, as seen on YouTube.
The categories of services offered by Brands In Motion include digital billboard trucks, brand ambassador, L.E.D Jumboscreen rental, and brand activations.
Brands In Motion currently services Las Vegas, NV and Scottsdale AZ, bringing more life to indoor and outdoor events, with plans to expand across the nation.
For more information about Brands In Motion and the cutting-edge marketing solutions offered, please visit – www.BrandsInMotion.com. Brands In Motion is also available on Facebook and YouTube.
About Brands In Motion
Brands In Motion is a high-performance media solutions provider headquartered in Las Vegas. The company provides clients with innovative marketing solutions to help brands effectively engage their customers.
Media Contact
Company Name: Brands In Motion
Contact Person: Bret Pawlowski
Email: Send Email
Phone: 1-888-708-5558
Country: United States
Website: http://www.brandsinmotion.com/