December 9, 2019 – TanTate Innovative Solutions Inc. formerly The Put You In The Game certified Life Coach, announced today that it has rebranded its company and launched a significantly expanded portfolio of services. Tan Tate of TanTate Innovative Solutions is now known as the H.O.P.E Coach (Helping Others Prevail Every Day), specializing in mother/daughter relationships. She is a Certified Life Coach and also doubles as a Motivational Speaker.
Commenting on the rebranding exercise, Tan Tate, CEO of TanTate Innovative Solutions said, "mother-daughter relationships are complex and diverse and we've noticed some people struggle in this aspect. We're rebranding to help as many mothers and daughters as possible with such challenges so that they can have a flourishing, fruitful relationship."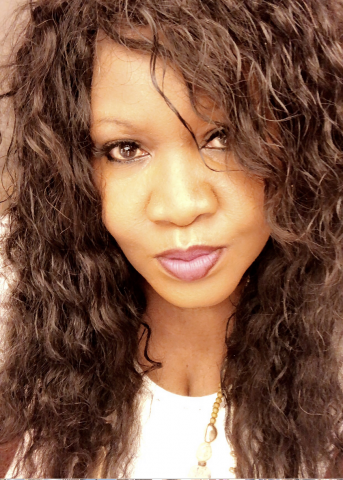 Companies rebrand for different reasons. Rebranding can occur as a result of expansion into new markets, new management, internalization, outdated image, and more. A brand can evolve over time, many companies, including the most successful ones, also see the need for rebranding. TanTate Innovative Solutions is introducing new services that focus on mother-daughter relationships. Their aim is to reposition their brand to target new, more specific audiences with important needs. Rebranding can be a sign of growth as it presents an opportunity for customers to associate with a brand in a totally new way. It not only helps to strengthen a brand's mission but also evolve.
TanTate Innovative Solutions is rebranding to better position themselves so that they can serve mothers and daughters and help them improve their relationships. It's no secret that mothers and daughters are fighting an uphill battle when it comes to getting along. There could be anger issues that would prevent communications temporarily or permanently. Theoretically, most mother-daughter relationships should be the closest, but that's not always the case in reality – it can be super complicated at times. TanTate Innovative Solutions is here to make things work between mothers and daughters.
Regardless of the challenges in any mother-daughter relationship, TanTate Innovative Solutions is here to provide a lasting solution. In her private practice, Tan Tate, Certified Life Coach, presents a new insight that will help mothers and daughters find a balance in their relationships. Tan has over 20 years of experience in personal and performance coaching that can be a great influence capable of bringing about a change in others.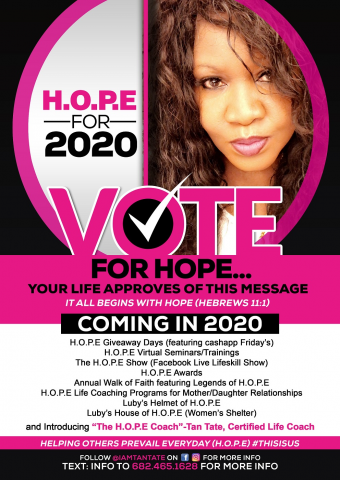 Tan is also a Motivational Speaker who offers valuable life inspirations from her personal stories, as well as motivations, and encouragements, and fill her audience with energy, drive, excitement, and HOPE. With her growing team, comprising of William G. Tate, Taquida Alexander, Iesha Taylor, and Renee Houston, TanTate Innovative Solutions is on a mission to help others find H.O.P.E (Helping Others Prevail Every Day).
The H.O.P.E team has a lot of projects in the pipeline for 2020, which includes:
H.O.P.E Giveaway Days (featuring cashapp Friday's)
H.O.P.E Virtual Seminars/Training
The H.O.P.E Show (Facebook Live Lifeskill Show)
H.O.P.E Awards
Annual Walk of Faith featuring Legends of H.O.P.E
H.O.P.E Life Coaching Programs for Mother/Daughter Relationships
Luby's Helmet of H.O.P.E
Luby's House of H.O.P.E (Women's Shelter)
Join the Tea Time With Tan Podcast Show on iheart radio, Spotify, SoundCloud, Apple podcast and more, as well as Rolling with the Tate's Podcast Show.
To have a feel of TanTate Innovative Solutions, visit https://iamtantate.com/
Follow @iamtantate on Facebook and Instagram for more info and the latest updates.
Media Contact
Company Name: TanTate Innovative Solutions
Contact Person: Tan Tate
Email: Send Email
Phone: +1 682.465.1628
Country: United States
Website: www.iamtantate.com