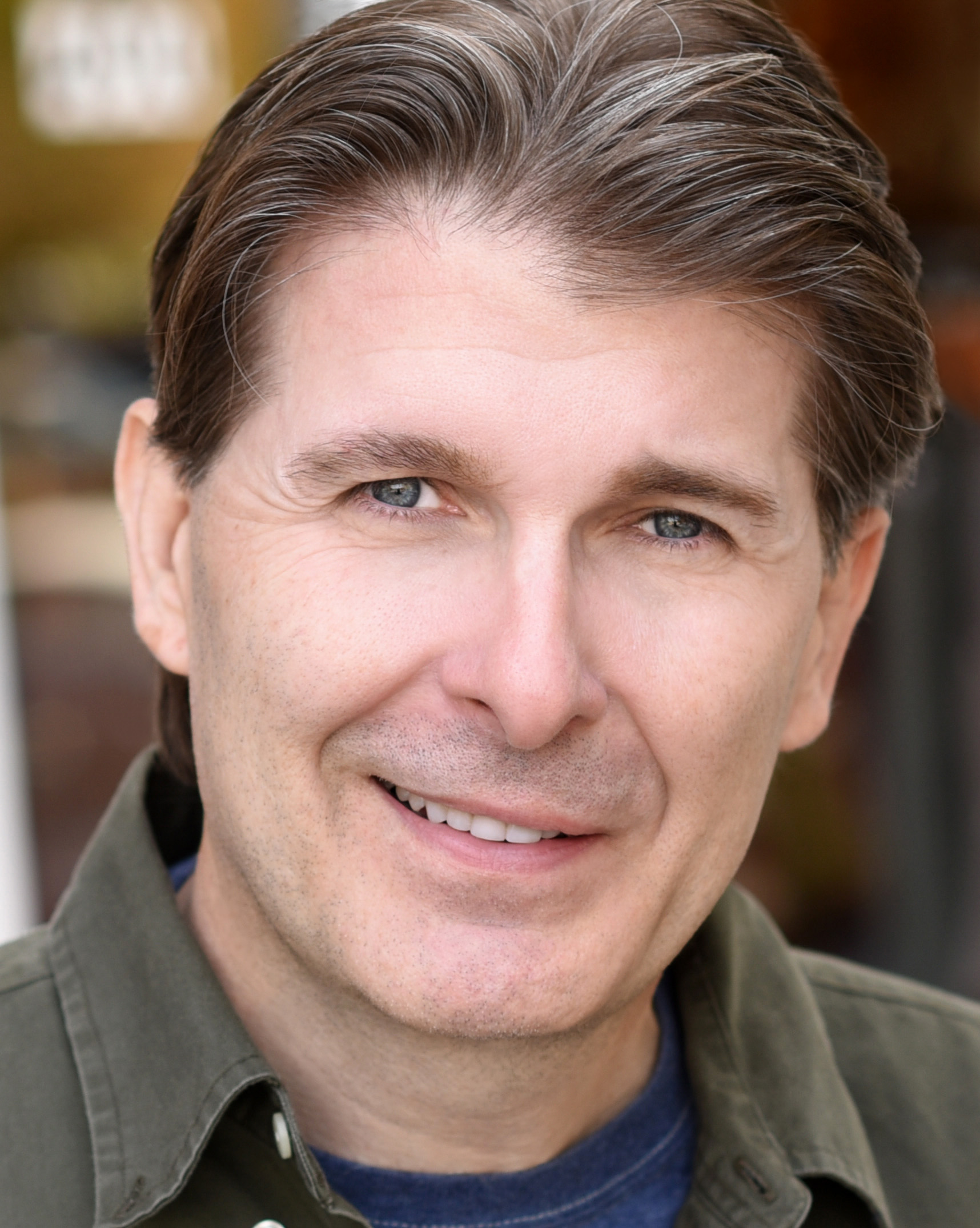 "Randall Franks strives to keep the Georgia film and TV industry growing. (Randall Franks Media: Anna Ritch)"
American Actor/Entertainer Randall Franks strives to keep successful momentum for film and television industry in Georgia on an upward trend.
In a secluded valley in the foothills of Appalachia, American actor/entertainer Randall Franks hikes along a rocky ridge looking down on a pristine green field barely touched by the passage of modern time.
"I always thought this place would be a great setting for a television show about the day-to-day struggles my folks went through in these mountains for generations," Franks said.
His rural roots and modest home in small town Georgia understate the stark contrasts within one of the South's most unique personalities who writes books and newspaper columns, acts, sings and plays a variety of instruments including the fiddle. On a modern black desk cabinet shelf, among neatly stacked letters from fans, a couple of movie scripts, a copy of his book "A Mountain Pearl," are images of three kings – King Henry VII of England, King James V of Scotland and King Phillip IV of France. When asked about those, he simply said, "They are my grandfathers." Then he redirects attention to a photo of Bob Hope, nearby are ones of Gene Autry, Roy Rogers and Ken Curtis, all childhood heroes and all real-life encouragers to Randall in his talents, he said.
Though he is the first to say he enjoys his Mayberry lifestyle in Ringgold, Ga., his career tracks side-by-side with many of America's biggest entertainment legends in music, film and television. He first stepped in front of a television camera at the age of six, and by his teens he was regularly performing on stage for thousands and sharing his talents on shows seen around the world.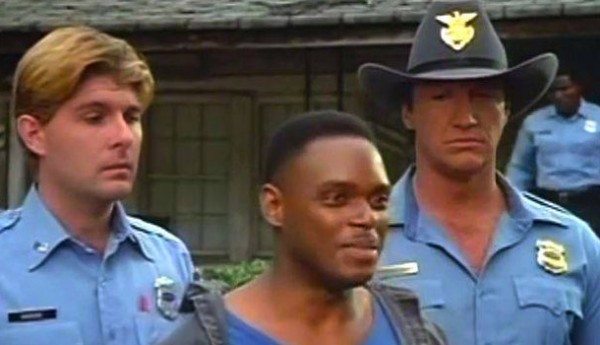 Photo: Randall Franks (left) and Alan Autry (right) work on the set of "In the Heat of the Night."
When Randall Franks joined the cast of TVs' "In the Heat of the Night" in 1988 as "Officer Randy Goode," he never imagined it would become his training ground for all aspects of the film and television industry.
"I refer to it as my five years at the MGM University of Atlanta," he said. "I learned volumes about acting from legendary actors, screenwriting from Carroll O'Connor and Alan Autry, directing from Larry Hagman, Russ Mayberry and some of TVs' most prolific directors, and aspects of all the trades we use to create the magic."
Franks has used that knowledge, his experiences as a producer, director and his celebrity as an actor and entertainer to become an integral influencer in his home state for the growth of the industry speaking regularly to state elected and appointed officials.
From an antique golden oak dresser in the corner of his living room, a gift from his grandmother, he picks up a script that was sitting next to a framed photograph of he and a former co-star Dolly Parton, and shows it.
"This is 'Christmas Time's a Comin', it is set in Appalachia," he said. "It's filled with the struggles and joys a loving family – at least that's what their aim is to be. It's filled with mountain music, and some amazing characters reminiscent of the films I loved watching from Hollywood's golden era."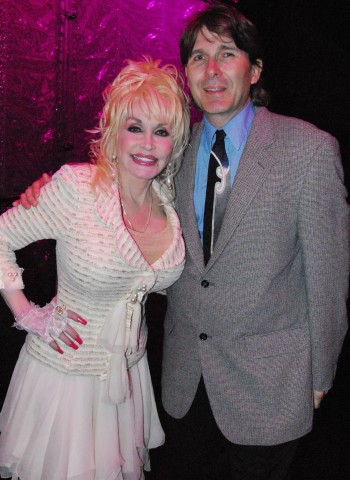 Photo: Randall Franks and Dolly Parton visit backstage in 2010. (Randall Franks Media: Karen Peck)
He sets it back down on top of a magazine cover featuring his mentor Grand Ole Opry star Jesse McReynolds and next to a photo with yet another film co-star Stella Parton. Above it all, a huge print of music legend Bill Monroe outlined in blue looks on from the beige wall. Monroe opened the door for the Appalachian Ambassador of the Fiddle, as Franks is referred to now, to begin appearing for Nashville's Grand Ole Opry.
"God has blessed me with some amazing people in my life and from them I have learned you can do anything you set your mind to," he said.
He began his government relations efforts in the 2000s with the focus to broaden Georgia's film industry opportunities from a national level speaking one-on-one with Senator Johnny Isakson, former U.S. Senator Saxby Chambliss, former Congressman Nathan Deal in support of federal legislation which helped the industry throughout the nation but also in his home state. A long relationship with Deal, allowed him to continue those conversations when he became Georgia's governor. Today, he maintains friendships with Georgia's current elected leaders. He testified before the Georgia Senate for Senator Jeff Mullis as it looked at new opportunities for Georgia to become more competitive in attracting the business to Georgia. As time passed, he joined other industry leaders in the collaborative organization – Georgia Production Partnership (GPP) (GeorgiaProduction.org) who championed the 2008 Georgia film incentive that created the state's boom. The key leaders were Shay Bentley Griffin, Ric Reitz, Wilbur Fitzgerald and the late Ed Spivia.
"Their passion and desire to change the potential for our Georgia industry gave us an amazing opportunity that other states and even countries dream of," he said.
Franks said that is one of the elements he shares when he speaks at film festivals, international conferences, or elected official training events. He heralds the state's successes and the potential that is yet to be achieved. Another program that he joined Ric Reitz in fostering for GPP and gave to the state continues to set it apart from other states – Camera Ready.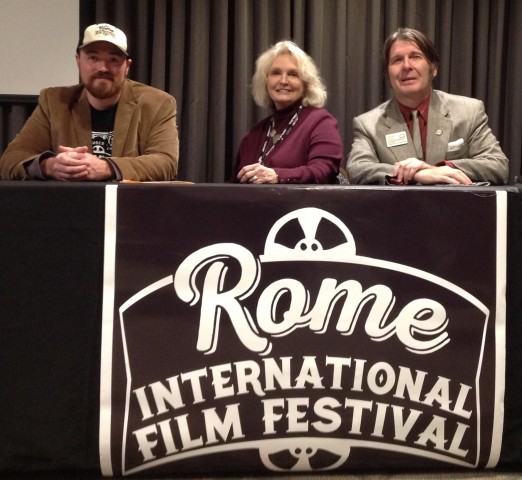 Photo: Randall Franks (right) joins Producer/Casting Director Shay Bentley Griffin and organizer Seth Ingram to speak at Rome International Film Festival in 2019. (Randall Franks Media)
"In every county, we have someone who photographs potential locations and uploads those to our state database, they have opportunities to train to work with location managers and producers as they express interest in their community and facilitate their efforts with local leaders when they come to the community."
Despite being a coast away from Hollywood and two hours from the center of Georgia production in Atlanta and his music home in Nashville, the country music hall of famer fields regular requests to consider new film or television roles with his most recent being for the Georgia-lensed film "The Crickets Dance."
"It may be to my detriment sometimes acting-career wise turning down opportunities, but I am blessed to be able to do roles in projects which inspire me and which I believe those who care about what I do, will like seeing me share," he said.
Franks walks past more celebrity photos including one of him fiddling in a Plains, Georgia living room for President Jimmy Carter and First Lady Rosalynn Carter, he opens his door, and walks out on the porch.
"I long for a day when I will get up, excited about performing a role in a Georgia-lensed series filmed in rural Georgia that reflects the heart, hopes and dreams passed to me by my Appalachian ancestors. Hopefully, it will be shot in sight of that mountain over there. Hopefully, I will also have a hand in writing it, and directing some of my friends in their work in it as well."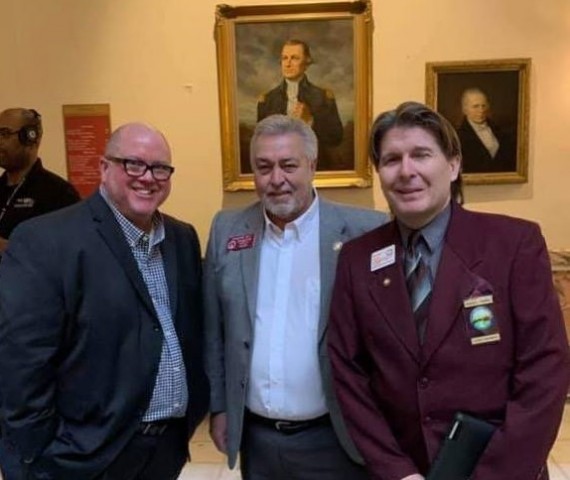 Photo: From left, Georgia Production Partnership co-president Clark Cofer, State Rep. Dewayne Hill and GPP Vice President Randall Franks at Georgia Film Day at the Capitol in Atlanta. (Randall Franks Media: Patricia Taylor)
Franks has served among GPP's leadership for over a decade and steps down from its board for a second time at the end of the year while still remaining a part of its government relations committee. He serves as the Northwest Georgia Joint Economic Development Authority volunteer Camera Ready liaison for four Appalachian Georgia counties – Catoosa, Chattooga, Walker and Dade, working to keep those counties' natural appeal in front of producers with Georgia on their mind. Though he is heralded as a fiddle ambassador for Appalachia, it is apparent that he also carries out those duties for the Georgia film and television industry royally as well.
He scored two #1 AirPlay Direct albums in radio in 2019 including his charity CDs "Americana Youth of Southern Appalachia" and the re-release of "In the Heat of the Night's Christmas Time's A Comin'."
Radio may find all his music links at his AirPlay Direct Music Page: AirPlayDirect.com/RandallFranks
For more information about Randall Franks, visit: http://randallfranks.com/.
Find the Encouragers book series and recent recordings here http://www.randallfranks.com/store/
or, on https://www.amazon.com/Randall-Franks/e/B00K9XIDN4
Donations to the Pearl and Floyd Franks Appalachian Scholarship may be made at: www.ShareAmericaFoundation.org.
Fans may download much of his music at: www.nimbitmusic.com/randallfranks.
Visit him on IMDb at: https://www.imdb.com/name/nm0291684/.
Media Contact
Company Name: Entertainment Management Consultants
Contact Person: A. Publicity
Email: Send Email
Phone: (706) 963-0016
Address:P.O. Box 42
City: Tunnel Hill
State: GA
Country: United States
Website: https://www.randallfranks.com/