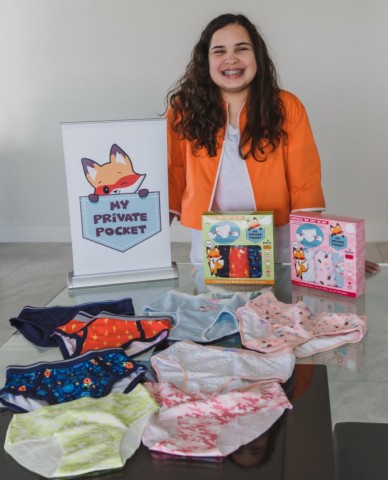 13-year-old Isabella and her mother Maria Teresa Crespo have invented a much-needed solution for kids with bladder control issues and facing toilet accidents. Having soiled underwear is really embarrassing for kids as they become the subject of laughter in the school and how they wish they had an extra pair of underwear with them. This is why the mother-daughter duo has invented "My Private Pocket", a unique pair of underwear with secret pockets that can not only carry an extra pair of underwear but also sanitary supplies like liners, wipes, and a compact catheter. This underwear can discreetly carry all these items so the kids can be prepared during those "toilet accidents". They have first introduced the product on the crowdfunding website Kickstarter where it is available for pre-order by supporting the campaign. The success of the campaign will also ensure that the family is able to provide underwear and other gifts to kids in Barranquilla, Colombia.
My Private Pocket underwear is an effective solution for kids with incontinence issues. The underwear is available in two different designs for boys and girls. The girls' underwear has two pockets, sewn into the waistband; one of the pockets is water-resistant and converts into a small cosmetic style pouch to carry the soiled underwear. The boys' underwear comes in a Y-front design with a single larger pocket. The best part is that the underwear carries all the supplies without any bulkiness or discomfort to the wearer. This underwear is available in colorful designs and patterns that kids would love to wear.
Isabella was born on November 1, 2006, and at 3 months, she was diagnosed with Spina Bifida Occulta (SBO) with tethered spinal cord syndrome. She had to go through a surgery that affected her bladder muscles resulting in an incontinence problem for life. "I know how it feels to have "little accidents". Every time I had an accident in school, I was embarrassed. My friends noticed and sometimes laughed and walked away from me. It made me sad and I felt frustrated!" says Isabella. She decided to create a solution for this and spoke to her mother about the same. After spending a couple of years testing the prototypes back and forth, they came up with a final product that suited her needs to the best. Together they decided to help more kids with such issues and started the crowdfunding campaign for the same.
Along with My Private Pocket, Isabella's family is introducing their family business, Hidden Innovations In Disguise LLC, with a goal to develop more product lines that help parents of children and adolescents going through a range of medical issues.
Support the "My Private Pocket" campaign on Kickstarter.com.
Media Contact
Company Name: Hidden Innovations in Disguise
Contact Person: Teresa Crespo
Email: Send Email
Country: United States
Website: www.myprivatepocket.com