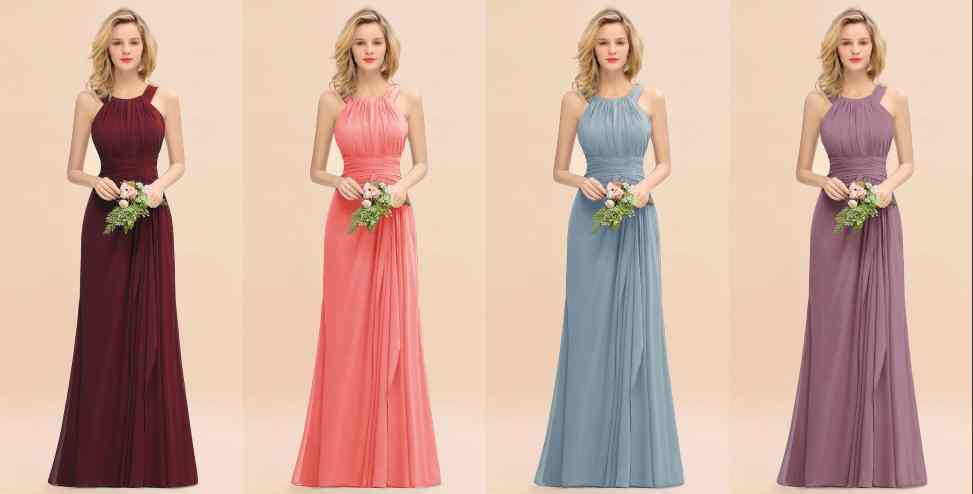 In recent years, BMbridal finds that mix & match bridesmaid dresses are the most popular choice for the wedding parties. And mix & match styles has become the biggest trend of 2019 bridesmaid dresses.
Generally speaking, there is no strict rule for the mix and match bridesmaid dresses so that the brides could mismatch the dresses according to their own affection. The brides could just tell the bridesmaids a color and let them look for their own dresses for mixing styles or just let them pick same style for mixing colors. Today, three styles of mixing and matching will be introduced to help the bride-to-be find the best one for the wedding party.
The first is mixing fabrics. As all knows, the color will show slight difference on different fabrics. BMbridal offers four fabrics: chiffon bridesmaid dress, lace bridesmaid dress, tulle bridesmaid dress and satin bridesmaid dress. It is a popular option for brides to pick different fabrics with same color, which will show different shades on the bridesmaid dresses but really not obviously.
The second is picking same dress with different colors. Nowadays, the brides are opened to the colors for the bridesmaid dresses. It has become a trend that the bride-to-be will ask the girls to wear same dresses but in different colors to the wedding party, which will give the bridesmaids more color options to choose from. BMbridal has more than 50 colors for the bridesmaids dresses, which are in different color themes. The bridesmaids and the brides can easily pair different shades together and choose the colors that compliments each other beautifully as well as the wedding dress.
If the bride-to be wants more colors for her bridal party, it is really a smart choice to pick a dress in complementing shades of colors. In 2019, the trend has been found in most weddings and it will be even more popular in the following years.
The last one is choosing a convertible dress. At bmbridal.com, the brides and the bridesmaids can find some special dresses–convertible dress. The advantage of these dresses is that the brides could stick to the same silhouette and the exact same color, but the bridesmaids could covert the straps to different styles according to their own personalities. Usually the styles of one shoulder, halter and spaghetti straps are the most popular styles.
If you want to try a mix and match wedding, just visit bmbridal.com, where you can find different ways to have a mismatched wedding. And you will never disappoint.
Media Contact
Company Name: BM Bridal Co., Ltd.
Contact Person: Ryan
Email: Send Email
Phone: +15105985158
Address:4982 Bayview Dr
City: Stockton
State: CA
Country: United States
Website: https://www.bmbridal.com