American Actor/Entertainer Randall Franks strives daily to make a difference as an elected official in the Appalachian community he calls home
American actor/entertainer Randall Franks decided 10 years ago that he wanted to give back to a small Appalachian community in Georgia that had showed him an amazing amount of support as he helped his late mother Pearl walk through the final stage of her life. So, he decided to run for the Ringgold City Council after the sudden passing of one of its members.
"My mother retired here where my late father was from," he said. "I stepped away from my acting and music career to be with her daily."
At that time of her illness, the former "In the Heat of the Night" actor had just made a well-publicized comeback to CBS-TV in an ensemble cast alongside William Hurt, Brian Benben and Elizabeth McGovern for the Hallmark Hall of Fame's "The Flamingo Rising" and musically had performed for the largest concert audience of his country music career of 30,000 people.
Though not a native, he came to Ringgold many times as a child. His father Floyd, who grew up the son of a sharecropper in a family of eight children, walked along its streets to attend classes at Ringgold High School. His grandmother Allie came with her family to town on Saturdays from their farm South of town. She eloped with his grandfather Jesse leaving a pail of milk at the mailbox embarking on what would be a tough life together. His mother became a restaurateur in her 20s, meeting his father in her Chattanooga restaurant when he sold her a sewing machine. They built successful lives in the cities of Chattanooga and Atlanta.
"Our family experience runs deep in the soil around these parts, for better than 150 years our folks have called this area home," Franks said. "That means a lot to me. I can walk down almost any street and point to a house where a cousin lives. We have business after business where folks call their customers by name. Folks stop on the street to let you pull out of a parking place and not because they want to pull in it, they're just being kind."
He ran two city council campaigns in his first year and won both times with two campaign signs, accepting no campaign donations, and visiting his roughly 4,000 neighbor's door-to-door. Since then he has won two more terms.
"In small-town elections, we don't have political parties, we are non-partisan. What we do have are pot holes that need filling, and barking dogs that need to be calmed," he said. "We need better opportunities for entrepreneurs who want to open businesses and create jobs. We need opportunities for our brightest young minds to excel without leaving home to get a job. We need improved sidewalks, parks, and common spaces."
So, once elected, those are a few of the focuses he joined with his fellow city councilmembers and one of Georgia's longest-serving mayors to add to the city's story.
"Through the years, I have found myself standing head-deep in eroding drainage ditches, knee-deep in garbage, examining deteriorating bridges and roads, bit by barking dogs, and searching the rubble of what was our city for tornado victims and survivors," he said. "Mourning alongside my neighbors as we struggled day-by-day to comfort one another and meet each other's needs, then working with our leadership team to help guide our clean up and community rebuilding."
The trust he has earned from community leaders has resulted in him being appointed vice mayor, vice chairman of city's Convention and Visitors Bureau, and as chairman of its Downtown Development Authority, among other volunteer positions.
"Our job is to work with our residents and business owners to assist with their concerns and to turn their cumulative visions into a reality that encourages us all," he said.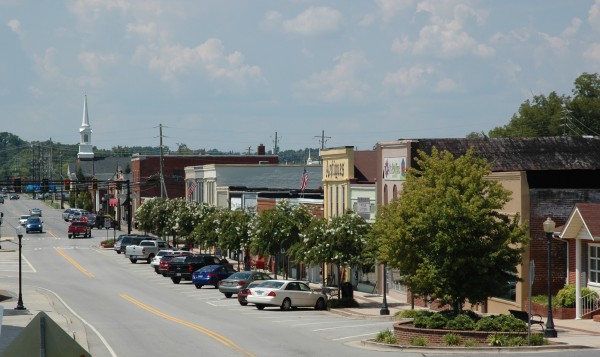 Photo: The historic Main Street District of Ringgold, Georgia. It's streetscape is one of the many visionary projects that Councilmember Randall Franks participated in bringing to reality.
Franks said he also used his entertainment background to offer ideas to improve the tourism aspects of the community increasing a handful of special events to 60 plus special event days welcoming locals and tourists alike to the community to spend money in the businesses, and eat in the local restaurants.
"I have designed tourism signs and routes, written historic narrative tablets, and composed marketing campaigns and press releases," he said.
Franks credits Ringgold's city manager Dan Wright, his staff, fellow councilmembers and the city volunteers for all that Ringgold accomplished during his 10 years of service.
"It's been an amazing experience for me, learning about every imaginable aspect of what makes a city work – sewer, water, power, paving, planning and zoning, economic development, industrial development, laws and ordinances, courts, fire protection, police, codes enforcement and so much more."
During his service, regional and county officials took advantage of his worldwide celebrity status to break the ice in economic and industrial development opportunities.
"I have had the pleasure of hosting emissaries from around the world looking at our community for business, tourism and our political leaders from every level," he said. "We have a wonderful city where we are growing tremendously.
"Our community has outlined a few more goals I hope we can accomplish before I step away from the council," he said. "I know for the last 10 years; our city has not stood still. We have set goals and achieved them. We are financially sound, and even more economically viable for commercial and industrial development investment than ever before. That is thanks to our great council members working together."
He said that is what happens when you build a team on the council who listen to their community, commit to a vision, and work to achieve it.
"We are successful because our residents and businesses want us to be," he said. "And we want the same for them and work to make that possible. Working together great opportunities can become reality."
To learn more about Ringgold, Ga. visit www.cityofringgoldga.gov.
For more information about Randall Franks, visit http://randallfranks.com/. Fans may download much of his music at www.nimbitmusic.com/randallfranks.
Visit him on IMDb at https://www.imdb.com/name/nm0291684/.
Radio may find all his music links at his AirPlay Direct Music Page: AirPlayDirect.com/RandallFranks